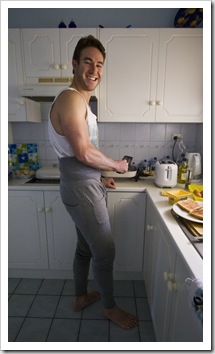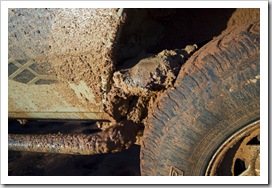 Back to civilization after our marathon day of driving around The Central Deserts, we spent a few days in Broken Hill with our good mate Todd on our way back to Adelaide.  Todd and a few of our other friends from university in Adelaide grew up in Broken Hill, a remote mining town in western New South Wales famous for its silver, lead and zinc mining as well as being the birthplace of one of the world's biggest mining behemoths: BHP.  (I only learned a few years ago that BHP actually stands for Broken Hill Proprietary.)  Today Broken Hill is a shadow of the former bustling mining town it once was when operations were in full swing.  There are a small number of shafts still in operation around town, but the population has dwindled to less than a third of what it was in its heyday.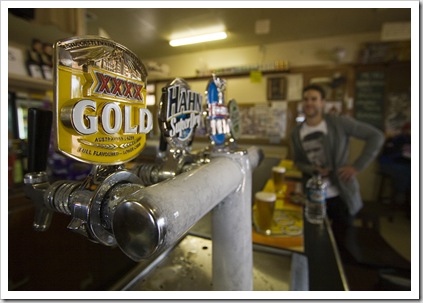 We enjoyed a bit of a sleep-in to recover from our 18 hour drive the day before and then all ventured roughly 30 kilometers out of Broken Hill to the nearby settlement of Silverton.  Silverton is home to a range of beautiful historic buildings, many of which house art galleries with a cafe here and there.  It's also home to the Silverton Hotel, an iconic Aussie pub that has been used for more than a few advertising and media campaigns involving photos of Outback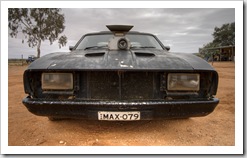 drinking holes.  Silverton was the location for the filming of the first two Mad Max movies – the films that began Mel Gibson on his rise to stardom – and is still home to the Mad Max hot rod the Pursuit Special.  The Pursuit Special was parked in front of the Silverton Hotel, very cool to see such an iconic automobile up close and personal.  The galleries about town had a fantastic collection of Outback-inspired artwork, it'd be a great place to buy some wall hangings one day…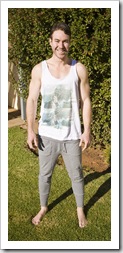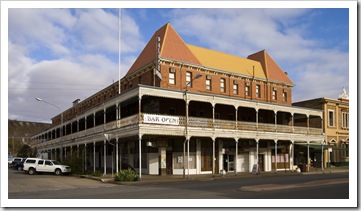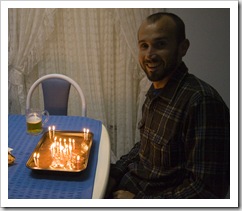 It was my birthday when we were in Broken Hill and Lisa had sneakily hidden a few gifts from her and relatives in The Tank (what a wife!) as well as whipping up my favourite chocolate cherry cake for the occasion.  After one of Todd's mum's awesome meals and a fashion parade of some of Todd's most recent metrosexual garb, we all headed to Broken Hill's main strip of Argent Street for a few beers at the Silver City Workingmen's Club.  Todd's dad and one of his uncles – who could probably drink just about anyone under the table – and his auntie were all at the club with us.  At $3.10 a pint, a few turned to a lot and by the end of the night Todd and I had trouble walking!  A very fun birthday!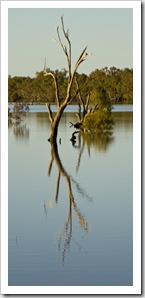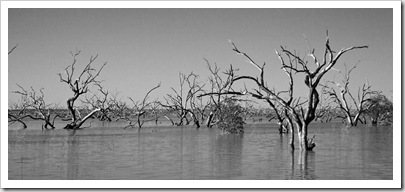 Todd and Judy, Todd's mum, took us out to Menindee for a day to visit Todd's grandparents.  Menindee is where the Darling River takes a turn south to flow to Wentworth and into the Murray River.  The area around Menindee is home to a vast expanse of lakes, all of which were full of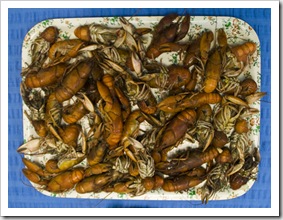 water when we visited but for the past 10 years or so have been mostly dry with the drought.  We stopped off at Copi Hollow – a spot where Todd and some of our other mates from Broken Hill grew up waterskiing – as well as taking a look at Lake Pamamaroo and Lake Wetherell.  Todd's grandfather is quite the Yabby fisherman and was kind enough to load us up with a plentiful amount of the delicious crustaceans to enjoy for dinner back in Broken Hill.  Neither of us had ever devoured so many Yabbies in a single sitting!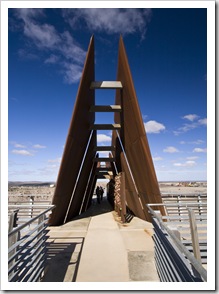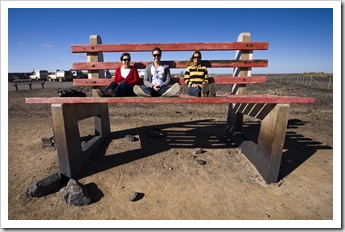 On our last morning in town Todd and Judy took us for a morning coffee at the Broken Hill mining memorial.  Perched atop one of the old mining waste dumps, the memorial provides sweeping views of town and the vast expanses of desert beyond.  A great spot to get a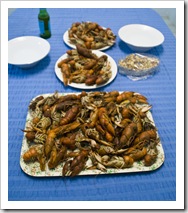 bird's eye view of Broken Hill.  Thanks Todd for making the five hour drive to and from Broken Hill to show us around, we had a fantastic time, and thank you Judy for your hospitality and such great food for the length of our stay!
Broken Hill pretty much marks the end of our adventures around this Land Down Under.  From here we head back across eastern South Australia to Adelaide, where we'll spend a few weeks tidying up The Tank and getting things in order.  Whew, what an adventure this has been!
This entry was posted on Sunday, July 18th, 2010 at 9:55 AM and is filed under Australia, New South Wales. You can follow any responses to this entry through the RSS 2.0 feed. Both comments and pings are currently closed.