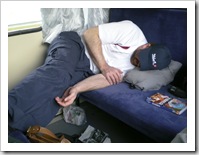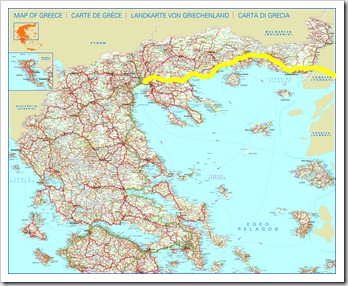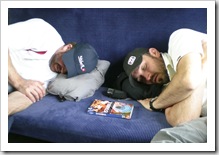 Whew, what a ride we had to get to Thessaloniki!  We caught an 8:30AM train from Sirkeci Station in Istanbul to the border town of Edirne.  In Edirne a Turkish police officer came through the train and collected everyone's passports (we weren't too keen on him taking our passports in the middle of nowhere, to say the least!).  About 15 minutes later they were returned to us and the train proceeded to the Greek side of the border where we were left on the side of the tracks (literally) for around two hours to wait for the Greek train to Thessaloniki.  The 14-hour train ride made for a fairly long day, we managed to sleep here and there on the way, but neither the Turkish or Greek trains had food available so we were quite famished when we pulled into Thessaloniki at 10:50PM.  ET wasn't going to bed until he'd feasted on a gyros (yiros) so at midnight we went trolling the streets of Thessaloniki for some meat on a spit!  We found a great gyros (yiros) shop called Bapdapas and it didn't disappoint.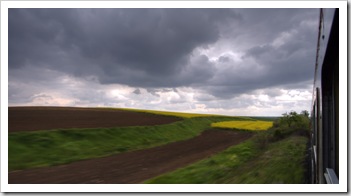 We stopped off at a few of the local tourist spots during our day in Thessaloniki, basically spending the day doing a walking tour of the city.  We visited the Church of Agios Dimitrios, purportedly the holiest church in Greece, as well as the crypt underneath the church where the saint was martyred.  The crypt was originally a Roman bath, but after Saint Dimitrios was executed for practicing Christianity the church was built on top of the baths in the eighth century and the baths turned into a crypt.  The crypt was a great spot, a maze of underground rooms that are maintained very well by the church.  ET also discovered that the house in which Ataturk was born (the founder of modern-day Turkey) is located in downtown Thessaloniki; after seeing Ataturk's statue plastered all over Turkey and witnessing the Turks' reverence for him during our time in Turkey it was interesting to see his birthplace.  We spent the afternoon strolling the waterfront of Thessaloniki, starting at the famous White Tower and making a circle back past the Church of Agios Dimitrios then to our hotel for the late train to Kalambaka.
This entry was posted on Monday, April 27th, 2009 at 6:30 PM and is filed under Greece. You can follow any responses to this entry through the RSS 2.0 feed. Both comments and pings are currently closed.