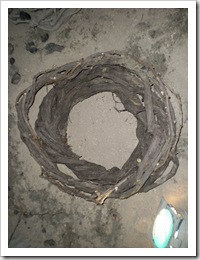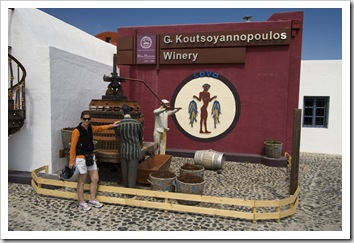 Santorini is one of the most well-known wine regions in all of Greece and home to the country's only wine museum.  While touring the island on our four-wheeler, we drove past the museum which was located at Koutsoyannopoulos Winery.  The museum was very well done with an audio tour to accompany all of the displays.  The Koutsoyannopoulos brother's started the winery in 1660, growing grapes on Santorini was a challenge then and still looks to be hard work.  All of the vines are grown, pruned and trained in circles so that the clusters ripen in the center of the circle and are protected by the high winds that often occur across the island.  Early on donkeys were used to transport the grapes to the wineries and the entire family was involved in the harvest.  It was said that this was one of the only times the daughters were let out of the house late at night, to work in the wineries.  The women would run full-time kitchens at the winery and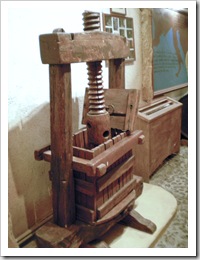 everyone would work around the clock until the task was complete.  Since there are no trellised rows or defined vineyard blocks, white rocks are painted to mark where the grapes had already been picked so they could keep track of their progress.  The Koutsoyannopoulos brothers seemed eager to improve and make their wine making process more efficient: they were the first to bring across basket-presses, filters and wood tanks from France.  They also implemented electricity in the winery which sped up the process.  I found it interesting that they used animal skins (only female) to transport the finished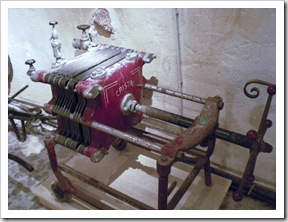 wine from one place to the next on the backs of donkeys.  Apparently the female animal skin did not detract from the wine's aromas as much as the male animal skins.  The tour was very interesting and fun to see that things are definitely more automated now, but the process is pretty much the same.  After the tour I tasted three wines at Koutsoyannopoulos Winery: Assyrtiko, Abelones, and Kamaritio.  The Assyrtiko reminded me of a Sauvignon Blanc and is derived from the natural juice of the grape before it's pressed which is called "anthos".  It is fresh and fruity, kept in stainless steel and bottled at five months.  Abelones is made from only Santorinian varieties: Mantilaria, Mavrothiro, and Mavrotragano.  The light red wine is aged in oak for one year and has a soft velvet aftertaste.  I found it a bit thin and smoky but still enjoyable.  Kamaritio is a sweeter style wine similar to the island's well-known Vinsanto where the grapes are picked and laid out to dry in the vineyards, on roofs, or wherever they can find space.  The result is rich spice, a tad sweet with a light mocha finish and a brilliant amber color.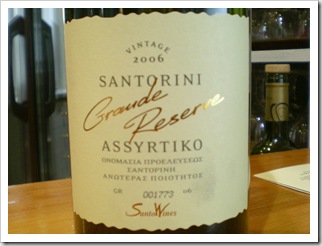 We then ventured across the island to the west-side and enjoyed a tasting at Santo Wines. The tasting room has an amazing view and we enjoyed tasting the wine accompanied with some cheese and olives.  The winey is literally perched up on the edge of the caldera and looking out from the tasting room you can see the water on both the west and east sides of the island.  We tasted a few wines and liked it so much that we went back with ET and Sally to enjoy a few more.  The second line-up I tasted was their Assyrtiko Grand Reserve, Nykteri, Mavrotragano, Kameni, and a sip of Sally's Imiglikos.  The Assyrtiko was similar to that explained above except this particular one spent some time in oak.  I found it interesting that they called it the English words "Grand Reserve" (which is one of Kendall-Jackson's wines) when all of the other labels are in Greek.  As a result of spending time in oak, the wine was less light and fruity and had more vanilla and apricot flavors but still had a mineral finish.  Nykteri means "stay up all night" and is a blend of the varieties: Assyrtiko, Athiri, and Aidini.  The wine is fermented in oak and had the aroma of lime leaves.  Mavrotragano was a lighter style red wine with cherry aromas, this was my third favorite.  The Kameni is the heaviest style red they make and definitely the heaviest that I have tried in all of Greece.  It had dried fruit characters, a hint of olive and a subtle astringency.  This was my favorite of all wines I tried in Greece.  Lastly, the Imiglikos was a medium-sweet wine that reminded me of the juice in canned peaches. 
The Greek house wines were pretty good and very affordable.  In most cafes or tavernas you can enjoy 0.5 liters of wine for €4-€5.  At first I was a little intimidated about consuming an entire carafe myself, but the wines have much less alcohol than ours at home and it really wasn't a problem to finish a carafe during a meal. We did try the popular Greek wine, Retsina, once and let's just say once was enough!
This entry was posted on Monday, May 4th, 2009 at 12:30 PM and is filed under Greece, Wines. You can follow any responses to this entry through the RSS 2.0 feed. Both comments and pings are currently closed.