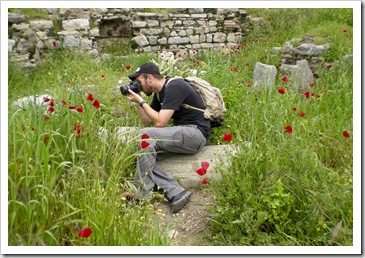 We have received a few comments that there are not enough pictures of Sam on the blog.  Well, here are a couple pictures of the master photographer at work.  While I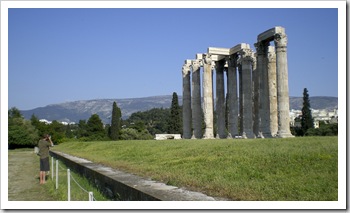 stick with my cute red point and shoot camera, Sam is kneeling on the ground, crouching into precarious spots and climbing over walls and fences that he probably shouldn't.  I have been given the opportunity, however, to snap a few of what ET calls 'angles' when I happen to see a good shot which is usually accompanied with a few lessons on using the polarizer and setting the lens aperture properly.  So (Mom) as I learn more, you will start to see more pictures of The Photographer but I thought you would enjoy these red poppies and the Temple of Zeus for a start.
This entry was posted on Saturday, May 9th, 2009 at 10:16 AM and is filed under Greece. You can follow any responses to this entry through the RSS 2.0 feed. Both comments and pings are currently closed.