From Cradle Mountain the four of us headed back to the north coast of Tasmania, spending a night next to the beautiful Hellyer River in Hellyer Gorge Conservation Park (S41°16.399' E145°36.922') on the way down from the mountains.  Even though we were basically camped in a clearing on the side of the A10 highway, the surrounding forests and adjacent river made it a great spot.  We all had a swim in the river and I spent a couple of hours wading the river trying to lure in a few of the local trout.  I managed to hook one but he was too small to keep, although that's not to say that there weren't some huge fish in the river…  Guess I just didn't have the ideal lures for the local fish.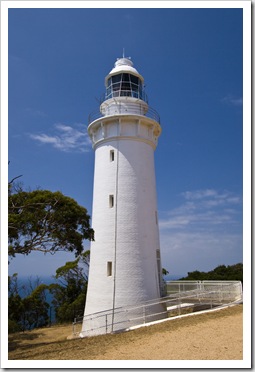 We made our way to the port town of Burnie (S41°02.931' E145°53.049') early on Monday morning, where we met up with a long time family friend, Mike Frost.  Mike has lived in or visited just about any country you care to name and has been friends of my parents since they were all twenty-something globetrotting about South America.  Mike was kind enough to not only detail an ideal touring route around the north and west coasts of Tasmania, but he also put us all up for the night in Burnie and gave us a brilliant guided look around the place he calls home.  Unfortunately Mike's wife, Edna, wasn't in town for our quick visit but we're planning on making our way back to Burnie before leaving Tasmania to say hello.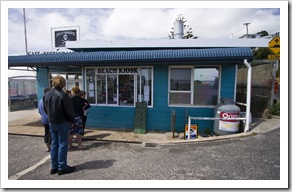 At Mike's suggestions we took a day trip west of Burnie along the coast, taking in the sleepy nearby settlement of Wynyard and stopping off at Boat Harbour Beach for lunch.  Jolly Roger's Kiosk on the beach has to be one of the best value beachside eateries I've ever come across, not too many places one can still buy a fish burger with two fillets of fresh whiting for $6.00!  We toured around Table Cape from Boat Harbour Beach, unfortunately the bushfires further west were obscuring the view but it was worth the trip to see the patchwork fields of opium poppies littering the countryside near Table Cape.  We learned (thanks to Carol's tour book) that Tasmania supplies the world with roughly 40% of its medicinal opiates, most of which are used for morphine production.  Australia is one of the only western countries with a government-sanctioned opium production industry, a veritable money pot for farmers growing the lucrative crop.  All of the fields around Table Cape had sizeable danger signs hung on their fences, Mike mentioned that heavy fines are associated with crossing into one of the poppy fields, as one would expect.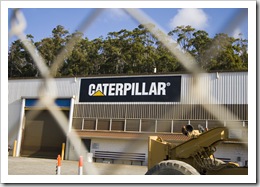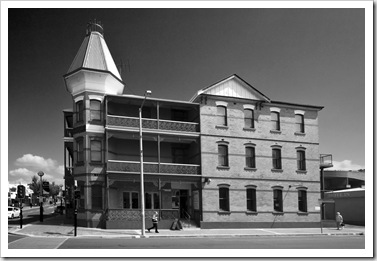 I spent some time exploring central Burnie whilst Greg and the girls ventured to a nearby alpaca farm, after which we headed back to the Frosts' for the beginning of Big Mike's Burnie Tours.  Mike's lived in Burnie for over 30 years and has been heavily involved in local business since relocating to Tasmania, he was a veritable wealth of information on the area and gave us a fantastic tour of the town.  He took us past the world headquarters of Caterpillar Underground Mining, a division of the behemoth Caterpillar heavy machinery company that specializes in underground mining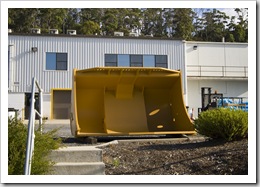 vehicles.  A local engineer by the name of Dale Elphinstone originally designed and built the underground haulers that are now made under the Caterpillar brand, Caterpillar acquired the Elphinstone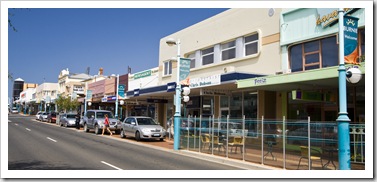 business to make Dale one of the richest men in Tasmania.  The underground haulers are still made in Burnie and exported all over the world.
After a quick look at the Caterpiller facility Big Mike's Burnie Tours turned to a wildlife adventure, we headed to nearby Fern Glade Reserve for a walk through some of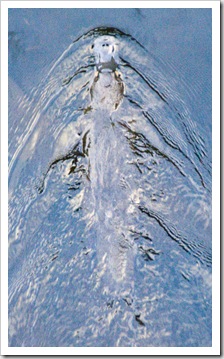 the surrounding rainforest and to try our luck at spotting one of Australia's most unique and elusive animals: the Platypus.  The Platypus is one of the world's two monotremes (the other is the Echidna), a mammal that lays eggs instead of giving birth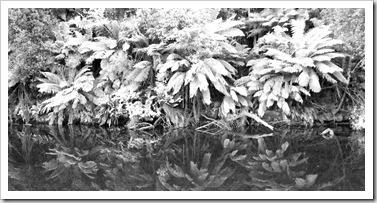 to live young.  Neither Lisa or I had ever seen a Platypus in the wild but we were lucky enough to catch sight of a couple in the evening light at Fern Glade.  One of them swam underneath a bridge when I was walking across so I managed to snap a couple of great photos.  A real treat to see them up close in the wild, such a strange animal with their duck-like bill and furry body…  Mike treated us all to a fantastic fish and chips dinner, arriving around dusk with a couple of bottles of the best wines from his cellar, it was a very memorable experience for us all sitting there with the Platypus in the river behind us whilst dining at one of the picnic tables.  More wildlife back at Mike's as he sliced some apples to feed the local Ringtail Possums, he has a family of the cute tree-dwellers living in the Eucalyptus in his yard.  It didn't take long for them to venture down to Mike's balcony for a feed once fresh apple was on offer.  Once darkness hit we all went down to the beach and caught a glimpse of the Fairy Penguins that roost in the dunes around Burnie during the spring and summer months, the caretakers even spotted some chicks for us hiding in a culvert in the sand.  So much wildlife in one day!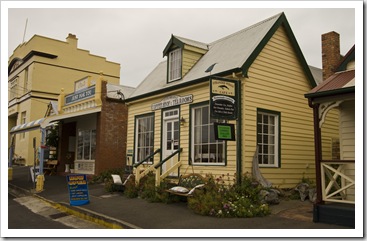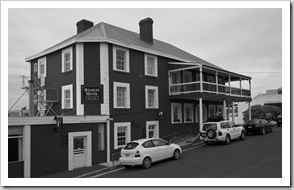 We bid Mike and Burnie goodbye with our sights set on the quaint fishing town of Stanley at the northwestern tip of Tasmania.  Stanley was the headquarters of the original Van Diemen's Land Company, founded in 1824 under a Royal Charter to use 250,000 acres of Tasmania's northwest to supply the needs of the British textile industry.  Today all that's left of the company are the beautiful heritage-listed buildings in central Stanley, most of which are extremely well maintained and add a lot of character to the town's main street.  Carol, Greg and Lisa sampled one of the local scallop pies (I was holding out for the bakery in Smithton) and we toured some of the beautiful woodworking galleries on the main street before heading further west to Stony Point (S40°44.726' E144°58.767') near Montagu for our last night (a very windy one!) on Tasmania's north coast.
This entry was posted on Tuesday, February 2nd, 2010 at 7:00 AM and is filed under Australia, Tasmania. You can follow any responses to this entry through the RSS 2.0 feed. Both comments and pings are currently closed.