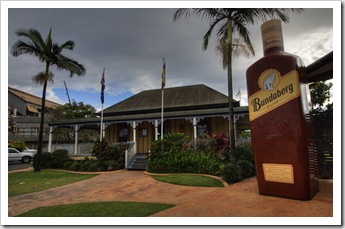 After almost a week around Inskip and exploring Fraser Island we were all in need of a scrub and some grocery restocking so headed north to the town of Bundaberg to take care of business.  Only a couple of hours from Inskip and Rainbow Beach, it was a scenic drive through the forestry country east of Gympie and the rolling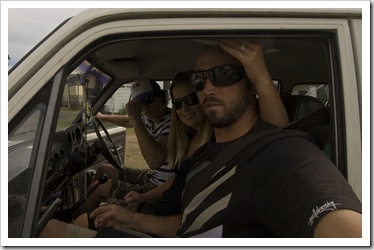 Eucalypt bushland between Maryborough and Bundaberg (S24°52.031' E152°20.299').  We're not huge fans of the coastal towns in Queensland so far, they don't offer much culture or many good pubs that we've found, but we did have one stop in Bundaberg that we really wanted to make: Bundaberg Distilling.  So after a cleanup the three of us piled into Bessie for a tour of Australia's most famous rum distillery.  An interesting tour for sure, amazing that the rum is produced at 78% alcohol and is so flammable that only a single spark can bring down the whole place.  We thus weren't allowed to take anything electronic on the tour, so no photos inside.  Fun to be able to taste a few of the Bundaberg products in the bar at the end of our tour, I'm not usually a rum drinker but the reserve rum was a very smooth drop.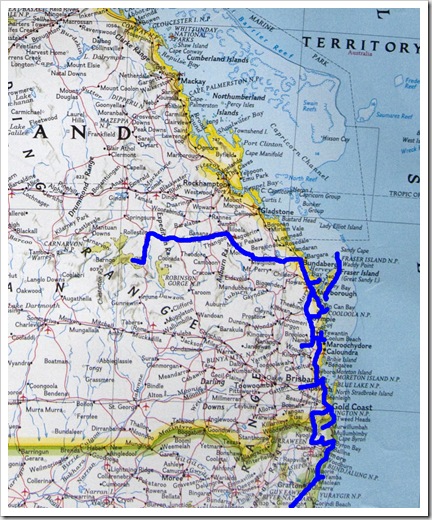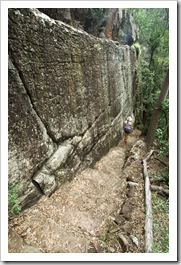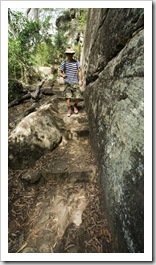 From Bundaberg we made our first serious journey inland in a couple of months.  Over 600 kilometers inland from Bundaberg we really wanted to see the grandeur of Carnarvon Gorge firsthand so made our way west over the span of a couple of days.  The tropical plants and humidity of Bundaberg disappeared shortly after we crossed the Burnett Range, replaced with the arid environment we became so used to traveling through Western Australia and the Northern Territory last year.  We broke up our first day's drive with a stop at Cania Gorge National Park, a secluded crack in the earth with a few fun bushwalks and a great picnic area for lunch.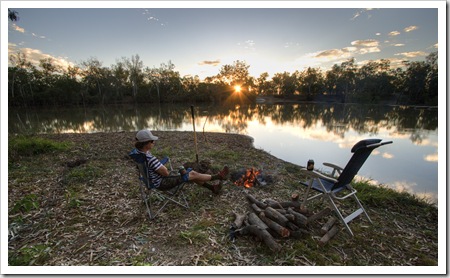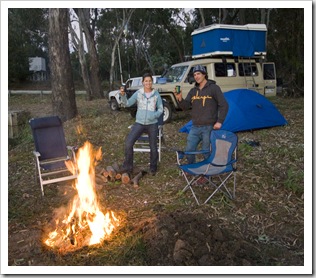 From Cania Gorge we put in a couple more hours driving for the day, setting our sights on a campground just west of the mining town of Moura in Central-East Queensland.  Upon arriving at the spot, however, we discovered that every other grey nomad and their dog had the same idea so started exploring nearby back roads to find a spot for the night.  We lucked onto a dirt road leading to a dam in the Dawson River, where we setup for the night with an awesome campfire and not another soul in sight.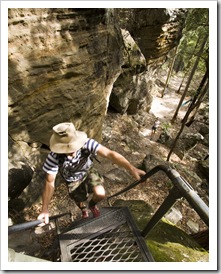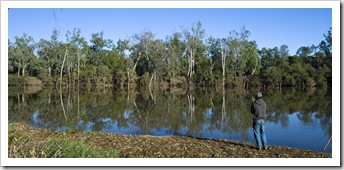 From our retreat beside the Dawson river it was roughly another 250 kilometers (155 miles) across the arid expanses to Carnarvon Gorge National Park.  There are some beautiful cattle stations on the way into the National Park, brimming with creeks and healthy-looking cattle I think it'd be tough not to make a buck out of such fertile, rich land.  The arid landscape morphed into one of cycads, palms and ferns inside the shaded canyons of Carnarvon Gorge.  The remote gorge is made up of towering sandstone cliffs on the sides of bubbling Carnarvon Creek, home to a range of unique flora and fauna.  We spent the afternoon upon arrival with a quick 6.4 kilometer (4.0 mile) hike up the beginning of the gorge to Boolimba Bluff.  Some majestic views of the central highlands and the opening to the gorge from the bluff.  We were a little perturbed to find that the National Park campground is only open for Queensland school holidays, another inane Queensland quirk similar to the phone booking system for National Park campgrounds.  There is a single privately owned camping area within the park, but upon discovering that they wanted $50 for the three of us to camp we returned back to the station property outside the National Park to find a private spot (S25°04.181' E148°17.330') beside one of the creeks.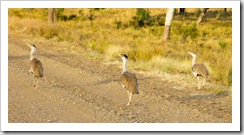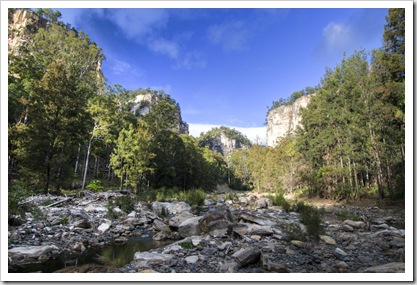 For our second day in the area we made an early start to conquer the entire gorge walking track, a roughly 23 kilometer (14.3 mile) cruisey walk along Carnarvon Creek from the National Park headquarters.  Quite a cold start to the day, we were all rugged up in beanies and thermals to begin our walk.  Awesome to see the sun come over the tops of the gorge cliffs and illuminate the walls in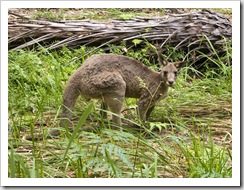 deep orange hues.  The gorge has quite a few sidetracks along its length to wonders ranging from pockets of rainforest to ancient Aboriginal art.  We opted to walk to the end of the gorge first and explore all the sidetracks on our return, as suggested by the rangers.  Our first stop was at Cathedral Cave near the end of the gorge, a collection of millennia-old Aboriginal rock paintings, some very unique artwork and so well preserved for their age.  After Cathedral Cave we passed the entrance to chasm-like Boowinda Gorge and finally to Big Bend, the end of the main walking track.  Some amazing reflections in the mirror-like water of Carnarvon Creek on the way up, hard to tell when the rocks ended and water began in some spots…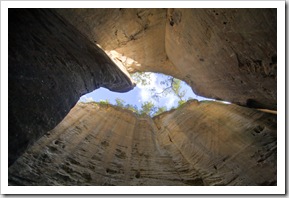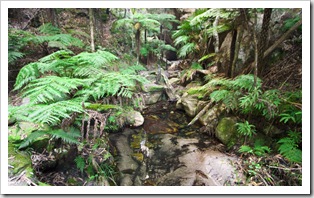 On our way back down the gorge from Big Bend we stopped off at Ward's Canyon, a mildly strenuous hike up the side of the main gorge to a chasm-like cut in the sandstone housing an amazing collection of ferns.  Ward's Canyon must only see sunlight for a few minutes each day, so narrow in parts there's no way to see the sky through the towing cliff faces on either side.  Chris was quite enamored with all the ferns, especially the gigantic King Ferns at the canyon's end.  From Ward's we then made the trip into The Amphitheatre: an amazing chasm through the sandstone leading to a towering rock amphitheatre covered with ferns and moss.  An awe-inspiring spot!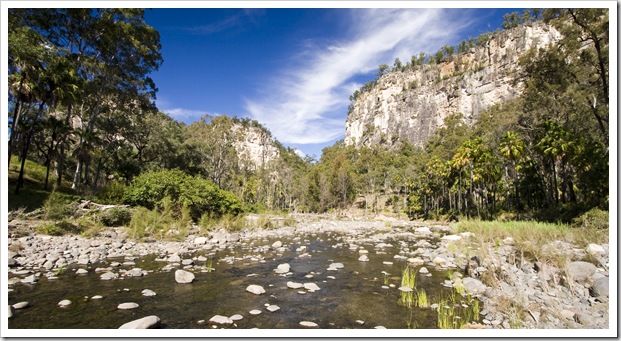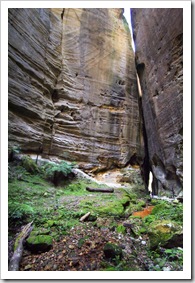 From Carnarvon Gorge we bid Chris adieu, he had a couple more weeks of vacation up his sleeve and wanted to get his new dinghy in the water back in Adelaide (I think there also might have been a member of the fairer sex he was keen on catching up with).  Awesome to have him along with us for a few more adventures, we always enjoy his company on our travels.  Credit goes to him for a few more photos as part of this blog.  From Carnarvon Gorge its back to the coast for us and on our way north toward Cape York…
This entry was posted on Sunday, June 6th, 2010 at 11:00 AM and is filed under Australia, Queensland. You can follow any responses to this entry through the RSS 2.0 feed. You can leave a response, or trackback from your own site.