Temperature: 21°C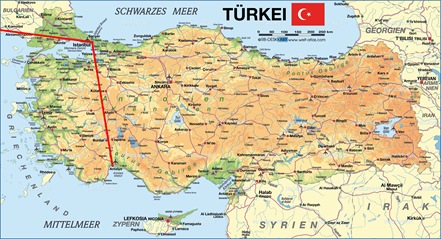 We have begun!  We got moving at around 3:30AM Monday Pacific Standard Time, starting our journey with a flight from San Francisco to New York City.  Even though we've both been eagerly anticipating this trip for such a long time and are very excited about our travels, we were both a little sad to leave the Bay Area.  Lots of friends and family that we're both going to miss and even though we'll no doubt have the time of our lives as we trot the globe it was definitely tough to leave our lives behind in California.  Anyway, after 21 hours of planes and buses we're finally in Antalya, Turkey.  The ride was pretty smooth, no lost luggage (we've had a bit of bad luck with luggage on a few trips recently) and we both managed to sleep a little from New York City to Istanbul.  We also managed to get into Istanbul ahead of time, so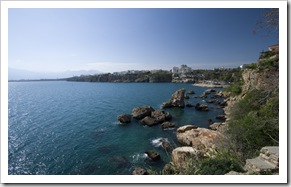 fortunately were able to jump on an early morning Atlas Jet flight to Antalya and spend the afternoon down here on the Mediterranean Coast instead of killing time in Istanbul's Ataturk International Airport for four hours.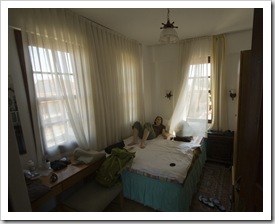 The descent into Antalya was quite breathtaking: the town of 600,000 is hemmed in by the Bey Mountains, which surround the town entirely on the north, east and west, while the turquoise-blue waters of the Mediterranean border the town to the south.  The plains surroundings Antalya are filled with glasshouses as far as the eye can see and the snow-capped peaks of the Bey Mountains in the distance really make for a heart-stopping view.  The dust obscured the view of the mountains a little for our first day here, but we could still easily make out the immensity of the peaks beyond Antalya Bay.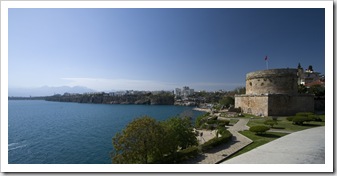 After three flights, a bus ride from Antalya's airport and a mile or so walk through the downtown district in what felt like 98% humidity we were both a little pooped by the time we reached our pansiyon (hotel) in Kaleici.  So we just took a stroll around the old town of Kaleici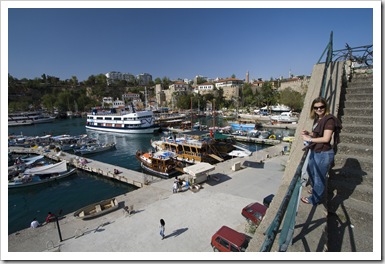 where our pansiyon is situated and learned very quickly not to catch any of the street vendors in the eye unless you want them to practically wrestle you into their stores to peruse their wares.  It's amazing how much was happening here for a regular Tuesday afternoon, it was absolutely bustling with activity.  At 5:00PM the sounds of the afternoon worship rung out across the city, it's an almost eerie sound, but the Turks continued about their day without paying it much notice.  Lisa and I were quite easy for the Turks to spot as tourists as we traipsed about in flip-flops this afternoon: the requirement for men and women to be wearing socks to enter a mosque dictates that everyone wears shoes as they go about their day even though this afternoon it was an almost hot 27°C.  We enjoyed sitting on a bench watching the world go by next to one of the town's main bazaars, the friendly locals appearing out of nowhere to serve onlookers hot tea with cubes of sugar for 50YTL (around $USD0.30) a cup was great.  An early night for us tonight, we're going to try to get on Turkish time so we're not so tired tomorrow and may venture up into the mountains to take a look at Gulluk Dagi National Park.
This entry was posted on Tuesday, April 14th, 2009 at 8:46 AM and is filed under Turkey. You can follow any responses to this entry through the RSS 2.0 feed. Both comments and pings are currently closed.