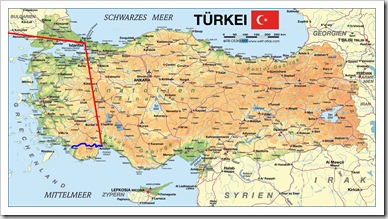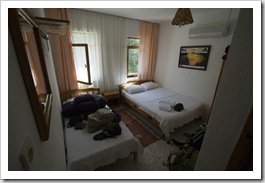 Leaving Fethiye behind us now as I have a little more downtime on the four hour express bus to Bodrum.  On another Pamukkale bus, the ease of bus travel in Turkey is amazing, the buses are very well equipped and the 25 YTL ($USD15.60) includes TV headsets, snacks, soft drinks, water and chai whilst onboard.  Too cheap.  Anyway, we stayed at the Ferah Pansiyon just south of Fethiye's harbor and main drag, another nice little pansiyon run by the  extremely helpful Tuna and his wife Monica.  Our first evening we traipsed about town after arriving from Antalya, the harbor of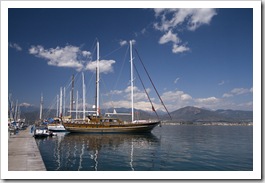 Fethiye is beautiful with its turquoise Mediterranean water and snow-capped peaks in the distance.  It has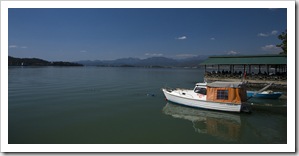 a very touristy atmosphere but the cafes and restaurants were still full of a pretty balanced mix of Turks and visitors.  We found a little bar on the water's edge for a few half liter Efes beers at 2.75 YTL ($USD1.75) a pop where we whiled away a few hours and watched the fish fight over tidbits of bread thrown to them by bar patrons.  As we were walking through town late in the afternoon we stumbled upon the Presidential Tour of Turkey as the riders were finishing their leg for the day.  The main thoroughfare in Fethiye was blocked off for the race and all the locals were out to watch the pros come through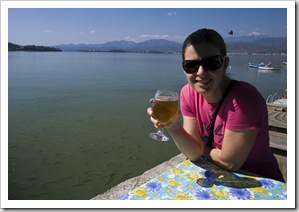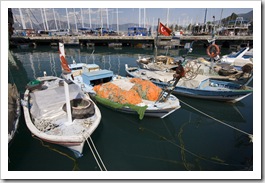 town.  A lot of European countries had teams entered, we saw Turkey (of course), Spain and Germany to name a few.  We found a spot 200 meters from the finish line and got to witness the lead pack of four or five riders sprinting to the finish line, as well as the main pack of more than 50 cyclists come in five or so minutes later.  A bit of a treat!  On the recommendation of the Lonely Planet we walked to the Pasa Kebab for dinner and were not disappointed.  We shared a lamb shish and beef pide, I think the pide is probably one the best pizza-like foods on the planet.  An elongated flatbread cooked in a wood oven with pickled peppers (capsicum), onions and grilled beef.  Amazingly good.  The lamb shish was pretty awesome too, lamb in general here in Turkey is fantastic, but the pide was out of this world, I think I'll be ordering a few more during the next 10 days!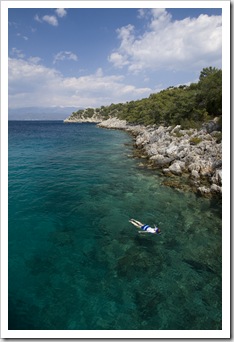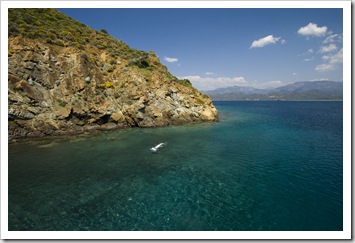 We spent Friday on a 12 island boat cruise on the recommendation of Tuna, our hostel owner.  We were picked up at 10:00AM by the tour operator in her little Datsun 1600 from yesteryear and driven through town in another seat-of-your-pants ride for which we could have used racing harnesses in place of our seatbelts!  Lisa thinks I would enjoy driving in Turkey (I tend to agree).  The boat was an eclectic mix of tourists from all over the world: Denmark, Scotland, New Zealand, the States and a few Aussies.  We had a good chat with a guy from Woodville who was traveling through Egypt and Turkey for five weeks, the world is a small place these days (for those of you that don't know the suburbs of Adelaide, Woodville is about 10 kilometers from where I grew up).  We cruised around the islands outside of main Fethiye harbor, stopping at five or six of them for sightseeing, swimming, snorkeling and some fun diving off of the boat.  The tour operator (our excitable driver with the Datsun) had a bit of a tough time pedaling beers to the backpacking crew at 5 YTL a piece, by the end of the trip we'd bartered her down to 2.50 YTL a drink, more in-line with what they'd be onshore!  For 30 YTL ($USD18.75) each we received an eight hour cruise of the Turkish islands around Fethiye, lunch, and pickup from our pansiyon.  Again, too cheap.  A pretty fun day, some beautiful scenery and temperatures around 30°C, what more could you ask for?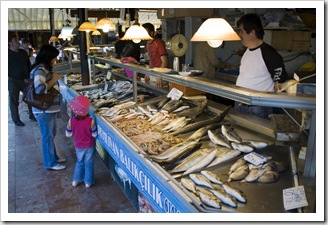 In the center of Fethiye is a fish market surrounded by restaurants: it's setup such that once you've made your purchase from the fishmongers you can take it to the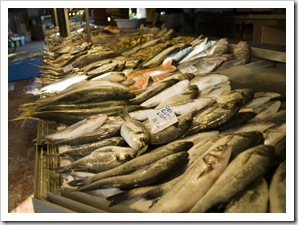 restaurant of your choosing and for 5 YTL ($USD3.10) they'll cook it to your liking, provide you with toast and a green salad.  We chose squid and for 10 YTL ($USD6.25) purchased four good-sized specimens which were turned into delicious calamari by the chefs at the restaurant we chose.  The restaurants themselves don't really have a menu apart from a wide array of mezes (antipasti).  Lisa ordered olives wrapped in anchovies (Gail and Greg, she said you guys would love them) and we also sampled the hummus and a salad of chopped tomatoes, garlic and onions.  The hummus here is a little different to what we're used to: it's served on a plate as a solid cube with oil drizzled over the top, you then have to mix in the oil until it's of a spreadable consistency.  Another killer meal, lucky we had a big hike planned for the next day!
This entry was posted on Saturday, April 18th, 2009 at 5:00 PM and is filed under Turkey. You can follow any responses to this entry through the RSS 2.0 feed. Both comments and pings are currently closed.