Temperature: 31°C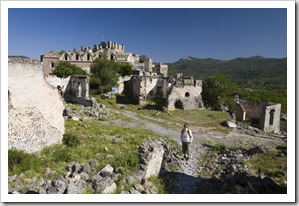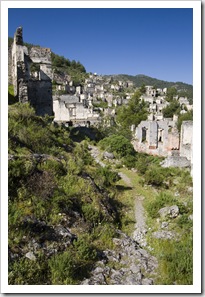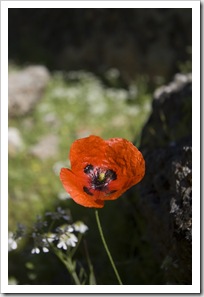 The Lycian Way is heralded as one of the world's most picturesque hiking trails.  After discussing sections of the trail with the Aussie couple we met in Antalya who had just completed 287 kilometers of it, we decided to attempt a section today from Kayakoy to Oludeniz.  We wanted to visit Oludeniz whilst staying in Fethiye anyway, as a number of people had told us it's the best beach in Turkey.  We caught a dolmus (small local bus) to the village of Kayakoy in the mountains south of Fethiye.  The dolmus system is great, they run very frequently and are a cheap way of traveling short distances.  They're about the size of a minibus and have seating on one side, standing room on the other.  The only drawback is that when you get 25 or so people crammed into one in 31°C weather the aroma can get a little interesting, to say the least!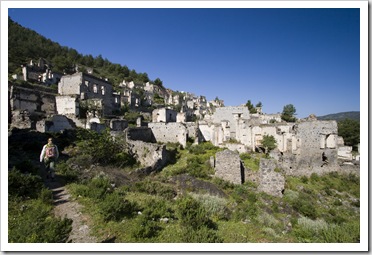 The ride to Kayakoy took about 45 minutes, it seems that apart from farming the mountain plateaus the main income provider in Kayakoy is a ghost town of buildings perched above the village through which we walked to begin our hike.  The 2000 or so stone houses were abandoned by the mostly Ottoman-Greek inhabitants after WWI and the Turkish War of Independence.  We weren't expecting such an interesting start to the day, but the relics were quite a sight, a completely abandoned city but for the most part still standing (minus their roofs).  Our first mistake of the day was to trust probably the worst hand-drawn map known to man that we photocopied from the guest book at our pansiyon.  The second mistake was to fail to completely read the set of instructions that went along with the map.  We hiked through the mountains and ridges overlooking the Mediterranean between Kayakoy and Oludeniz for about an hour before running into a local boy herding donkeys and, via a combination of sign language and pointing at our rudimentary map, figured out that we were a few miles on the other side of an impassable ravine from where we needed to be.  He did know a little English though: when we asked whether we could walk to Oludeniz from the location at which we'd found ourselves he gave us a forceful "no way" and looked at us the way Jarrid Bordessa's dad looks at me when I get bogged on their dairy!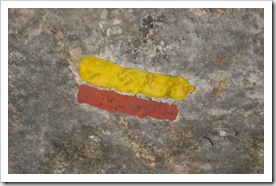 So, we trudged back up into the ruins of Kayakoy, dripping in sweat in the 31°C midday sun, and after a heated moment here and there managed to get ourselves onto the correct portion of the trail.  We quickly discovered that the Lycian Way is marked by very distinguishable markers painted on rocks every few hundred meters even in sections where there is no discernable trail.  The markers became our saving grace as we always knew we were headed in the right direction at the sight of the next marker.  The hike was majestic, through pine forests and across ridges with views of bays and islands, cliffs and mountaintops all around.  One section of the trail was a little treacherous, we had to scramble a few hundred meters down quite a steep rock face where there were no markers, I managed get a little ahead of Lisa but was reminded of her presence by some very loud hyperventilating as a meter-long snake slithered across the rock a few inches in front of her feet!  A mostly downhill route had us in Oludeniz about three and a half hours after arriving in Kayakoy, enough time for a quick dip before heading back to Fethiye in the dolmus to catch our bus to Bodrum.
This entry was posted on Saturday, April 18th, 2009 at 6:30 PM and is filed under Turkey. You can follow any responses to this entry through the RSS 2.0 feed. Both comments and pings are currently closed.