A bit of time to catch our breath (or so we thought) in Adelaide for a few weeks, we're almost ready to head north on our way to Darwin.  Adelaide's always very hectic for us when we visit, a lot of fun catching up with people we don't see from one year to the next as well as spending time with my family, but after four weeks of dinners and drinks we're ready for some time in The Outback.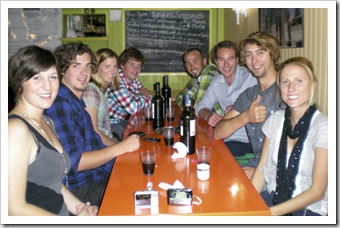 Our first night in Adelaide my grandma Rosabelle took Lisa, my mum, my cousin Sophie and me to see Phantom of the Opera.  We caught Anthony Warlow in his last performance, a real treat, he was the phantom and was brilliant to see (and hear) in the flesh.  A little jetlagged after 35 hours on planes between Athens and Adelaide, but we managed to power through it after downing a few bottles of Coke through the night (I've never seen Lisa drink Coke before!).  Our first weekend we were fortunate enough to get hold of a couple of tickets to see The Presets at one of their sold out shows at Thebarton Theatre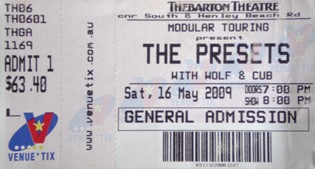 (unfortunately [for him] one of my best mates couldn't get a baby sitter for the night and, even though we offered to watch the kids, he was kind enough to give us his tickets for the show).  Lisa and I have never been big Presets fans, but after seeing them live we're now converted.  By the time My People came on to finish up the concert the theatre must have been 45°C (113°F) and 99% humidity, a few thousand people jumping and jiving can sure heat up a concert hall.  Todd's shirt was completely drenched, he had to go home to get another before we went to the pub after the concert.  A crazy concert, we've never before bounced around and done The Robot more in the space of two hours!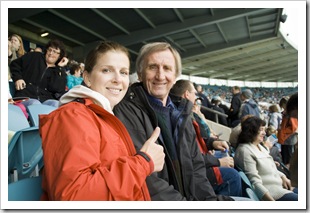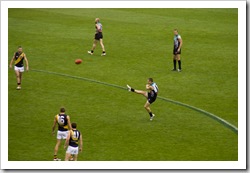 Dad took us to the footy to see Port Power play the Richmond Tigers, and allowed us to use his tickets another time to see Port Power play the Freemantle Dockers with Owen and Erin.  We were glad to be able to catch up with Owen as one of his student's sisters had contracted Swine Flu and thus Owen was on house arrest for a week during our time in Adelaide!  The game against Richmond was an absolute nail biter, the lead going back and forth throughout the game with the contest eventually coming down to a last-minute Port goal by Warren Tredrea who then ran down to defense to take a spectacular mark to save the game.  Instead of shouting his regular abuse at the umpires my dad became very quiet during the last few minutes, both Lisa and I had to check that he hadn't cracked with the last-minute pressure!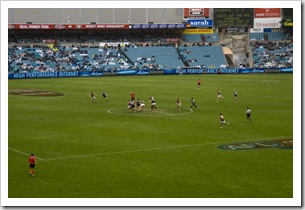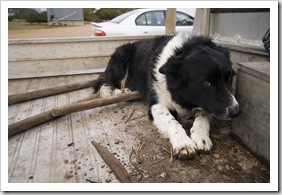 We took a trip around Gulf Saint Vincent to visit the Browns on their farm (S34°41.041' E137°33.672') just north of Minlaton and also to test out The Tank for a night at Hardwicke Bay (I'll talk more about The Tank in another post when we have a few more photos of it).  As always, it was great to see the Browns and be treated to one of Rebecca's fabulous lamb roasts.  When we visited last year Eleanor, Ed and Rebecca's daughter, was still mostly devoid of hair and just learning to crawl.  When we visited a couple of weeks ago she had discovered her voice and was walking around with a little personality of her own.  They grow so fast…  Max was his usual amusing self, babbling away at 90 miles an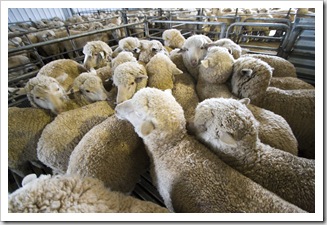 hour, often in his own language, and generally providing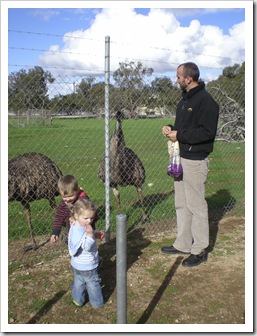 us with entertainment during our visit.  I enjoyed spending a bit of time helping Ian herd some sheep between paddocks ready to be crutched (I'll call it helping but I'm not sure Ian would!), reminded me of  being a little kid and how I'd look forward to visiting the Browns' farm during school holidays.  Ed has two sheep dogs: a short-haired border collie named David Brown and a long-haired border collie named Brian Brown.  David was an absolute treat to watch in action, he'd heard a mob of sheep from one side of a paddock to the other without a single bark, using only his eyes to direct them where he wanted them to go.  An occasional beep of the ute's horn (a ute is a truck for those of you in the northern hemisphere) and maybe a "get back" or "get way back" from Ian let David know whether he was heading the right direction, I've never seen anything like it.  Once in the shearing shed David was in his element, jumping all over the sheep to push them between pens and nipping at the heels of laggards who didn't move quickly enough for his liking.  An amazing dog!  Ed, not one to overstate the capability of one of his pups, is of the opinion that David does just alright and will improve with age!  Our stay overnight in The Tank at Hardwicke Bay (S34°55.532' E137°26.754') went very well, the bed on the roof was very comfortable and the way the full-length drawers are setup make packing and unpacking very slick.  A few things we discovered during our test run that needed to be changed once back in Adelaide, but all in all we're very happy with how things went.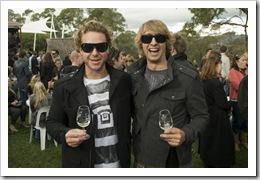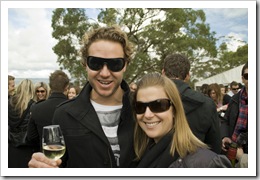 Our last Sunday in Adelaide was spent at the McLaren Vale Sea and Vines Festival.  McLaren Vale is one of South Australia's main winemaking regions and is located 45 minutes south of Adelaide, each year a handful of the Vale wineries hold a festival showcasing their wines paired with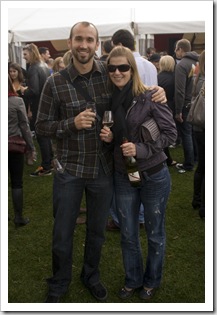 seafood dishes concocted by some of the region's well-known chefs.  The event has been gaining more notoriety in recent years, this year over 22000 people attended and by lunchtime most of the wineries had reached capacity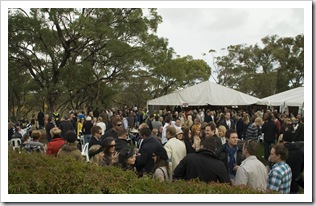 and had to close their doors to additional guests.  We spent our day split between d'Arenberg Winery and Chalk Hill Winery.  d'Arenberg was a veritable who's who of Adelaide, lots of familiar faces and even a Tony Modra sighting by one chap I was talking with.  Chalk Hill was closed to new festival-goers when we arrived around 2:00PM so Todd, Tim, Lisa and I were forced to enter the back way (which involved walking crouched between vineyard rows and slipping in whilst the gaze of security guards was averted!).  A great afternoon with live music at each winery, the food was superb and wines on offer fantastic.  The wood-fired pesto prawn pizza at Chalk Hill Winery was absolutely to die for.  Unfortunately Lisa felt a little worse for wear the next day (the worst I've ever seen her!) due to the fact that the wineries sold wines by the bottle at each venue!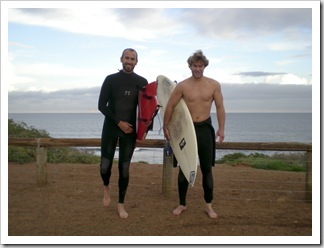 The rest of our time in Adelaide consisted mainly of working on The Tank during weekdays and dinners with friends and family during the evenings.  A few snafus with various components of The Tank were a little frustrating to get sorted out and our shipment from San Francisco being delayed absolutely drove us up the wall (it ended up taking 63 days to arrive instead of the quoted 35! [never ship with a company in the States called Discount Shipping or American Baggage]).  We were lucky enough to be in Adelaide for my cousins Rebecca and Katherine's birthdays, as well as Cathie and Damian Hamilton's thirtieth birthday party which was held at a suave bar on Rundle Street called The Distillery.  A few faces from my days as a student at the University of Adelaide that I hadn't seen for many years at their party…  We also managed to catch a game of Jordan Opperman's footy one Sunday morning, a few laughs watching the kids chase the ball around the oval.  And finally, we couldn't have done without a fantastic 4WD and off-road recovery course from Tom Brown one night after a scrumptious dinner of his wife Marissa's butter chicken.  It left us feeling well prepared for what lies ahead!  A month in Adelaide sure went by fast, great to see familiar faces and get more than the typical two weeks we spend back here whilst on vacation from work.  But we're definitely ready to get moving again, we'll do so in a couple of days as we head up the Red Centre to Darwin via the Flinders Ranges, Lake Eyre, Uluru and a few other stops along the way.
This entry was posted on Wednesday, June 10th, 2009 at 11:22 PM and is filed under Australia, South Australia. You can follow any responses to this entry through the RSS 2.0 feed. Both comments and pings are currently closed.