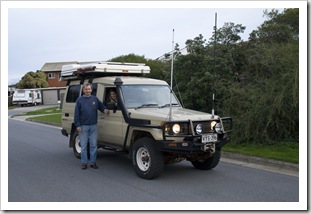 Yesterday morning we set off from Adelaide, The Tank laden with supplies, fuel, water and all our belongings (which finally arrived from San Francisco on Thursday!).  We set a course for the Flinders Ranges, arriving in the early afternoon through the National Park's Brachina Gorge entrance and making our way south to camp for the night at  Bunyeroo Gorge.  We had enough daylight for a quick hike down a portion of Bunyeroo Gorge and into Wilcolo Creek.  Even though South Australia's been receiving quite a bit of rain of late, the gorges and creeks in the Flinders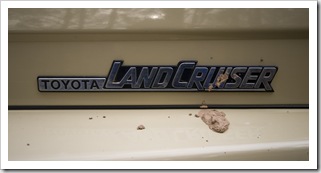 were unfortunately all mostly devoid of water.  The National Park was still as beautiful as ever, though, and we weren't left wanting for wildlife as we started to run into kangaroos as soon as we set out collecting wood for our fire.  It starts to get dark around 5:30PM at this time of year in South Australia, so after a scrumptious bush dinner of jacket potatoes in the coals, scotch fillet and sweet potatoes we had a few glasses of wine and were in bed when the wood ran out around 7:30PM.  We did have a chance to lay out under the stars around the fire for a little while, we forgot just how many stars are in the sky, amazing to see the heavens lit up on a clear night when the closest city lights are hundreds of kilometers away.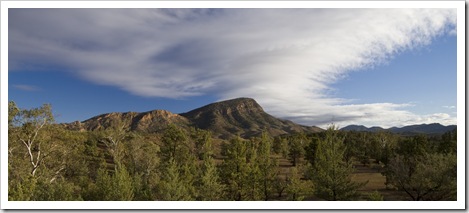 Our aim today was to get moving early and make the 12 kilometer round trip hike into Blinman Pools before lunch, then to the famous Prarie Hotel in Parachilna for a bite.  We had quite a few photo stops along the way, the morning sun had the eastern ridge of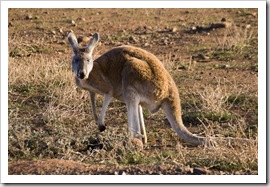 the Ranges lit beautifully this morning so I had to take some snaps.  We also encountered a few kangaroos and emus on the road between Brachina Gorge and Blinman.  We arrived at Angorichina Village at around 9:45AM to begin our hike, lucky our fuel tanks were full because the diesel at Angorichina was $3.89 per liter (that's about $USD11.78 per gallon)!  The Blinman Pools trail makes a 12 kilometer out-and-back along Blinman Creek to the two sets of cascading pools and a couple of waterfalls along the way.  Even with the recent rains the waterfalls were still dry, it appeared to have been quite some time since they'd flowed, but the pools were full of water and worth the walk.  We encountered quite a number of euros (euros are small kangaroos that look like wallabies) as we walked along the dry creek bed to the pools, a number of them seemed to be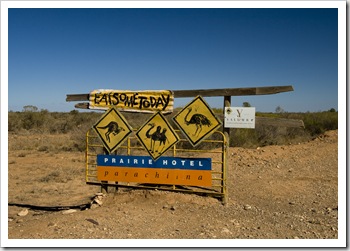 quite familiar with hikers and allowed Lisa to walk within a few meters before hopping off.  We were hoping to catch a glimpse of some rare yellow-footed rock wallabies, which supposedly inhabit the area, but no such luck today…  The round trip hike to the first pools took us around two hours and 15 minutes, giving us enough time to high-tail it out of the National Park and west to Parachilna for lunch at the Prarie Hotel.  The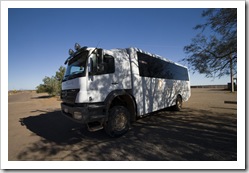 Prarie Hotel is famous for serving up what it calls road kill, but is really restaurant-quality Australian fare such as emu and kangaroo, as well as the odd import like camel.  Lisa and I enjoyed an emu and kangaroo burger respectively, bacon and a fried egg to boot, and both agreed that it was probably the best burger either of us have ever eaten!  We arrived just in time, a few minutes after we sat down a bus-load of seventy-something tourists arrived in the most bulletproof looking bus either of us has seen (my grandma Rosabelle would call it a grey-power bus).  If you can't do The Outback yourself, taking one of these (pictured to the left) is definitely one way to do it.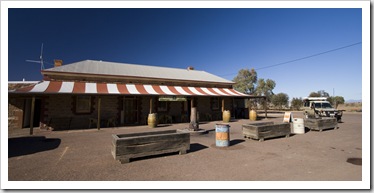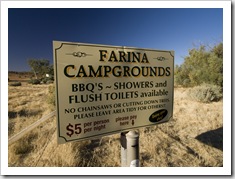 After a more-then-satisfying lunch we refueled at Leigh Creek and made our way past the region's massive coal mines, through Lyndhurst to the ghost town campground at Farina (S30°3.704′ E138°16.372′).  Farina is nothing more than a sheep station these days, the campground is run and maintained by the station owners, but the history and ruins of the old town were quite interesting.  Farina used to be the northernmost South Australian town accessible by rail until the track was extended to Marree some time around 1930 (if I remember correctly, I could be wrong…).  The town used to be a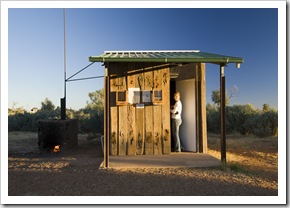 bustling little Outback metropolis, with two pubs, a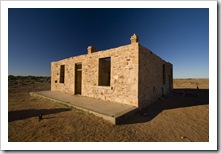 church, general store, post office, five blacksmiths, a school and a brothel.  The facades of a small number of the buildings are all that remain, eerily left standing amid the Martian-like surrounds.  The information boards erected by the station owners provide an interesting insight into the rise and eventual fall of the town as progress pushed the railway further north to Marree (and eventually Alice Springs).  The campground at Farina Station is a great spot, flush toilets (something I wasn't expecting to see) and even an old donkey for hot showers (a donkey is an old Aussie shower system that uses a 44 gallon drum filled with water and heated by fire to have a warm rinse).  My fingers are about to freeze off typing this in the cold; tomorrow we're pushing further north to William Creek to take a scenic flight over Lake Eyre.  The lake is full of water at the moment, something that happens only once every 10 or 20 years.
This entry was posted on Saturday, June 13th, 2009 at 6:30 PM and is filed under Australia, South Australia. You can follow any responses to this entry through the RSS 2.0 feed. Both comments and pings are currently closed.