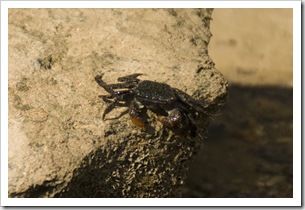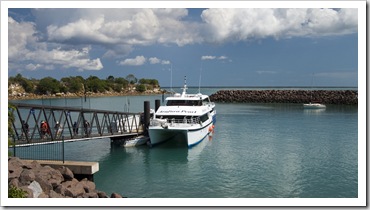 It was another typical dry season afternoon today: hot and humid with big blue skies and pleasant enough if you're lucky to have some swimmable water nearby!  We decided to take a trip across to Mandorah from our current home at my auntie and uncle's house in Darwin.  Mandorah is located across the bay from Darwin, a couple of hundred kilometers around by road but only a short 15 minute ferry ride from the harbor at Cullen Bay.  The ferry runs every couple of hours so there's quite a community over in the small enclave of Mandorah that work in Darwin by day and return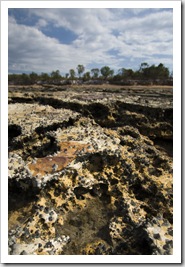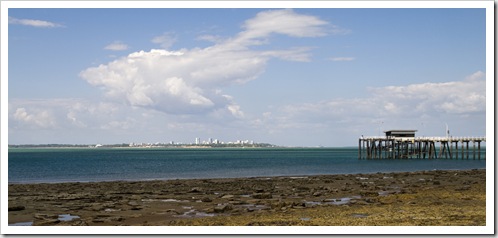 across the water each evening.  Mandorah boasts a popular pub on the water's edge, the Mandorah Hotel, that offers what looked to be quite good counter meals as well as live music and a relaxing setting for an afternoon beer.  We spent the afternoon on Mandorah Beach, Lisa reading her latest book on the sand while I tried my hand at a spot of fishing, again with no luck.  The mud flats and tide pools kept me occupied, however, teeming with all kinds of crabs and juvenile fish.  We're still not used to being in the hot and humid tropics without being able to take a dip for fear of saltwater crocodiles and box jellyfish.  I don't think either one of us will ever become used to that part of Australia's Top End!
This entry was posted on Sunday, June 28th, 2009 at 3:30 PM and is filed under Australia, Northern Territory. You can follow any responses to this entry through the RSS 2.0 feed. Both comments and pings are currently closed.