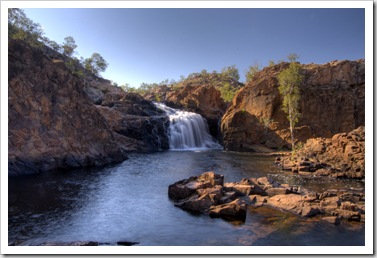 I've had a couple of enquiries as to why some of the posts on Our Walkabout have the pictures jumbled in a funny way around the blog content.  I try hard to avoid this, but the availability of different web browsers (Safari, Internet Explorer, Firefox…) and different companies producing the browsers means that each browser interprets web pages a little differently.  I run a couple of browsers on our laptop, but quirks still manage to weasel their way through and it absolutely drives me up the wall.  When Internet Explorer went from version seven to eight Microsoft changed the way certain pages are interpreted and I had to spend hours fixing the aesthetics of Our Walkabout.  Ugh…  So, if you see something funky please let me know so I can fix it.
Something else I want to mention stems from queries I've had about the misty water shots that have started to show up on the blog.  No, this is not a Photoshop trick.  No, I don't spend inordinate amounts of time doctoring these photos to make the water mist.  It's all camera.  These shots are taken using a low ISO speed, high lens aperture and usually a neutral density or polarizing filter to reduce the amount of light entering the camera.  And, as with the photo to the right, it usually works best when the water itself is in the shade as the shutter can stay open for even longer, allowing the water to mist even more. 
This entry was posted on Thursday, July 2nd, 2009 at 5:14 PM and is filed under Australia. You can follow any responses to this entry through the RSS 2.0 feed. Both comments and pings are currently closed.