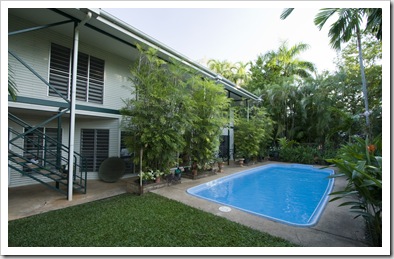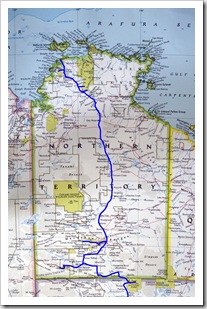 We're just about to finish up a very fun week-and-a-half stay in Darwin with my auntie, uncle and cousins.  It's been a little luxurious for us, being able to enjoy their wonderful home in Fannie Bay after getting used to living out of The Tank as we traversed the country from Adelaide.  Margot, my middle cousin of the three girls in the Hudson family, proved to be a fantastic tour guide during our time in Darwin, showing us all the sites of Darwin from the mangroves of East Point to the best bars and clubs in the city center.  We enjoyed spending time at a few of the many street markets Darwin has to offer, the Mindil Beach markets on Thursdays and Parap Markets on Saturdays were two we visited during our time here.  The markets were a lot of fun, more food stalls and local artists than one can imagine, it was difficult for us to decide what ethnicity of food to eat with all the choices.  We also enjoyed the once-monthly Indian night held at Mindil Beach, the regular markets transforming into Indian- and Sri Lankan-only cuisine for the event.  So many scrumptious curries to choose from!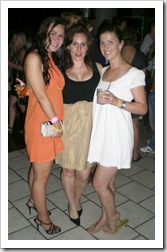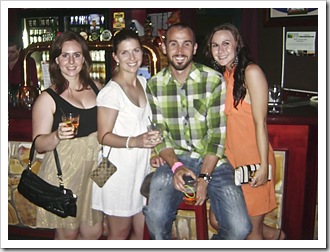 A few days after we arrived my youngest cousin Sophie arrived in town fresh from finishing her final university exams in Adelaide.  Her boyfriend Richie, in town from his job in Jakarta to celebrate his 30th birthday, had a function at the Deck Bar in the city where we met the girls for a night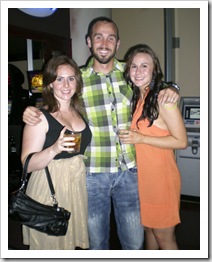 out on the town.  They gave us quite the tour of Darwin drinking holes: after the Deck Bar we moved to Wisdom and finished the night up at the Tap Bar.  Never one to dismiss a late night bakery I also sampled the fare at Tommo's Pies in Mitchell Street around 2:00AM, Lisa deciding to join the party for her favorite spinach and cheese roll.  The Tap Bar offered quite hefty cocktails (Margot and Lisa are pictured enjoying one below), they're called fishbowls and are probably the size of a human head, definitely a good way get in the mood for the night!  Lisa slotted in like an older sister with the girls and I haven't spent any significant time with either of them since I was a teenager, so it was great to catch up with them both here in Darwin on their home turf.  It was unfortunate that my oldest cousin Amy couldn't be here with us all as well, but she's off conquering the world with Ernst and Young in Zurich so we'll have to catch up with her and her boyfriend Andy at another time.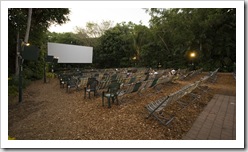 One of the other attractions we enjoyed whilst using Darwin as a base for the past week-and-a-half is the Deckchair Cinema, located on the water's edge just below the city center.  The cinema is an outdoor establishment set in the tropical palms of the Darwin waterfront, rows of deckchairs set up facing a large outdoor cinema screen.  With surround sound, a licensed bar and what looked to be quite scrumptious food, we enjoyed watching a movie there so much that we're going back tonight for a second helping.  The first flick we saw was an Aussie claymation feature called Mary and Max, a sometimes serious but also very funny story about an unlikely couple: an Australian girl from a broken home named Mary and her Jewish New Yorker pen friend Max, who happens to have Aspergers Syndrome.  Definitely worth a watch, the animation is fantastic and characters are a real hoot.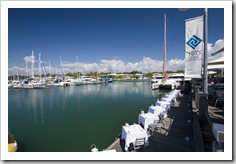 We've both really enjoyed Darwin, spending time with my family has been great and it's been nice to have a few days to just sit and relax.  We even managed to go jogging around East Point a few mornings when we rose before the humidity started to kick in.  It's been a great base for a trip to Litchfield National Park as well as a day trip over to Mandorah.  The sunsets up here have been fantastic and the ease of getting around is like nothing we've experienced before when it comes to a capital city.  As a send off my auntie and uncle took us all out for dinner for my 30th birthday at Yots Greek Taverna in Cullen Bay.  Some of the best Greek food we've ever had, and the oysters flown up from Coffin Bay in South Australia, shucked in front of us, were delectable.  We'll be sad to leave Darwin but The Outback awaits so it's time to repack The Tank and get moving again tomorrow morning.  We've done quite a shopping run this afternoon and yesterday we had enough meat vacuum packed to feed an army, so should be set now for a few weeks as we make our way across to Kununurra via Kakadu and Gregory National Parks.
This entry was posted on Saturday, July 4th, 2009 at 4:22 PM and is filed under Australia, Northern Territory. You can follow any responses to this entry through the RSS 2.0 feed. Both comments and pings are currently closed.