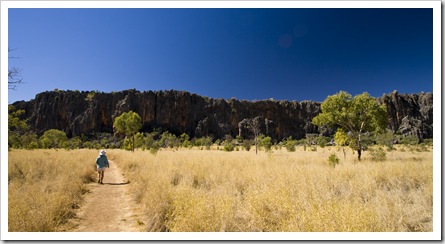 Our first stops officially off the Gibb River Road (we're now on the Leopold Downs Road to Fitzroy Crossing) took us to Windjana Gorge and Tunnel Creek.  In an area of the country where gorges abound we figured that the single one declared as a National Park must be pretty special.  Windjana Gorge is effectively a cut through a long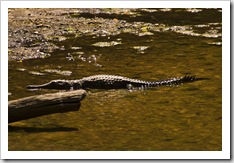 north-south range of rock, forming a string of still pools along its length that are favored by a plethora of Freshwater Crocodiles.  We hiked the length of the four kilometer gorge in the hot afternoon sun, thinking that as with the rest of the gorges in the Kimberley we'd be rewarded with a swimming hole somewhere along the way.  Assumption caught us unawares, there were no swimming holes and we instead had to brave the heat without a dip, but the majestic rock faces and crocodiles kept us busy along the way.  One of the young kids we encountered said he'd counted 74 crocodiles lying on the banks of the gorge, it was definitely the most concentrated population of crocs we've seen in the Top End.  I almost stepped on a small one whilst looking through the camera viewfinder, gave me quite a fright!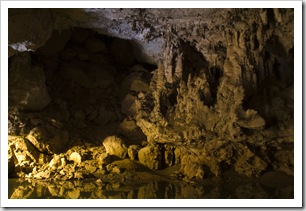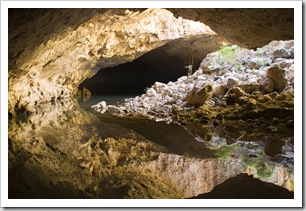 This morning on our drive to Fitzroy Crossing we stopped off at Tunnel Creek National Park.  Located along the same range as Windjana Gorge, Tunnel Creek is a roughly 700 meter long stream that winds its way through the rock as an underground waterway.  Hiking the length of the creek was a lot of fun, definitely one of the highlights of the Kimberley.  We encountered Cherubin, fish, noisy bats, eels and even a baby Freshwater Crocodile in the dark surrounds of the underground creek.  There was a halfway point where light could enter, otherwise for the entire length of the creek all we had was our lights.  A little eerie in there, glad that the only crocodile we saw was a few feet long! 
This entry was posted on Saturday, August 8th, 2009 at 4:41 PM and is filed under Australia, Western Australia. You can follow any responses to this entry through the RSS 2.0 feed. Both comments and pings are currently closed.