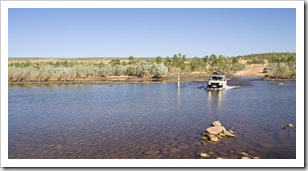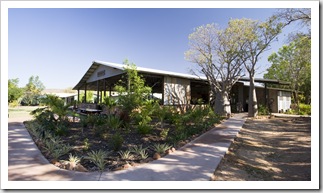 After our few nights at El Questro we began our trek across the Gibb River Road.  Arguably one of Australia's most well-known 4WD routes, the Gibb is a rocky, corrugated stretch of dirt making its way from just west of Kununurra to the coastal town of Derby.  This section of the Kimberley is home to a collection of million acre cattle stations that these days cater more to adventure-seeking tourists in 4WD vehicles than they do to the production of beef.  Approximately halfway along the Gibb the road tees off and heads north to Kalumburu, a small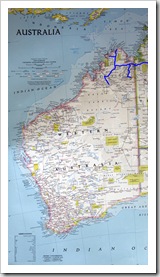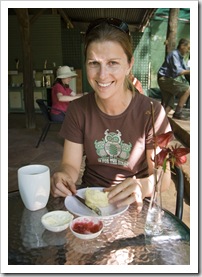 Aboriginal community on the coast, and also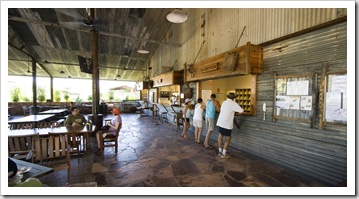 to the famous Mitchell Plateau and Mitchell Falls.  After quite a few visits to the sole RAA contractor during our time in Kununurra we became familiar with the kind of havoc the Gibb and especially Kalumburu Roads can wreak on vehicles.  With this in mind we took our time to travel from Kununurra to Broome, with fingers crossed that The Tank would make the journey in one piece!
One of the other quite commercial tourist spots along the Gibb is a short drive west of El Questro: Home Valley Station.  While Home Valley doesn't boast the natural beauty of the wilderness at El Questro, a pretty penny has been spent on the facilities and campgrounds.  We dropped in for a peek (above left), a very nice spot, but wanting to make

ground we continued west.  After a couple of hours of corrugations, a few creek crossings and an easy hop across the Pentecost River we were coaxed off the road late in the morning by a makeshift sign advertising fresh scones with jam and cream at Elenbrae Station (S15°57.881′ E127°03.584′).  A morning Devonshire tea was a welcome treat and break from the dust, we liked Elenbrae so much that we ended up staying the night in the station's campground.  The family running Elenbrae these days have nothing to do with the 3000 or so cattle roaming their million acre property, instead choosing to contract out the cattle mustering and concentrate on scones and camping facilities for tourists like us.  The campsite was a lot of fun, situated right next to a welcoming waterhole in which we escaped the heat a couple of times.  The donkey used to heat the water at Elenbrae was the first we'd seen since our night at Farina way back in South Australia.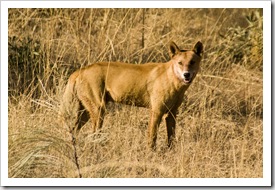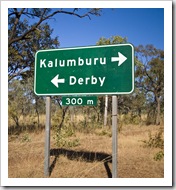 Monday, July 20 we pushed on early from Elenbrae for around another 70 kilometers on a surprisingly smooth road to the Kalumburu Road turnoff, spotting the dingo pictured here just before the junction.  We'd heard some horror stories from travelers about Kalumburu Road; it was very heavily corrugated in parts, but the first 60 kilometers of the road to Drysdale Station were devoid of any washouts or bulldust pits so we were pleasantly surprised.  Drysdale (S15°40.874′ E126°24.299′) offers camping facilities at the station as well as having a small store and a couple of diesel pumps.  The $1.95 per liter ($USD6.13 per gallon) made my wallet burn even more than the $1.85 per liter we paid at El Questro for a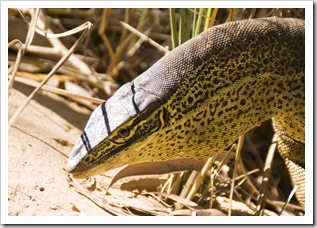 small top up!  Instead of staying at the station homestead we opted to camp next to one of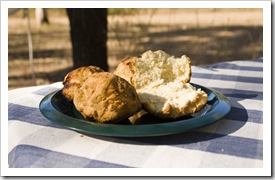 the station's waterholes five kilometers up the road.  The campsite at Miner's Pool was very picturesque, situated alongside the Drysdale River with swimming at the doorstep and plenty of shady trees.  The massive two meter Perentie pictured here made Lisa almost jump out of her skin as she was walking along the banks to the swimming hole, definitely the largest lizard either of us has ever seen.  The scones at Elenbrae the day before inspired me to cook up some bush bread of our own, the damper scones pictured here a very welcome snack following our afternoon swim.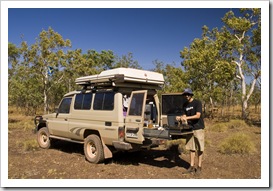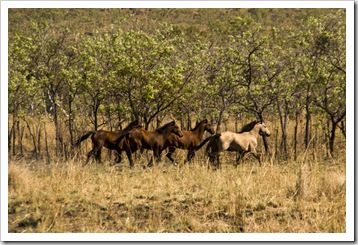 On Tuesday, July 21 we got an early start from Drysdale Station and headed north for Kalumburu (S14°17.752′ E126°38.644′).  A roughly 200 kilometer slog, we stopped a number of times along the way with the dual purpose of resting the driver and giving The Tank's suspension a bit of a breather.  The Kalumburu Road was very rough in patches, probably the worst corrugations we've encountered thus far, whilst in other sections it was as smooth as the pavement.  Some of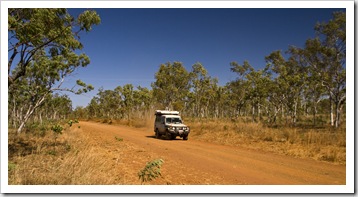 the grossly corrugated sections were absolutely terrible, we just wanted to be somewhere else and regardless of where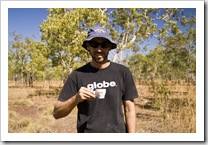 we drove on the road or at what speed we just had to hold onto our teeth!  The last 60 kilometers or so into Kalumburu were probably the worst, the road was formed over natural terrain so had everything from washouts with boulders the size of our rims to corrugated sand.  Add to that the odd cow to slow down for and you've got a very interesting drive!  There were some beautiful brumbies (wild horses) scattered across the plains into Kalumburu, the small Aboriginal township definitely a welcome sight after four hours of driving.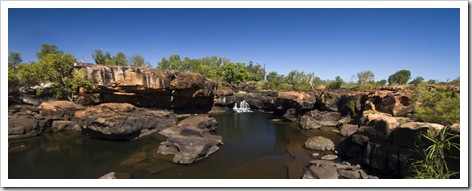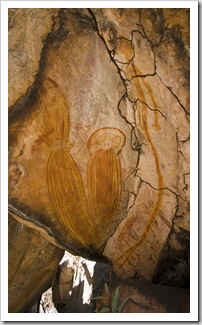 After four nights of fishing, camping and a dose of history at Kalumburu we headed back down the Kalumburu Road bound for Mitchell Falls (S14°49.233′ E125°43.080′).  A German couple we met on the beach at McGowan's Island suggested that we stop for a night to camp alongside the King Edward River on our way to Mitchell Falls.  So after two hours of driving back along some very ordinary road from Kalumburu we setup camp alongside the King Edward at a beautiful spot next to the river (S14°53.228′ E126°12.183′).  Such a great location, camping alongside the river with Corellas and Butcherbirds ever-present, it was very relaxing and for the first night we had the spot almost all to ourselves.  At almost 300 meters above sea level and quite a few large waterfalls from the ocean our campsite was too high for Estuarine Crocodiles, so we enjoyed an afternoon of swimming at a secluded waterfall and also put together a batch of cinnamon-raisin damper.  (We did see a couple of freshwater crocodiles though, so were a little wary when taking a dip!)  There was also some interesting Aboriginal rock art near our campsite, some of the figures resembling aliens were a little creepy though.  After driving into Mitchell Falls and seeing the hot, dusty campsite in the National Park we ended up returning to our spot alongside the King Edward River for a second night after our hike and helicopter ride.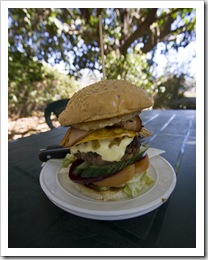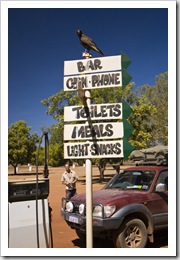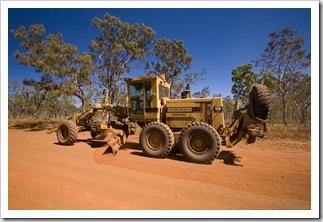 For our eighth and final night along the Kalumburu Road we stopped alongside the Gibb River a few kilometers north of the turnoff back onto the Gibb River Road.  We made a quick stop-off at Drysdale Station for a refuel and one of the biggest hamburgers known to man (which we split), it sustained us well into the afternoon, no need for afternoon tea!  A friendly family we met in Keep River National Park clued us in on a bush camping spot next to the Gibb, we found it after a little searching and what a pretty spot it was.  The Gibb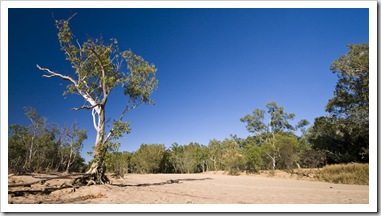 River was nothing more than a trickle but the massive amount of water that must flow during the wet was evident from the almost 100 meter wide sandy banks on which we camped.  We were welcomed to our camp spot by a lone, young bull and by the end of the evening were surrounded by more than six inquisitive young bovines.  They edged ever closer as the sun receded, always keeping a comfortable distance but getting quite close as we sat around the fire in the dark.  We spent the afternoon on our first significant bush repair work on The Tank, a plastic nozzle on the pump out of our drinking water tank snapped with the endless corrugations of the Kalumburu Road.  It took us quite some time underneath the car trying to repair it while at the same time attempting to salvage our drinking water.  We had it patched up after an hour or so, luckily we were camped next to fresh water so we could rinse off after squirming around in the dirt.  We found an indispensible use for Sharpie textas (markers): they're fantastic for temporarily plugging water hoses!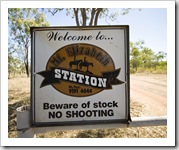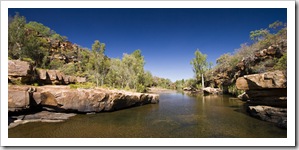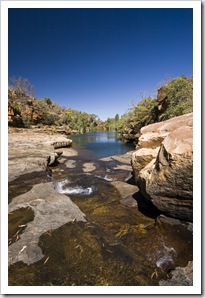 On Tuesday, August 4 we set off with sights set for a night at Mount Elizabeth Station.  Roughly 100 kilometers from our campsite next to the Gibb River, we only had to drive a few kilometers before we were off the Kalumburu Road and back onto the Gibb River Road.  Driving on the Gibb River Road again was like a highway compared to the rocks and corrugations of the Kalumburu and Mitchell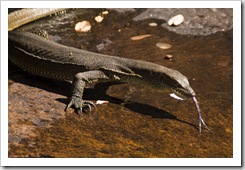 Falls Roads, so pleasant to be able to hear each other talk and listen to the words of the music whilst driving!  We drove into Mount Elizabeth Station for a look-see but, deciding that the campsite next to the station wasn't too crash hot, decided to keep moving and camp for the night at Manning Falls (S16°39.458′ E125°55.744′ ).  We took a midday stop at Barnett River Gorge for a swim, five kilometers down a rough road that tees off the Gibb River Road, then another half hour walk to the swimming hole.  It was a beautiful spot, again all to ourselves, very refreshing.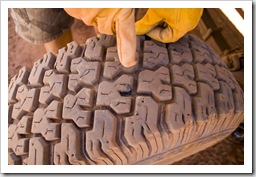 In the afternoon we continued on for another 30 kilometers from Barnett River Gorge to Manning Falls, along the way running across the famed Camel Man, a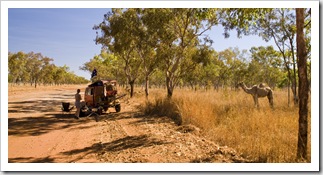 German-born fellow who has been walking around Australia with his pair of camels for seven years (before that he rode his bike for eight years)!  A friendly little chap with a strong odor about him and minus a few teeth, we had a good chat while he was taking his afternoon rest.  It turned out to be very fortunate that we stopped to chat to him as when Lisa disembarked The Tank she noticed a hissing sound from the rear passenger tire, our first puncture of the trip.  It seems that some of the shale they use to smooth the Gibb River Road found its way through our tread.  Lucky we stopped when we did, if we'd kept going we could have damaged the tire rather than being able to quickly patch it up on the side of the road.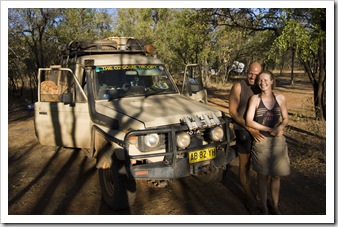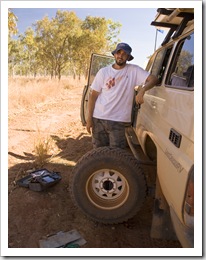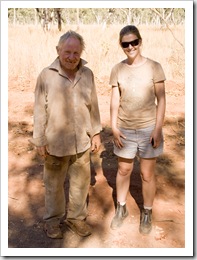 We ran into Thorsten and Henriette again at Manning Falls, a fun German couple who are touring Australia for six months and have been following a similar route to us since all the way back in Kakadu National Park.  We enjoyed the night sitting by the fire having a chat to some similarly-aged people, a lot of the other travelers in this area of the country are grey nomads or people traveling in 4WD club convoys.  We definitely all enjoyed the bottle of Seppelts' Muscat we'd been carrying since Adelaide, a good way to warm our tummies around the fire.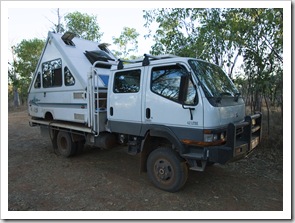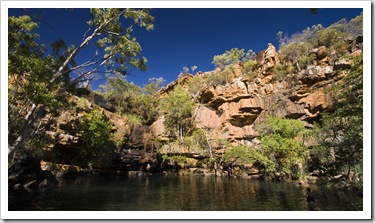 After a couple of relaxing days at the spectacular Manning Falls we pushed on to our next sleeping spot at Bell Gorge, approximately 100 kilometers further west along the Gibb River Road and our final stop on the Gibb proper.  Fifteen kilometers west of Manning Falls we made a quick morning stop at Galvans Gorge, a nice swimming hole at the base of a waterfall a short walk into the bush off the road.  It was only 8:30AM and thus was still a little cold for a swim but we were fortunate to run into a small flock of Red-Tailed Black Cockatoos, a bird we've been trying to get close enough to for a photo since we first encountered them at Katherine Gorge.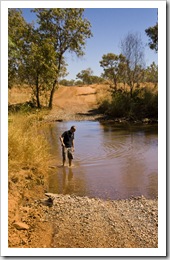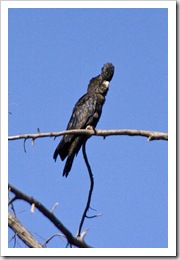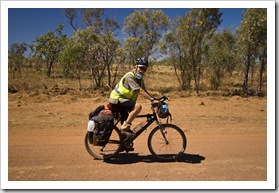 Our final day of driving along the Gibb River Road took us from Bell and Lennard River Gorges to the turnoff down to Windjana Gorge and Tunnel Creek National Parks.  Both of us were quite ready to be on the paved road again after two-and-a-half weeks of corrugations and dust, our stop for our first night back in civilization is Fitzroy Crossing.  The Gibb River and Kalumburu Roads were an awesome experience, some of the areas up north toward Kalumburu really made us feel like we were in some very remote country.  The gorges were amazing, as were some of the waterfalls and the fishing up near Kalumburu.  The Gibb is a busy place these days, gone are the days of not seeing anyone from one day to the next and plentiful bush camping locations, we won't be surprised if our entire route is paved in a decade or so.  At least we can say we crossed the Gibb and made it to Kalumburu when it was still a famous 4WD trek…
This entry was posted on Saturday, August 8th, 2009 at 5:13 PM and is filed under Australia, Western Australia. You can follow any responses to this entry through the RSS 2.0 feed. Both comments and pings are currently closed.