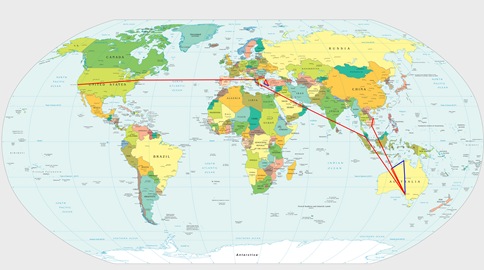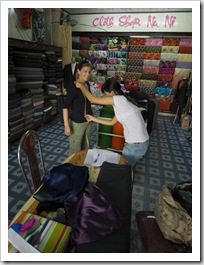 It was an interesting flight from Ho Chi Minh to Danang as Lisa was seated next to a monk who, in no uncertain terms, let Lisa know that she was not to touch the monk's clothes or skin during the flight!  It seems that I was allowed to do so, however, as when I leaned across to help the monk do up her seatbelt she was very obliging…  Hoi An is located about 40 minutes by taxi south along the coast from Danang, the airport into which we flew.  In 1999 Hoi An's old town was declared a World Heritage site by UNESCO as a well-preserved example of a Southeast Asian trading port of the 15th to 19th centuries, with buildings that display a unique blend of local and foreign influences.  The town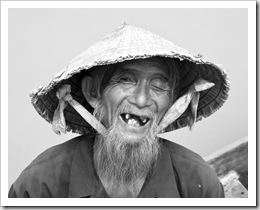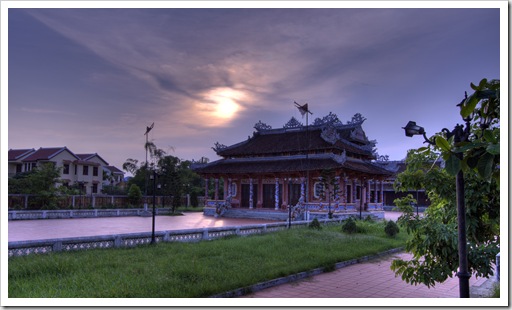 abounds with tailors at the ready to make any kind of clothing imaginable.  After seeing the quality of the clothing and selection of beautiful fabrics I had a suit and two shirts tailored and Lisa a beautiful cocktail dress made.  We were measured during our fist afternoon in town and picked up the clothes 24 hours later, walking into the store to find the seamstress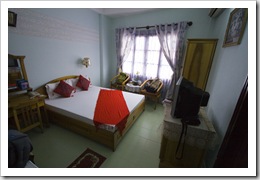 asleep after staying up all night to make our clothes!  I don't think I've ever had a set of clothes fit so well.
We stayed at Hoang Trinh Hotel,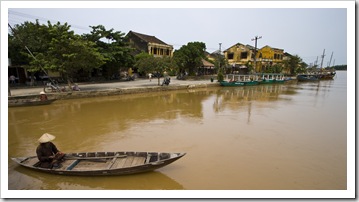 a quiet abode next to Hoi An's picturesque Confucius Temple and a short walk from the entrance to Hoi An's old town.  The old town is an amazing collection of traditional Vietnamese buildings, row upon row of open-front stores offering everything from $USD1.00 pure silk ties to the latest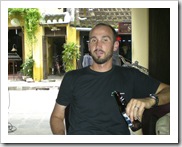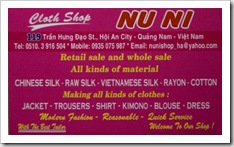 North Face backpacks.  We were visiting outside of the European, American and Australian holiday seasons so the town was pretty quiet, but the sheer number of hotels and stores identifies Hoi An as being firmly cemented into Vietnam's main tourist circuit.  There are a number of dishes endemic to the area around Hoi An that we tried during our stay, cao lau was our favorite: a noodle dish with broth at the bottom of the bowl mixed with fresh greens topped with thinly-sliced pork and wonton chips.  Cao lau at most restaurants was around $USD0.80 for a bowl, the fresh spring rolls here in Hoi An were also to die for and similarly cheap.  I'm at serious risk of turning into a spring roll with the number I've consumed so far.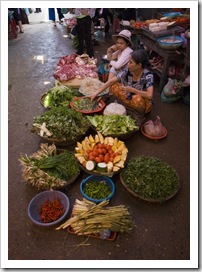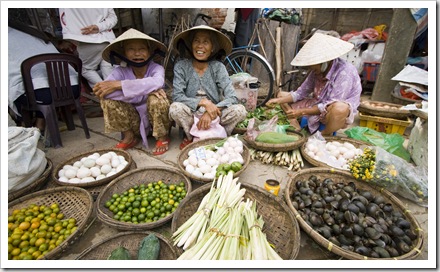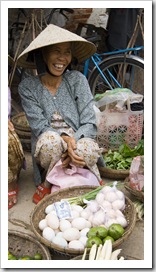 The central market in Hoi An was a similar to the markets in Ho Chi Minh: a menagerie of food and clothes as well as a mind-boggling number of odors and animal parts.  I turned around at one point to see Lisa high-tailing it towards me down a tight alleyway, behind her was a tiny, old Vietnamese woman dangling the tail and rear-end of some unintelligible animal in Lisa's direction and laughing in the process!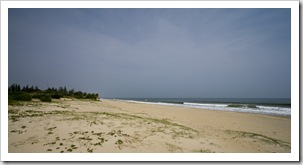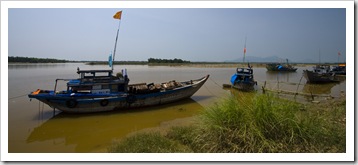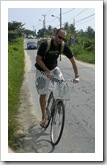 We hired bikes one day for $USD0.50 each for a cycling tour of the countryside surrounding the town centre.  During the morning we rode out to Cua Dai Beach, supposedly one of the most beautiful stretches of beach in all of Vietnam.  The white sand and palms leaning over the water backed by the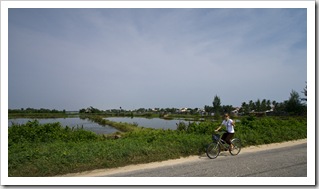 Cham Islands in the distance were quite picturesque, but unfortunately Hoi An recently received a week of solid rain so the water was a little murky for swimming.  During the afternoon we headed west of Hoi An, a few kilometers out of town we were riding through an endless patchwork of rice paddies being reaped by Vietnamese farmers in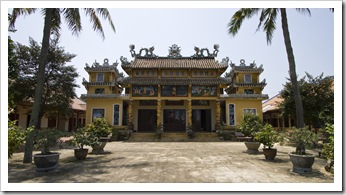 traditional garb.  Such backbreaking work…  We found ourselves in the small riverside village of Tanh Ha where the main pastimes are pottery and carpentry, a number of craftsmen along the main street were at work when we rode through.  Out of Tanh Ha we headed north through the countryside, passing the Buddhist temple pictured here along the way as well as many more rice farmers toiling under the hot sun.  We were in a constant state of sweat in Hoi An and the amount of water our skin lost during a day of riding was unbelievable, both of our shirts completely saturated and my backpack soaked halfway through by the time we made it back to Hoi An after riding about 15 kilometers.
This entry was posted on Friday, September 11th, 2009 at 10:39 PM and is filed under Vietnam. You can follow any responses to this entry through the RSS 2.0 feed. Both comments and pings are currently closed.