Elevation: 4566 feet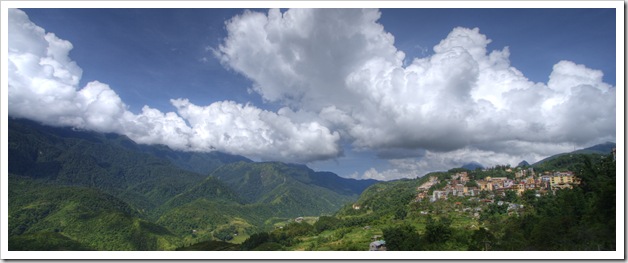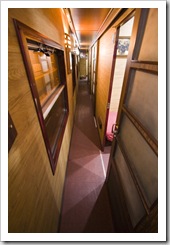 We set out from Hanoi on the overnight train bound for Lao Cai on a tour organized by Kangaroo Cafe, one of the plethora of tour outfits in Hanoi.  We weren't sure what to expect on the train but were pleasantly surprised with a fantastic private sleeper for the night, a luxury train trip for us considering some of the trains we endured in Turkey and Greece!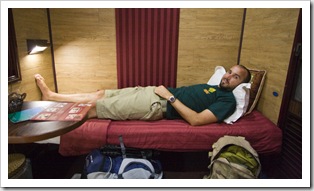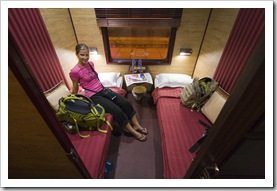 We arrived early in the morning in Lao Cai, a small valley town three kilometers from the Chinese border around 200 feet above sea level, then hopped into a cramped mini-bus bound for the mountain haven of Sapa.  Sapa was established as a French hill station in 1922 and more recently has become one of the most famous tourist destinations in Vietnam due to its amazing scenery and the numerous ethnic minorities inhabiting the surrounding villages.  Sapa itself is almost exclusively inhabited by Vietnamese but the surrounding villages are home to a range of ethnic minorities that still, for the most part, maintain their traditional ways of life.  The majority of ethnic tribes around Sapa are made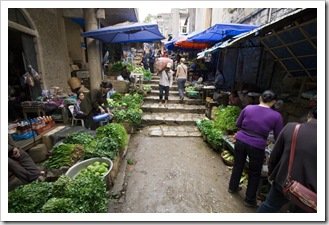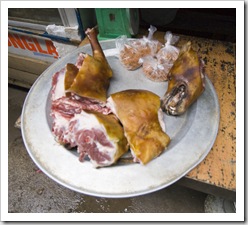 up of H'Mong and Dao people, each group comprising a number of further divisions such as 'Black' H'Mong and 'Red' Dao.  It was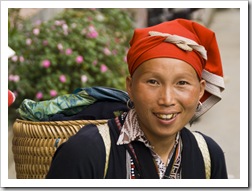 fantastic to see the ethnic people walking through Sapa in their traditional garb, such colorful clothing and by far some of the friendliest people we've met on our travels.  It seems that the ethnic minorities around Sapa have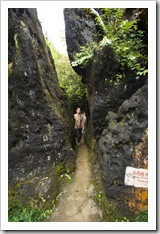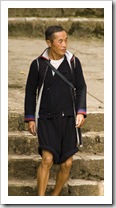 managed to keep relatively segregated from the Vietnamese over the years, both the H'Mong and Dao people have distinctively different looks about them than regular Vietnamese.  The H'Mong women were all extremely short, most standing no more than five feet tall.  The Dao people seem to hold gold in quite high regard, it was not uncommon to see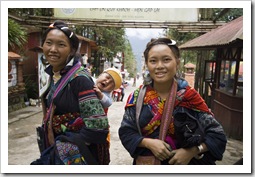 the Dao women with multiple gold teeth.  Our trekking guide informed us that Dao women will even have good teeth replaced with gold ones!
We spent a morning exploring the small town of Sapa, taking in the astonishing range of produce available at the town's central market, as well as making the short hike up Ham Rong Mountain, the peak towering over Sapa's centre.  No old women dangling body parts at Lisa in Sapa's market but she definitely rushed past the stall at which the dog above was served up on a platter!  The walk up Ham Rong Mountain took us through Sapa's orchid garden as well as to a lookout providing a brilliant view of the town below.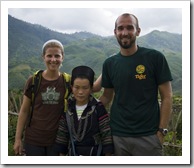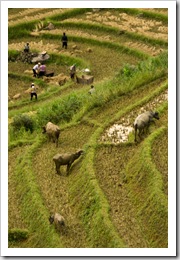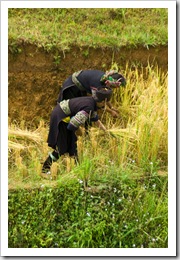 We were put up at at the Cat Cat Hotel for our stay in Sapa, a simple, clean establishment with unparalleled views of Fan Xi Pan (Vietnam's tallest peak) and the valley to Sapa's south (the shot above is the view from our balcony!).  We met Mi, our Black H'Mong guide, at our hotel after lunch on our first day in Sapa.  Standing no more than five feet tall, Mi was a bundle of energy and the best guide one could ask for.  She spoke amazingly good English for someone unable to read or write, telling us that she'd picked up all her English from speaking to tourists over the years in order to prepare herself for becoming a guide.  Mi spoke only broken Vietnamese, enough to get by at the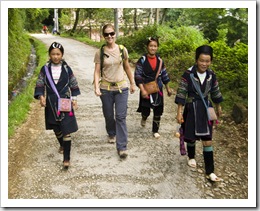 Sapa markets she told us, with H'Mong being her primary language.  Mi has been guiding around Sapa for a couple of years and at 26 is mother to a a nine year old son and seven year old daughter.  H'Mong women traditionally marry when they're 16 years of age, the bride's family is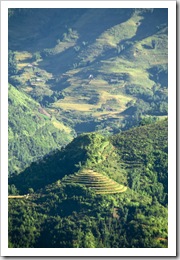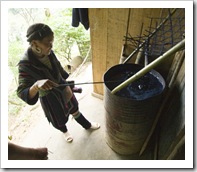 usually approached by the parents of the husband-to-be to request the daughter as a bride.  If approved, a dowry for the daughter is arranged and the deal is sealed, the bride is not consulted about the arrangement at all during the process.  In Mi's case the dowry was 2,400,000 Vietnamese Dong (around $USD130).  Mi informed us, in no uncertain terms, that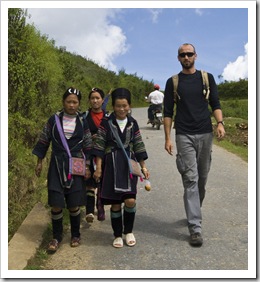 she did not like her husband at all when she was told they were to be wed and was very upset at her mother for arranging the union!  Mi is a Black H'Mong, named for the deep indigo color of the hemp clothing worn by her people.  She showed us the extensive crops of marijuana her people maintain for their clothing as well as the small bushes from which the indigo dye is harvested for dying the hemp.  We noticed that both H'Mong and Dao babies are carried on their mothers' backs during infancy, when we asked Mi about this she told us that the babies do not wear any kind of diapers but the mothers instead learn the frequency with which each child 'needs to go' and makes sure to give them this opportunity whenever it's needed.  On the topic of children, Mi also told us that she'd delivered both of her children by herself.  She's of the opinion that her people, who end up walking a great deal through to mountains to harvest and tend rice, don't have trouble delivering babies because of the frequency which which they exercise.  When we asked why she chose to deliver her babies without even the help of her village doctor she told us that she's too shy to let anyone see that much of her!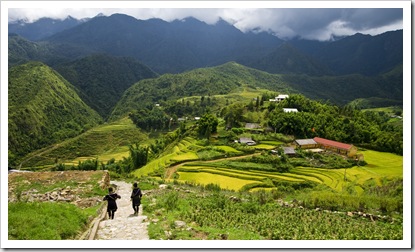 The H'Mong people subsist almost exclusively on a diet of rice and tofu, eating pigs, chickens and ducks occasionally for special meals.  When we visited Sapa the annual rice crop was being harvested (due to the cold temperatures they only have a single yearly crop in the mountains around Sapa), the villagers all toiling in the fields in their traditional garb using only their hands and carts on the perilously steep slopes down which the paddies have been constructed.
For our fist afternoon of hiking Mi took us down the valley to the east of Sapa to nearby Cat Cat Village, one of the many collections of huts maintained by the H'Mong throughout the valley.  We picked up another couple of H'Mong girls as we were walking out of town, along the way chatting with them in their broken English about where they live and how old they are (a very common question in Vietnam).  Later we learned that it's typical for ethnic people to follow hikers on treks with the expectation that the tourists will purchase some of their hand-made goods at the culmination of the day's activities…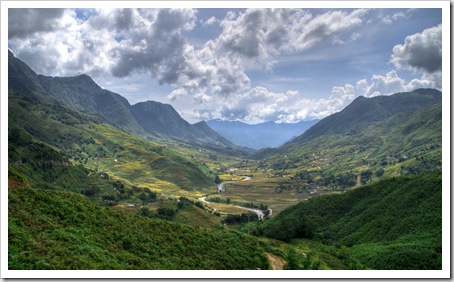 Our longest day of hiking involved a roughly 12 kilometer route down the valley to Sapa's south, covering over 1500 vertical feet in the process and absolutely drenching our clothes in sweat in the sweltering humidity.  We passed through Lao Chai and Ta Van villages on the way, stopping off at Lao Chai for a lunch of traditional pho.  Our original route ended at Ta Van but we convinced Mi to take us the few extra kilometers to her tiny village on the western side of the valley.  My jaw almost hit the ground partway through our hike when we were enjoying the scenery and heard an electronic-sounding chime coming from Mi's clothing.  She pulled out a mobile phone and started chatting away in H'Mong.  Now a mobile phone may not seem that astounding to most of you reading but consider the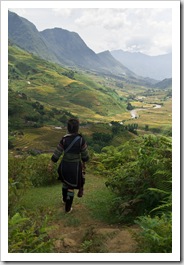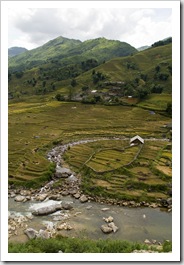 setting: here's an ethnic villager in the mountains of Vietnam living as her ancestors have for thousands of years in a wooden hut without electricity or plumbing, she has never traveled even the 30 kilometers to the nearest large town of Lao Cai, she cannot read or write nor speak her country's national language of Vietnamese, dresses in traditional garb made by hand from raw materials and if not for her proficiency with English she'd be with the rest of her village enduring the backbreaking task of harvesting their year's supply of rice.  Yet she has a mobile phone and at the click of a button can speak with anyone else on the planet similarly plugged into the global network.  Technology is amazing sometimes…  Back to our hike: the return to Sapa from Mi's village involved each of us hopping on the back of a small motor scooter, hanging on for dear life as the drivers weaved along the nine kilometer road up the mountain to our hotel.  An awesome day of hiking but boy were our feet and legs feeling it after some of the extremely steep tracks down to the valley floor.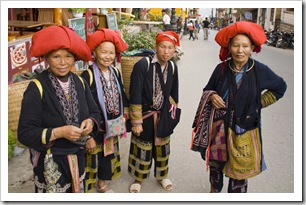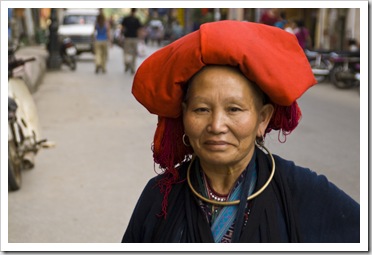 Sapa would have to be one of the highlights of our trip thus far.  Amazing scenery and such a brilliant experience with some of the ethnic minorities living in the mountains in Vietnam's northern provinces.  Our trip back to Hanoi wasn't as enjoyable as the VIP sleeper we had on the train on the way up (Lisa found mouse droppings in her bed on the way back but was luckily able to change bunks!), and to add to that Lisa managed to leave her Gore-Tex Salomon hiking shoes with her orthotics inside on the train in Hanoi at 4:30AM when we arrived (lucky for her her loving husband was willing to run halfway across Hanoi at 6:00AM to get them back), but regardless of the near-sleepless train ride back our time in Sapa will be remembered fondly for many years to come.
This entry was posted on Tuesday, September 15th, 2009 at 6:00 PM and is filed under Vietnam. You can follow any responses to this entry through the RSS 2.0 feed. Both comments and pings are currently closed.