As with our trip up into the mountains to Sapa, Halong Bay is similarly one of Vietnam's most famous tourist destinations.  The waters around Halong City are home to an astonishing 1969 limestone islands jutting out of the green waters of Halong Bay.  We explored the bay on an overnight trip on one of the many Vietnamese junks running tours, sharing the boat with a fun group of travelers from Australia, Ireland and England.  As the crow flies, Halong City is only around 85 kilometers from Hanoi, but the bus trip through the myriad of tiny towns and traffic-choked streets took us over three hours.  Our digs on the boat were fantastic, a wood-paneled room with views of the water from our bed and balcony to the rear.  Our crew of five Vietnamese boys cooked up some fantastic traditional meals during our trip, buying fresh seafood from the fishermen cruising the bay, so fresh…  The fishermen in the bay all live on the water full time, there's over 2000 people living in floating villages in the protected waters of the bay.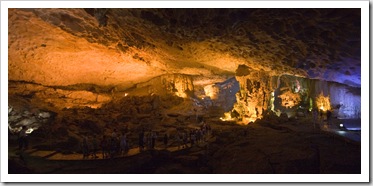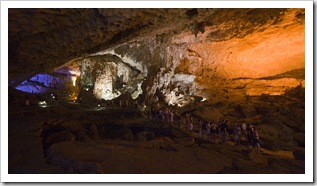 We took a side trip to explore Hang Thien Cung, a 250 meter long cavern in one of the bay's islands frequented by many of the tourist boats.  The size of the place was astonishing, a massive amphitheater carved into the limestone, full of stalactites and stalagmites.  The views out of the cave's opening were also pretty awesome, a good spot to take in the seemingly never-ending expanse of islands stretching to the horizon.
This entry was posted on Sunday, September 20th, 2009 at 4:50 PM and is filed under Vietnam. You can follow any responses to this entry through the RSS 2.0 feed. Both comments and pings are currently closed.