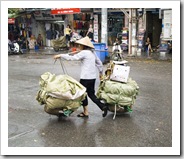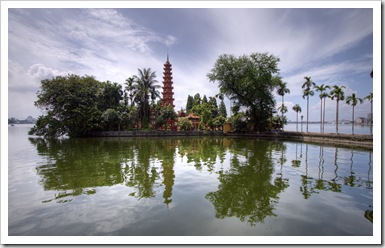 We traded the laidback streets of ancient Hoi An for the bustling metropolis of Hanoi, Vietnam's capital city.  The 40 kilometers from Hanoi's airport to the city centre were a mix of old and new: endless rice paddies intermingled with village-sized campuses of electronics manufacturers.  As with Chi Minh, the masses of two-wheeled traffic in Hanoi was mind-boggling, bicycles and scooters everywhere but at least we'd already become accustomed with how to cross the road!  The people in Vietnam's capital had a decidedly cooler demeanor than Vietnamese southerners; still very eager to make a sale but not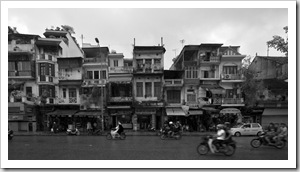 as bubbly as the friendly inhabitants of Hoi An and further south in Ho Chi Minh.  We copped a serious dose of the average 254 millimeters of rain that Hanoi receives during the month of September, spending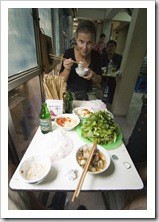 an afternoon undercover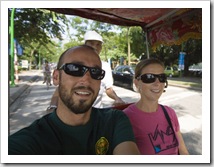 as much as possible to avoid the downpour.  After spending one of our day's exploring the city by foot we splurged a little on a cyclo to take us from the northern Ho Tay Lake (also called West Lake) back into Hanoi's old town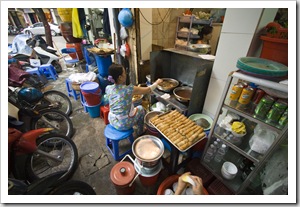 (and by splurge I'm talking around $US3.50), a fun way to see the sights although it was a little unnerving being seated on the front of a bicycle while masses of traffic enveloped us on some of the busier streets.  After all the walking we also decided a foot massage was in order, at $USD4.00 for half an hour in an exceedingly clean, air-conditioned massage parlor we just couldn't resist.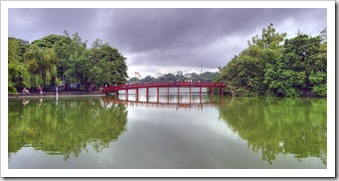 Most of the Hanoi locals eat at sidewalk bun cha (kind of a smorgasbord of leafy greens, rice noodles, garlic, chilis and ground pork) or pho (a broth filled with noodles and greens) eateries, where food is served on small tables surrounded by short stools or plastic chairs.  We ventured into a popular-looking bun cha house one afternoon called Bung Cha Hang Manh where we enjoyed a gigantic lunch of bun cha and delicious cua be (crabmeat spring rolls).  Luckily the two dishes were the only things the eatery served as there were no other westerners around to help with ordering and only one of the employees spoke even a hint of English.  As in Ho Chi Minh, a popular pastime in Hanoi and a fantastic way to people-watch is by finding an open seat at one of the plethora of sidewalk cafes and having a few drinks.  Most of the cafes serve ice cold 500mL beers for around $USD0.85!
This entry was posted on Thursday, September 17th, 2009 at 8:40 PM and is filed under Vietnam. You can follow any responses to this entry through the RSS 2.0 feed. Both comments and pings are currently closed.