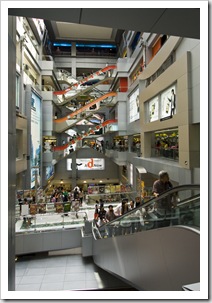 It's interesting the first things we noticed driving the 40 kilometers from Bangkok's international airport into the city center after a few weeks in Cambodia, Laos and Vietnam: street gutters, orderly traffic flow, scooters and bicycles displaced by trucks and sedans, rubbish bins (US: trash cans), well-organized (and clean!) public transport, paved roads minus the potholes…  Bangkok has an electric atmosphere about it, something's always happening whether it be the bustling shopping around Siam Center or the nightlife of Khaosan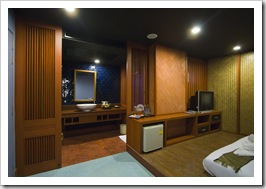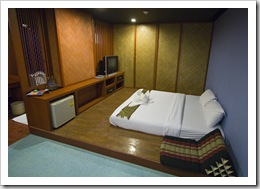 Road.  One afternoon we escaped the heat in the luxurious movie theaters in Siam Center, an interesting experience having to select our movie seats before paying for our tickets.  We stayed at a new hotel called Dang Derm along Khaosan Road, the main tourist precinct of the city.  Khaosan was an eye-opening place: the street is only a few hundred meters long but during the late afternoon hundreds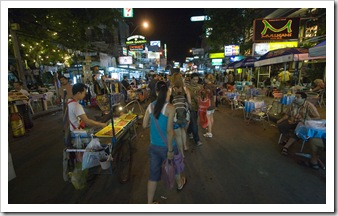 of  street vendors pop up selling everything from t-shirts to fake watches (supposedly the world's best fakes are found in Bangkok) and almost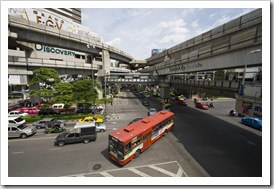 every brick-and-mortar establishment along the stretch transforms into either a restaurant or bar.  The way beer is served in Bangkok took a little getting used to, each bar has a specific 'beer girl' for each brand of beer and each girl is clad in the skimpiest of dresses embroidered with her particular label.  If, for example, Lisa wanted a Singha and I a Tiger we'd have to call over the girl for each brand and order from each brand girl.  We spent our first night at one of the drinking holes on Khaosan, one of the best places either of has ever found to just watch the world go by: men, women and plenty of 'in-between' of all nationalities made a showing.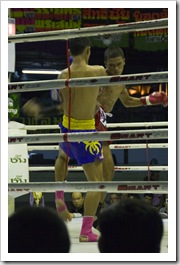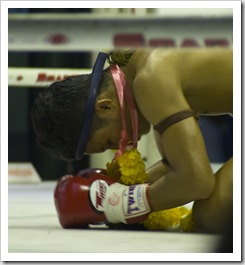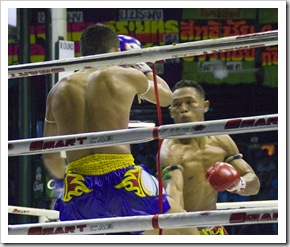 An outing we were both looking forward to in Bangkok was a visit to one of the nightly Muay Thai boxing bouts.  The main Muay Thai bouts rotate between two stadiums in Bangkok, on the night we attended it was held at Lumphini Stadium a short skyway ride from Siam Center.  It was quite expensive, given what we've become used to paying for things in Southeast Asia, but the roughly $USD60.00 per ticket we paid for ringside seats was well worth it.  Each Muay Thai fight consists of five rounds of three minutes each, before the bout begins the fighters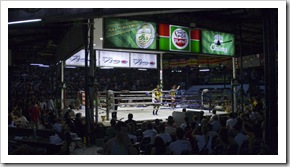 make their way into the ring and perform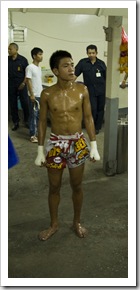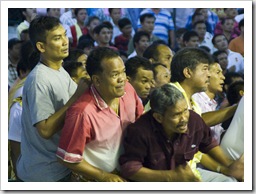 a ceremonial dance which could almost be likened to an extravagant prayer ceremony.  The fighters wear traditional garb for the ceremonial dance, which can last as long as 10 minutes.  Once each fighter readies themselves the traditional clothing is removed and the crowd treated to five rounds of often exceedingly violent fighting in which anything is permitted with the exception of head-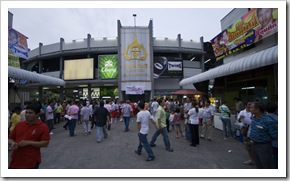 butting and elbows above the neck.  If a knockout occurs it's usually via a kick to the head, we saw this happen once to decide the Lightweight Title of Thailand.  The main event was between two fighters each weighing only 130 pounds (59 kilograms) but, as with all of the night's athletes, they were in amazing condition and wouldn't have had more than a few ounces of fat on them.  The atmosphere in the stadium was electric, there's a great deal of money riding on each fight and thus the crowd really got involved as the fights ensued.  Each blow was met by cheers from the crowd, the noise bouncing back and forth between the red and blue sides of the stadium, with all noise from the crowd and the traditional live music played with each bout we couldn't help but get right into it with the rest of the onlookers.  A very entertaining evening…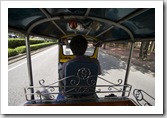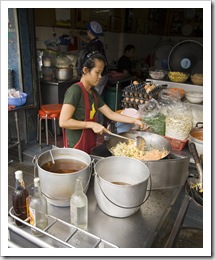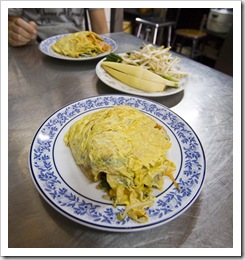 We spent one of our days in Bangkok walking the streets to explore some of the historical and architectural wonders of the capital.  We started out by walking a few kilometers from our hotel on Khaosan Road past Wat Rajnadda and, according to our taxi driver on the way home from the Muay Thai boxing, to the hole in the wall that is known by locals as the best pad thai restaurant in Bangkok.  It's reputation is well deserved: our meals came wrapped in a blanket of egg and included prawns the size of a child's fist, definitely the best pad thai I've ever eaten.  We walked past the Royal Palace and the immense Wat Phra Kaeo, the holiest site in all of Thailand adjoining the Royal Palace (unfortunately the Royal Palace was closed to foreigners on the day we visited).  A number of times walking around the city we were confronted by seemingly too friendly Thai men offering us directions, suggestions and locals' insights on touring Bangkok.  We were a little skeptical at first but as we encountered more and more friendly locals we became aware that the Thai people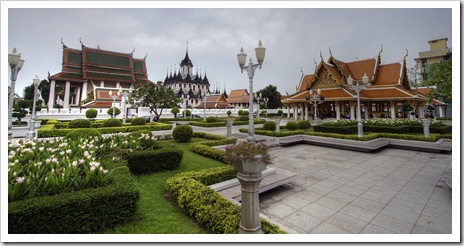 understand just how much of a boon tourism is to the economy and want to make sure that tourists enjoy their time in the country.  The suggestions we were given never came with any kind of request for money or slight of hand, just genuinely nice people offering us their inside knowledge (such as to only catch tuk-tuks with white and black license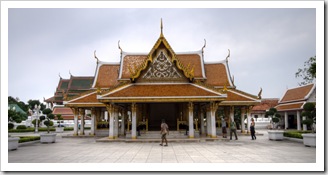 plates because they're government regulated, tuk-tuks with other colors are private tuk-tuks and will try to charge up to 10X the price).  All of the friendly locals would try to draw a route on a map for us in case their English wasn't good enough for us to understand!
This entry was posted on Wednesday, September 30th, 2009 at 10:00 PM and is filed under Thailand. You can follow any responses to this entry through the RSS 2.0 feed. Both comments and pings are currently closed.