Temperature: 27-33°C (81-91°F)
Water Temperature: 29°C (85°F)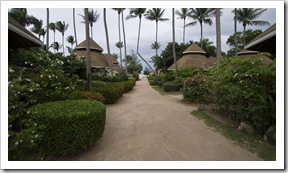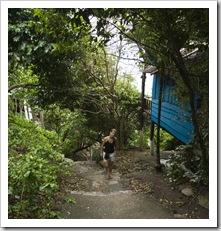 Departing the bustling big city of Bangkok we were excited to finally be on our way to a tropical island with some turquoise water and white sandy beaches.  We left Bangkok around 9:00PM on an overnight bus to the town of Chumpon, where we arrived at 5:00AM and had to wait two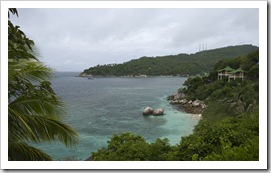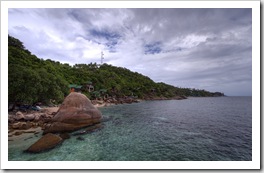 hours before departing on a one-and-a-half hour catamaran to the island of Ko Tao.  Needless to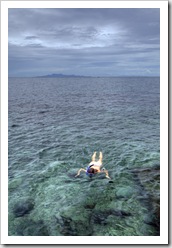 say, we didn't get much sleep over the course of this long slog but made it and were thrilled to go for a swim and snorkel as soon as we dropped our bags in our room.  The first full day we had on the island we hired a scooter (with knobby tires) and went exploring.  Let's just say I was very relieved that Sam is good on a mountain bike because navigating up and down some of the dirt roads was quite technical.  We ventured to the very south end of the island to take in the views over Freedom Beach and then made our way out to Cape Jeda Gang, a recommended snorkeling spot.  It was a bit of an adventure getting there with the roads having been washed from the recent rains as well as a few wrong turns we made along the way.  At one point it started raining so hard we stopped and took shelter under a little shed housing building materials!  The snorkeling spot was worth the effort though, a huge open bay that was full of beautiful coral and plenty of fish.  The sky stayed clear while we snorkeled but on the way back the weather made a quick change and decided to pour.  Zooming through the wet streets we were soaked by the time we returned to our room but thrilled with our adventurous day.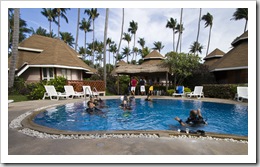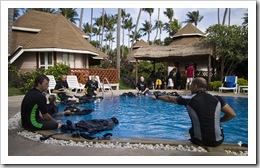 Sam loves diving but has never 'officially' been certified to SCUBA dive.  He signed up for a four day intensive PADI course which included four dives at various locations around Ko Tao.  Being that I'm a big chicken and afraid to be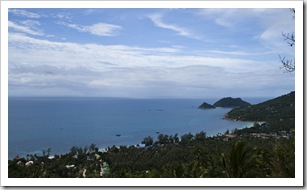 trapped underwater I opted to stick with snorkeling, maybe some day I'll overcome my fear.  On the first day of his course Sam was paired up with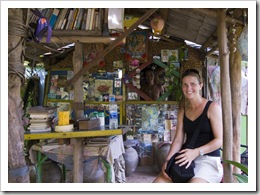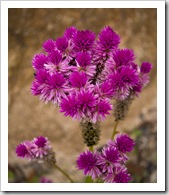 Andrew from Montana, of all places.  Andrew was in Ko Tao with his  girlfriend MeiLi, originally from Hawaii but now living in Beijing.  While the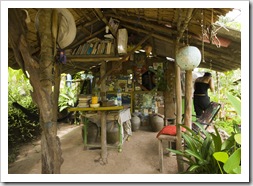 guys were in their course MeiLi and I road her scooter to explore more of the island.  We hiked up a very steep hill while sweat streamed down our faces to a beautiful lookout called Two View.  The name says it all, you could see both sides of the island during the course of the hike.  At the top of the mountain we stopped off for a refreshing cup of mint tea at a little hut where the proprietor, Sak, and his wife live.  Sak is a very mellow Thai that over the last 30 years has hosted many westerners seeking a calm, quiet place to practice yoga and meditation.  That evening we went out for some beers and dinner with a group from Sam's dive class: a couple on their honeymoon from Toronto, Nada and Greg, as well as MeiLi and Andrew.  We had a great time exchanging travel stories and sharing some flavorful Thai dishes.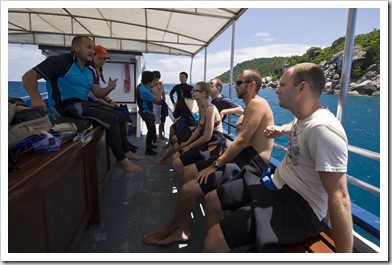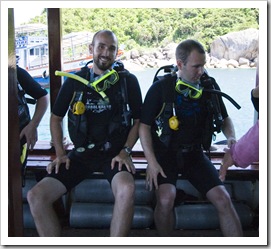 On Sam's first day out on the dive boat I was able to tag along and go snorkeling at their two dive spots.  It was also a great opportunity to be able to see Sam in action and take some photos.  The first stop was at Hin Wong Bay and the second spot was called Mango Bay.  Sam and the divers were working on many scenarios underwater but were still able to see some amazing fish and coral.  Mango Bay was a much larger site than Hin Wong with a wider variety of fish swimming around, I enjoyed exploring the large cove.  The following morning Sam awoke early and was on the dive boat at 6:00AM, they motored about 45 minutes to the northwest of the island to a spot called Chumpon Pinnacle.  He was most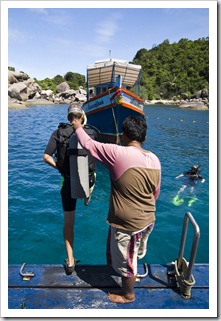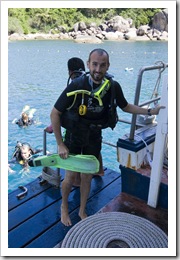 impressed with this
location, his group had more free time on this dive and was able to really enjoy the amazing coral, sea grasses and marine life surrounding the pinnacle.  This was the deepest dive of the course, going down to 17 meters (56 feet), Sam said the clarity was very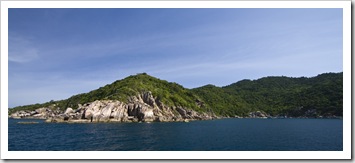 impressive throughout the dive.  The last spot Sam dove was called Japanese Garden which is located between Nang Yuan Island and Ko Tao, it was full of any and all types and colors of Southeast Asian coral.  Sam enjoyed all the dives immensely and continued to recount things that he saw throughout the remainder of the day, he was especially impressed with the competence of his Welsh instructor, Mike.  We spent our last afternoon lazing on the beach and enjoyed our final dinner at our favorite family Thai restaurant in Sairee.
This entry was posted on Sunday, October 4th, 2009 at 11:20 AM and is filed under Thailand. You can follow any responses to this entry through the RSS 2.0 feed. Both comments and pings are currently closed.