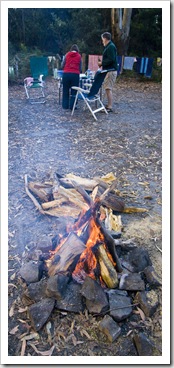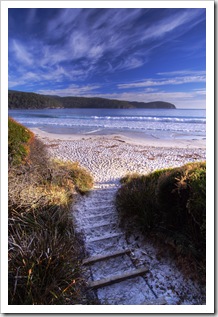 After our adventures in the northeastern rainforests we high-tailed it down the east coast (with another stop at the brilliant Blue Edge Bakery in Bicheno) to the Tasman Peninsula and Tasman National Park.  Tasman is one of Tasmania's newest National Parks, it incorporates some beautiful stretches of coastline from Eaglehawk Neck all the way south to Tasman Island and around to one of Tasmania's most famous historic landmarks: Port Arthur.  We stopped off for lunch with a majestic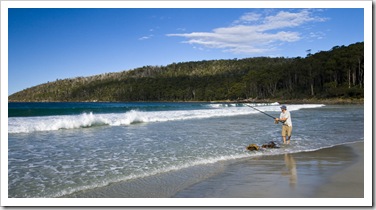 view over Pirates Bay at Eaglehawk Neck before heading to the south of the Tasman Peninsula to find a campsite at Fortescue Bay (S43°08.571' E147°57.692').  Fortescue was one of my favourite campsites in Tasmania, sites located within a few metres of the beautiful beach, hot rainwater showers available for a couple of bucks and some arborists happened to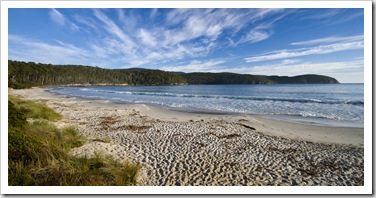 be trimming the Eucalypts when we were there so there was plenty of free firewood on offer.  Lisa and I went for a bit of a snorkel over some of Fortescue Bay's reef early in the afternoon, unfortunately it was a little choppy so not great visibility for spearing dinner, but a beautiful spot for a swim all the same.  I threw a line in the surf and found some big schools of Australian Salmon in the waves, the ferocity with which they were biting was amazing, some of the bigger fish put some serious bend in my 10-foot surf rod!  We were again inundated by wildlife as the sun retreated over the hills behind Fortescue Bay, one Brushtail Possum found a nice seat by the fire between Lisa and me.  When Lisa realized the critter was only a few inches from her feet she spilled her nightcap of Muscat all over her clothes and hair in fright!  The photo below was Greg's last wood chopping experience of the trip, the next morning it took him five minutes to get out of bed with a bad back, which unfortunately lasted him the rest of his time in Tasmania!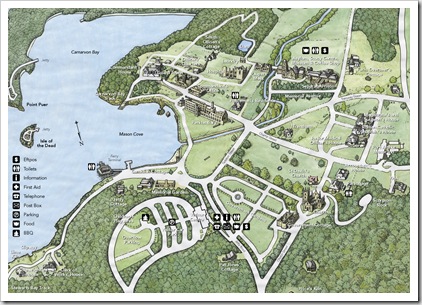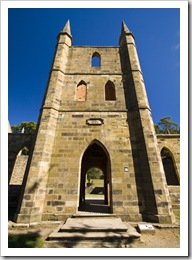 A trip to Tasmania probably isn't complete without a visit to Port Arthur.  One of Australia's most important historic landmarks, Port Arthur showcases the ruins of one of Australia's most well preserved convict settlements.  Unfortunately the site is also famous for the tragic Port Arthur massacre in 1996, which resulted in Australia's controversial gun buyback scheme.  The Port Arthur grounds are complete with beautiful gardens, creepy prison ruins and majestic views over the bay of Port Arthur.  It's a good spot to visit for anyone with even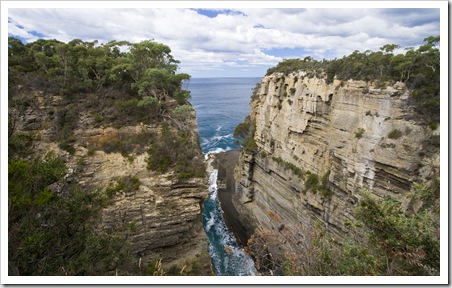 an inkling of interest in Australia's convict beginnings (please note that South Australia, where I grew up, was Australia's only state that was not founded as a convict settlement).  The Port Arthur settlement began its life as a timber operation in 1830, it was also a popular ship building yard and later a flour mill before the prison buildings were constructed in 1848.  The main prison building has the majority of its facade still in tact, the prison hospital and guard station are also still standing on the expansive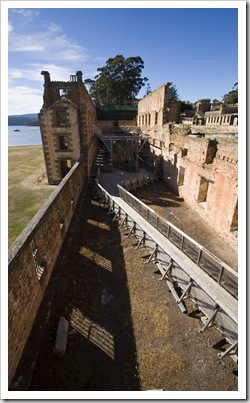 grounds.  Some of the houses of the prison employees were great to see, their interiors have been painstakingly restored to their original condition with furniture and linens to boot.  The prison handled a staggering number of prisoners in its day, I think I recall reading that an in-house tannery was required to keep up with the number of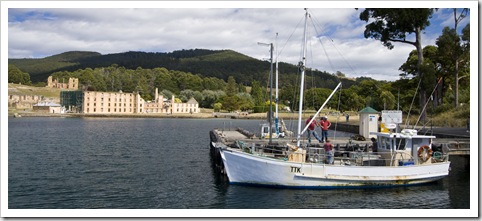 leather shoes required for the inmates, the boot makers turning out in excess of 200 pairs each day in peak times.  Touring the beautiful grounds was like taking a trip back in time…  Our entrance to the Port Arthur grounds included a boat tour around Port Arthur's waters, which enabled us to get a close-up look at the tiny Isle of the Dead – where all Port Arthur prisoners were buried – as well as the ruins of the boys' prison at Point Puer.  Port Arthur was abandoned as a prison during the 1880s and renamed Carnarvon in attempt to shed its association with the convict era.  These days the site is vying for World Heritage Listing and remains one of Tasmania's most popular tourist attractions.
This entry was posted on Thursday, February 18th, 2010 at 6:00 AM and is filed under Australia, Tasmania. You can follow any responses to this entry through the RSS 2.0 feed. Both comments and pings are currently closed.