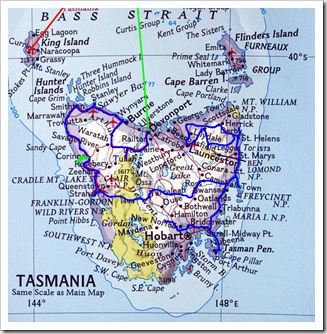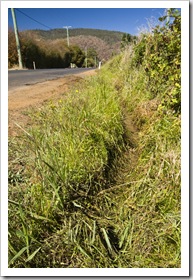 I wasn't going to write anything to go along with the few photos we have of Mount Field National Park and the famous Russell Falls.  But then I remembered we almost left The Tank in a ditch next to a hop field on the way to Mount Field, so figured I should write about it so I don't forget…  Tasmania's one of the few places on the planet that can grow all the ingredients required to make beer.  Hops is a major component in beer (not by volume but they add to the taste).  We passed a lot of hop fields in the northeast near Launceston but I unfortunately didn't take any good photos of them when we passed.  On the way from New Norfolk to Mount Field National Park we passed through some hop plantations (pictured below) and I figured that the grassy area on the side of the road next to the hops would be a good spot for a photo.  Little did I know hops require copious amounts of water, which transforms the hop fields into boggy swamps.  The grassy patch next to the road was not simply grass but rather an almost metre-deep swath of swamp.  As soon as The Tank's passenger-side wheels had in excess of three tons resting on what looked to be grass we found ourselves keeled over to one side with the top of the rear windows resting precariously on the barbed wire fence.  The top of the rear windows are usually six feet off the ground.  The height of the fence was roughly three feet.  Not good.  After a few expletives we weren't quite sure what to do next, neither of us wanted to move in case the barbed wire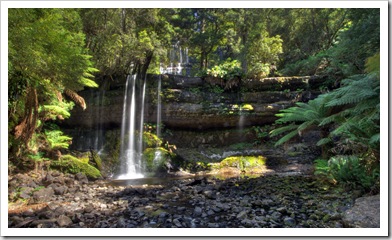 fence gave way and put The Tank firmly on its side.  Fortunately I was able to crawl in the mud and lock the front hubs, so in low-range with both differentials locked as well as a local farmer, Lisa and a tour bus operator standing on the driver's side of the vehicle to add extra weight, we crawled out of the swamp without tipping over.  To think that we've tackled some of the most challenging 4WD tracks Australia has to offer without so much as a scratch, and we almost found ourselves keeled over in a hop paddock!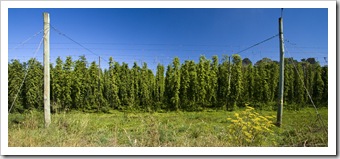 Anyway, Mount Field National Park was great.  Russell Falls were just as beautiful as they're cracked-up to be, although there wasn't much water flowing when we visited (I think winter's a better time to see them in full flow).  More fresh blackberries at our campsite on the side of the river near the National Park, under Greg's direction we cooked them down into a compote for breakfast, Lisa having hers over yoghurt and me drowning a crumpet. 
This entry was posted on Friday, February 19th, 2010 at 7:00 AM and is filed under Australia, Tasmania. You can follow any responses to this entry through the RSS 2.0 feed. Both comments and pings are currently closed.