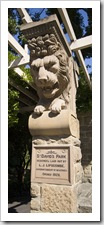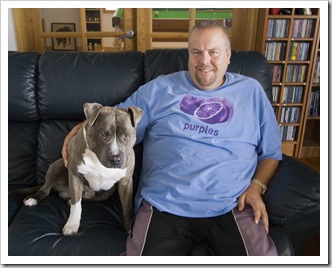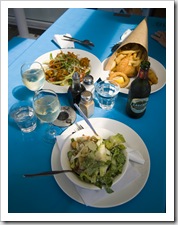 William Frost and his Staffordshire Terrier, Blue, welcomed the four of us into their fantastic house in Old Beach for our time in Hobart.  William grew up in Burnie in Tasmania's north and is a friend of mine from when we were both youngsters, he now lives in Hobart and runs a gourmet food and wine website called Field Blend.  On Friday afternoon while I caught up on the plethora of photos we'd taken over the pervious couple of weeks, Lisa, Carol and Greg spent the afternoon exploring the Hobart waterfront and city centre.  At William's suggestion they lunched at Fish Frenzy on the Elizabeth Street Pier, as well as taking in some of the beautiful boats moored in Sullivans Cove.  William has a background in hospitality and guided us to the best of Hobart cuisine whilst we were in Tasmania's capital: our Friday night BBQ at William's comprised some fabulous wines as well as a selection of brilliant sausages from a gourmet butcher in Hobart called Wursthaus.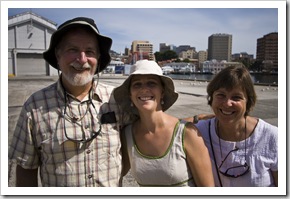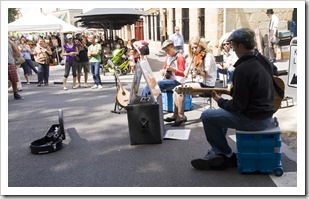 It was Lisa's birthday on Saturday so before taking her out for a brilliant Italian dinner at Ciuccio we spent the morning and early afternoon at one of Hobart's absolute must-dos: Salamanca Markets.  Salamanca Markets are the southern hemisphere's largest open-air street markets, a fantastic place to find anything and everything Tasmanian as well as a dizzying array of great food.  There was also a brilliant assortment of street performers, from hacky-sack buskers raising money to get to the world championships to the fantastic Celtic trio of two brothers and sister pictured to the right.  A bit of an eye-opener at the markets was the Moon Pad stall: an elderly woman who makes and sells recyclable feminine hygiene products (below left)!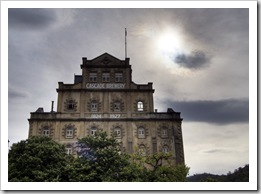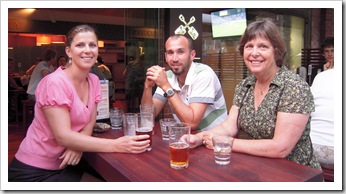 Between the markets and dinner we had time for a scenic drive up to the peak of towering Mount Wellington, the striking monolith that overlooks the city of Hobart.  It was a beautifully clear day and we were rewarded with brilliant views from the lookout, from Old Beach all the way south to Bruny Island.  We also stopped off for a beer (or two) at the Cascade Brewery just west of Hobart's city centre.  Our dinner at Ciuccio was divine and another reminder of just how small a world it is: our waitress and waiter for the evening were a French couple whom we camped next to in the Tarangau Caravan Park in Broome way back in August, 2009!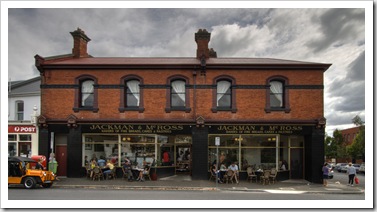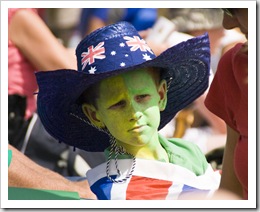 On Sunday we had tickets to the Twenty20 cricket at Bellerive Oval, but before the game we decided to breakfast at Hobart's lauded Jackman and McRoss bakery in historic Battery Point.  Recommended by both William and my mum (thanks Mum), the offerings were very unique but oh so tasty!  Lisa and I shared a 'spiced goat and lentil pie' and 'lamb shank and rosemary pie' between us, both put Jackman and McRoss firmly on my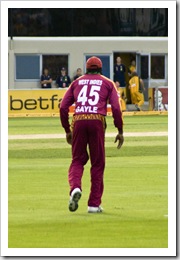 list of Australia's Best Bakeries (so much so that we had breakfast at Jackman again the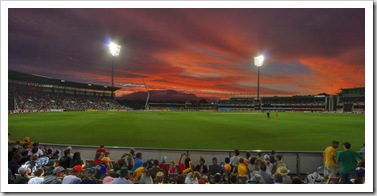 next morning on our way to Bruny Island!).  Our tickets to the cricket indicated a start time of 1:00PM, but upon arriving at Bellerive we realized that the women's cricket was due to start at 2:15PM with the men's Australia versus West Indies game not starting until 6:15PM!  Not to worry, it gave us time to explore the nearby historic town of Richmond as well as picturesque Seven Mile Beach before returning to catch the bulk of the women's game and secure a spot on The Hill for the men's game.  For those of you without some form of Commonwealth upbringing, The Hill at a cricket ground is a general admission area to which the Australian Cricket Association usually sells enough tickets to make any health and safety inspector shudder.  By the time the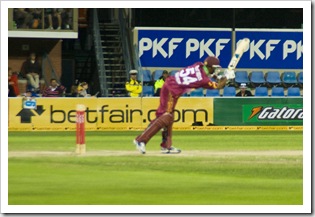 Australia versus West Indies game started The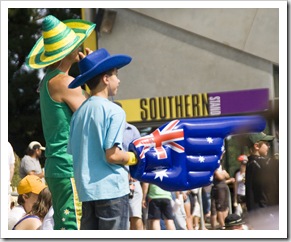 Hill at Bellerive was absolutely jam packed, we luckily secured ourselves a patch of grass on which to lay our blanket in the seating area, but plenty of latecomers were left to stand amongst the drunken mobs at the rear of The Hill.  The men's game started with some of the most entertaining batting I've ever seen, Warner and Watson tag-teaming for six after six (a six in cricket is like a home run in baseball) and sending the crowd into a frenzy.  The West Indies didn't even come close to matching the Australians' score, but The Hill crowd kept things interesting with everything from beach balls bouncing through the crowd to stadium-wide Mexican waves.  The sunset over the stadium was one of the most electric I've ever seen, striking red skies with a beautiful view of Mount Wellington in the distance.  An awesome day and what a way for Greg and Carol to be baptized into the world of cricket!
This entry was posted on Monday, February 22nd, 2010 at 4:00 AM and is filed under Australia, Tasmania. You can follow any responses to this entry through the RSS 2.0 feed. Both comments and pings are currently closed.