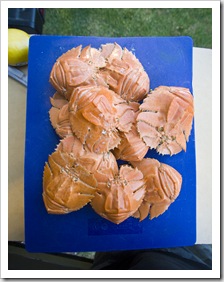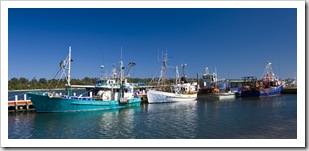 From our spot on the side of the river at Toora we continued east, through more of South Gippsland's extensive dairy country to the vacation hotspot of Lakes Entrance.  Lakes Entrance is a small tourist-centric town on the coast, set amongst a myriad of brackish lakes that stretch almost 150 kilometers (90 miles or so) west to the small seaside settlement of Seaspray.  It was time for some clothes washing, it'd been a few weeks since William Frost's house in Hobart, so we checked into the Silver Sands Tourist Park in central Lakes Entrance for access to some washing machines.  During our walk along the esplanade we came across a couple of commercial fishing boats selling their catch, we bought a kilogram of bugs (they're the same as Moreton Bay Bugs but I don't know what they're called if they're not from Moreton Bay!) for an entree, such succulent flesh…  I think I maybe even prefer bugs to crayfish!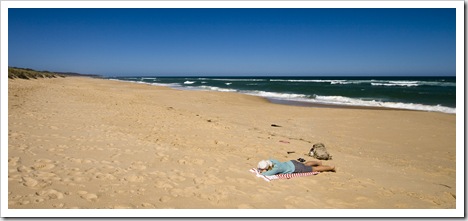 After our chores were done and we'd spent a bit of time on Lakes Entrance's East Beach we packed up again to check out some of the coastline further east toward Croajingalong National Park.  We didn't actually make it as far as Croajingalong, instead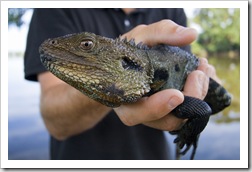 cruising along the edge of the Snowy River from Orbost to Marlo and eventually into Cape Conran Coastal Park.  The beaches around Cape Conran were magic, endless stretches of superb white sand with turquoise water that reminded us of southwestern Western Australia.  I threw a line in hoping to catch some salmon but only a few little tackers and no fish dinner for Lisa, unfortunately.
This entry was posted on Wednesday, March 3rd, 2010 at 6:00 AM and is filed under Australia, Victoria. You can follow any responses to this entry through the RSS 2.0 feed. Both comments and pings are currently closed.