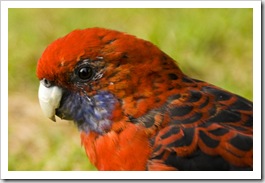 Just the two of us once again, when we were leaving Melbourne a couple of days ago we realized it's been since the beginning of December since we haven't had company on the road.  First we had Chris and Gina travel through southern South Australia, the Great Ocean Road, Otway Ranges and the Victorian High Country with us.  Then a week or so in Melbourne with Ben and Bronte Kennare.  And for the past five weeks Lisa's parents have been with us.  A strange feeling being solo again after so long, but a lot to explore until we meet Abi and Will in Thredbo in a couple of weeks…

After arriving back in Melbourne last Friday on the Spirit of Tasmania Jarrod and Stacey McCabe welcomed us into their quaint Clifton Hill home for the weekend.  My dad had arranged for us to pick up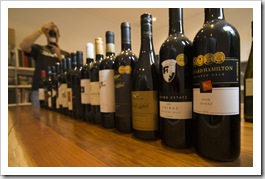 some wine in Deer Park, so on Saturday morning Jarrod taxied us out to Deer Park to make the collection.  We thought we were getting a case, his usual delivery to us at certain points along the trip, but waiting for us were no less than seven six-packs of the best of Dad's cellar!  We won't be buying wine for a while…  There's only so much room in The Tank, so to help us out with fitting everything in we invited Greg Halls, Ben and Bronte Kennare, and one of Ben's best mates Tom over to Jarrod and Stacey's on Saturday night to sample a few bottles of our new-found wine collection.  The standout: a bottle of 1994 E&E Black Pepper Shiraz.  One to note: a 1969 bottle of Kaiser Stuhl Spaetlese Bin B22, amazing to taste a white wine with so much character after more than 40 years being cooped up.  It was a great night had by all, it's always the way with good friends, you pick up right where you left off…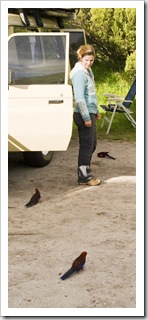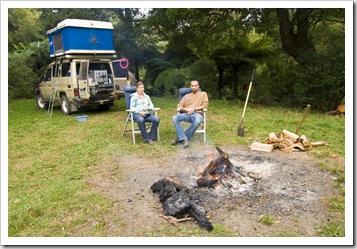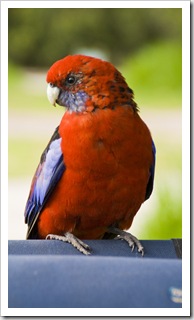 At my mum's suggestion we toured the Strzelecki Ranges via Grand Ridge Road on our way south to Wilson Promontory.  It was a fantastic drive, through the rolling hills of the surrounding pastoral country and pockets of untouched temperate rainforest around Mount Worth.  We found a spot beside a creek near Mount Worth State Park (S38°19.017' E146°00.573'), where we enjoyed a roaring fire and caught up on some rest after a couple of big nights in Melbourne over the previous weekend.  The Tank was due for a bit of TLC and we happened upon possibly the nicest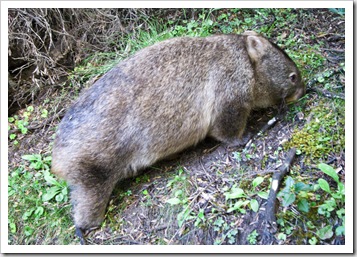 mechanics on the planet at Leongatha's South Gippsland Cars and Off-Road, who took care of an oil change, tightening the front drag links as well as some new rear suspension bushings.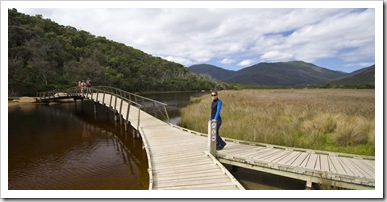 Wilsons Promontory is a spit of land stretching roughly 40 kilometers out into the ocean just south of the small settlement of Yanakie.  A National Park as well as a Marine National Park, the area is home to some striking mountains, pristine beaches and no shortage of wildlife.  The unique landscape of the promontory made it

an ideal training ground for the military before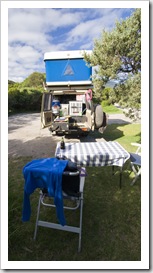 it was a National Park, the most elite Australian commandos (today called the SAS) had the entire promontory as their training ground during WWII, where they trained to combat Japanese in the Asian countries just north of Australia.  We stayed at Wilsons Promontory's only road-accessible campsite at Tidal River (S39°01.778' E146°19.037'), a behemoth of a camping area next to beautiful Normans Beach.  While the campground is huge (in excess of 400 sites), the Victorian government has done a fantastic job with the place: walking distance to the beach, hot showers, running water and a bunch of great walks in the area.  We explored Pillar Point on our first afternoon in Tidal River, where after a couple of kilometers of walking we were rewarded with brilliant views of Normans Bay and adjacent Squeaky Beach to the north.  We sure weren't left wanting for wildlife when in the National Park: the Crimson Rosellas and Hairy-Nosed Wombat pictured above were quite happy with our presence and let us get close enough for some great photos.  We also ran into an extremely venomous Tiger Snake (pictured down lower) and wallaby on the hike to Sealers Cove.  For those northerners reading this, wombats are amazingly stocky little things.  The one pictured above would probably be around 30 inches long and weigh roughly 70 pounds.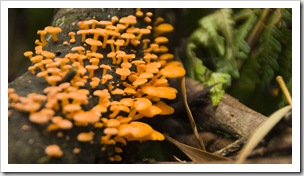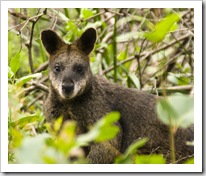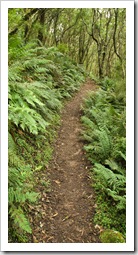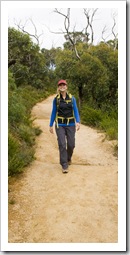 Wilson Promontory is known for its array of challenging hiking trails.  We chose a 20 kilometer (12.4 mile) round-trip hike to Sealers Cove for our punishment during our full day in the National Park.  Well, I say 20 kilometer trek but at the outset we thought it was only 10 kilometers, not realizing that the 10 kilometer distance designation was the one way length of the walk!  It was a long but not overly strenuous hike through charred Eucalypt forests (from a big bushfire a few years ago), fern-filled temperate rainforests, and boggy marshes before reaching the beautiful beach of Sealers Cove.  I took a quick swim in the crystal clear water before we trudged back to Tidal River for a much needed hot shower.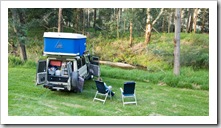 Tonight we're camped alongside the Franklin River just outside of the small farming town of Toora.  Toora's a great little town, a bakery and pub as well as a post office make up the main establishments in the town's centre.  And what a good value pub it is!  Not many places you can get a $12 chicken parmigiania these days and walk away almost in a food coma.  In fact, I might just move to South Gippsland one of these days: I was looking at the real estate agent's window today in Foster and found a nice little parcel of 100 acres of land with a mix of cattle paddocks, temperate rainforests, an on-property creek as well as a few hiking trails for $300K.  $300K for a piece of paradise and $3.25 beers at the pub, how can you go wrong?  In Marin County $300K might buy you a bathroom and $3.25 at the pub a diet coke!
This entry was posted on Tuesday, March 2nd, 2010 at 4:20 PM and is filed under Australia, Victoria. You can follow any responses to this entry through the RSS 2.0 feed. Both comments and pings are currently closed.