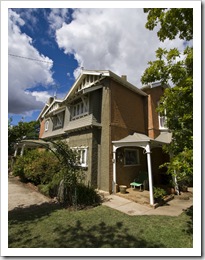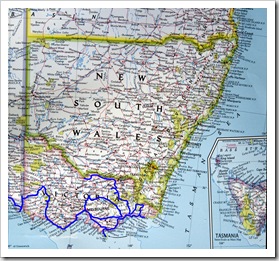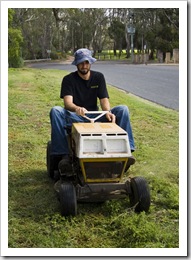 We made a bit of a side trip to visit Trudy Detmold in her home town of Echuca (S36°07.121' E144°44.406'), where the Murray and Campaspe Rivers meet in northern central Victoria.  Paddle steamers used to travel from the Murray River's mouth in South Australia over 1000 kilometers all the way to Echuca to transport grain and wool before the railways ruled transportation across country Australia.  We spent a couple of days enjoying Trudy's fantastic hospitality, also exploring Echuca's historic centre and taking a run through some of the surrounding bushland.
After a couple of days in Echuca we headed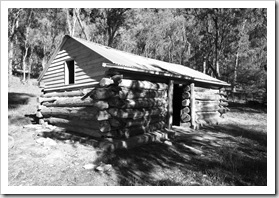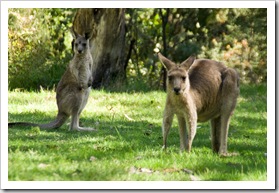 back east toward the Snowy Mountains, aiming to meet up with Will and Abi in Thredbo for a weekend of hiking around Mount Kosciuszko.  On the way we made a stop in Rutherglen to dine at another bakery claiming to be Australia's best: Parker Pies definitely has a pretty firm claim for the title in our book, the selection was absolutely mind-boggling.  From crocodile and crab, through lamb with mint and rosemary to chicken with bacon and tomato, the Parker Pies were absolutely fantastic and definitely worth sampling if ever in the area.  From Rutherglen we restocked in Albury just over the New South Wales border before crossing Lake Hume and heading to Granya State Park for the night.  On our way up to Thredbo we spent a while at Geehi Flats on the western side of Kosciuszko National Park, where I managed to land a Rainbow Trout from the crystal clear waters of the Swampy Plains River.  Geehi Flats was a beautiful spot, secluded campsites lining the banks of the Swampy Plains River, somewhere we would have definitely spent the night if we weren't making a beeline to meet Abi and Will on the other side of the Great Dividing Range later that day…
This entry was posted on Friday, March 12th, 2010 at 7:00 AM and is filed under Australia, New South Wales, Victoria. You can follow any responses to this entry through the RSS 2.0 feed. Both comments and pings are currently closed.