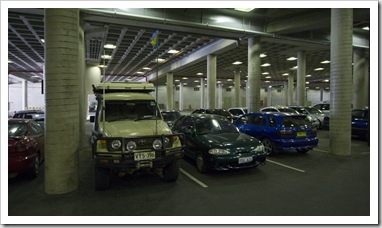 From Thredbo we spent a couple of days doing reconnaissance along the southern NSW coast for our impending visit from the Bodessis, before heading back inland for a few more days with Will and Abi in Canberra.  For you northerners, Canberra is located in the Australian Capital Territory, Australia's equivalent of Washington D.C.  We arrived in town a couple of hours before Abi was off work for the day so drove to Capital Hill (yes I spelled that correctly) to take a look at Parliament House.  I should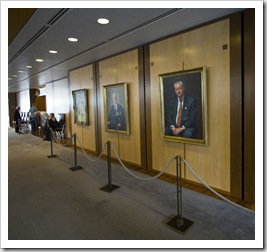 mention that underneath Parliament House is possibly the only underground parking lot in the country capable of housing The Tank: with a 4.1 metre clearance the vehicle and Blue Room had no problem parking underneath Australia's seat of government.  Fortunately for us parliament was in session when we visited and we happened to stroll in when question time was underway.  After a few rigorous security checks (during which time I had to give up my camera, so no photos) we entered the gallery in the House of Representatives to watch the politicians that run this great country heckle each other while the speaker attempted to maintain order.  The most entertaining point of question time occurred when the Treasurer started hassling the Leader of the Opposition about his "budgie smugglers" (American: Speedos), which was followed by Bronwyn Bishop requesting that the speaker "please remove the Treasurer's potty-moth remarks from the record."  Amazing that these are the people that run the country!  And also amazing that anything really gets done!!!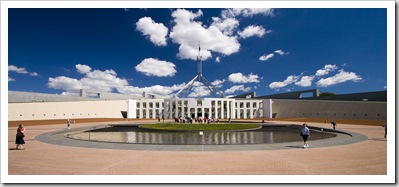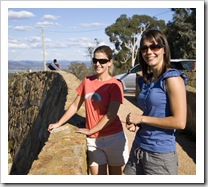 We had tickets to see Angus and Julia Stone at Australian National University on the Tuesday night we were in Canberra.  Apart from the artists requesting that the air conditioning be kept off during their performance, making the venue at least 40°C (104°F) with 99% humidity, it was a fun concert and a great night had by all.  While Will and Ab were spending their day doing what most honest Australians do on a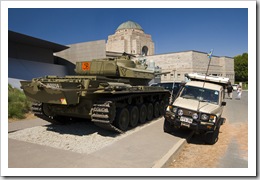 weekday (working!), Lisa and I climbed Mount Ainslie for a brilliant panoramic view of the city of Canberra and Parliament House.  We also made a visit to the Australian War Memorial, consistently awarded one of the world's best museums, it was an insightful journey through Australia's military past.  One could spend days touring the museum, we only visited the post-1945 conflict displays which were themselves enough to keep us occupied for over an hour.  Oh, and it was quite a hoot to be able to take a photo of our tank next to a real Australian military tank (pictured to the right here).  Awesome to be able to visit more friends along our travels, thanks again Will and Abi for such a brilliant tour of Thredbo and your hospitality in Canberra!
This entry was posted on Thursday, March 18th, 2010 at 7:30 AM and is filed under Australia, Australian Capital Territory. You can follow any responses to this entry through the RSS 2.0 feed. Both comments and pings are currently closed.