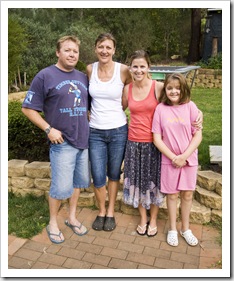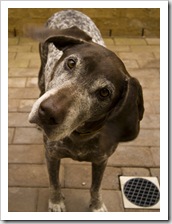 We left our wonderful Australian Capital Territory hosts, Will and Abi, in Canberra and ventured back to the coast for a few more days of reconnaissance through the Shoalhaven area.  On our way into Sydney we spent a night at Andrew and Jane Gow's quaint country home in Hill Top just near Mittagong, Jane was Lisa's nanny 25 years ago in California with whom Lisa's remained in touch ever since.  We collected the Bordessas at Sydney airport early on Tuesday morning, something we've both been looking forward to ever since we left the States almost a year ago.  They had a smooth flight from Los Angeles and, other than Jarrid getting instructions that he should have declared his spear gun as a weapon on the way through customs, they were out of immigration quickly and ready for our drive south to Lake Conjola.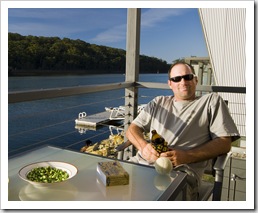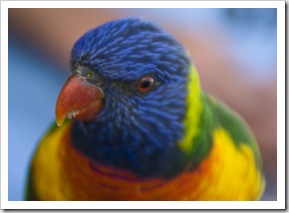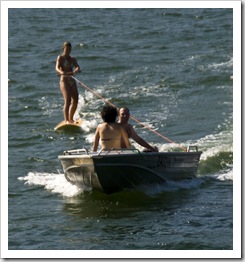 Lake Conjola (S35°16.054' E150°29.277') is one of the many inlets along the Shoalhaven Coast, a picturesque and tranquil waterway nestled amongst Conjola National Park a few hours drive south of Sydney.  The Newbys, who previously featured in our travels when we visited King Island and when they lent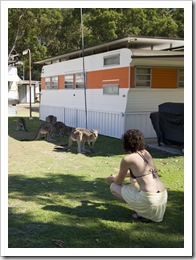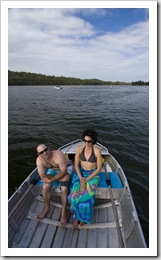 Lisa's parents their Land Cruiser for our month in Tasmania, were kind enough to allow us to use their holiday house at Lake Conjola to begin our time with the Bordessas' tour of

southern New South Wales.  When the immigration official at Sydney airport discovered where the Bordessas were traveling he told them that Lake Conjola is God's country; he was spot on!  A beautiful secluded spot, the Newby's shack is located less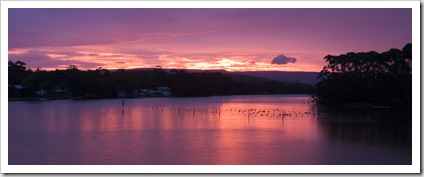 than 10 feet back from the water's edge with a brilliant view over the lake and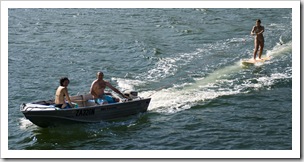 surrounding bush.  With a dinghy, surfboards, fire pit and beautiful beach at our disposal there was no shortage of things to keep us occupied.  A treat for Jarrid and Jacque to have kangaroos hopping past the house and a myriad of colourful Australian parrots frequenting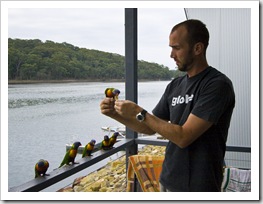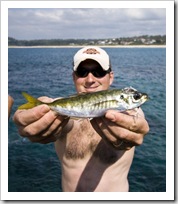 the balcony to begin their trip.  We scored some fantastic weather for the first week of the Bordessas'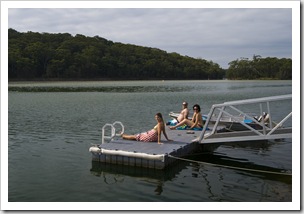 stay, blue skies and beach temperatures every day allowed them to work on their tan and enjoy the fantastic Shoalhaven beaches to the fullest.  During our tour up the coast before collecting the Bordessas I'd scouted out the best reefs in the Conjola area for a spot of spearfishing.  Jarrid and I

dove a couple of times on the Bannisters Point reef at the end of Mollymook, crystal clear turquoise water and plenty of schooling Yellowtail made it tough to get out of the water both times.  Jarrid didn't score any of the Kingfish he'd been dreaming about but it was a great spot, all the same…  We also took a day trip north to Jervis Bay and the famous Hyams Beach, a striking stretch of white sand with some great reef on which Jacque got to test out her new snorkel and mask.  Lisa's been telling me for years about spending time at Lake Conjola as a child, none of us were disappointed!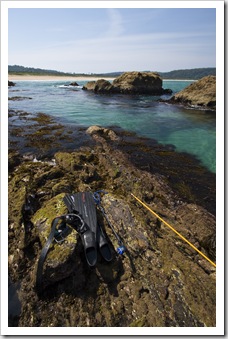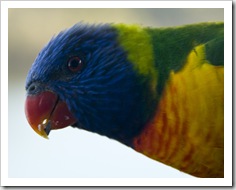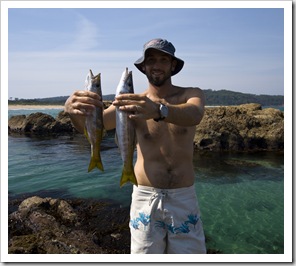 After the better part of a week and a few too many visits to the nearby Rainbow Pie Shop in Milton (thanks for the tip John!) we left the majestic surrounds of Lake Conjola and began our journey south along the Shoalhaven Coast.  We stopped off at McKenzies Beach near Tomakin and spent a couple of hours spearfishing off of one of the Tomakin points in Batemans Bay Marine National Park, the water was amazingly clear and so many fish.  I snagged enough Sand Whiting for everyone for dinner and Jarrid pulled in another Leatherjacket (which almost found its way into the jaws of a Wobegong Shark as he was swimming it back to shore) which he made into ceviche for afternoon snacks.  As we were cleaning our fish on the rocks a giant Eagle Ray sniffed out blood in the water and ventured in close for a look, the giant ray only just fit crossways in the channel in the rocks behind me in the photo to the right.  Other than the Manta Rays in Coral Bay it was definitely the biggest ray I've ever seen, not at all bothered by our presence he scooted back and forth in the channel for more than half an hour while we prepared our catch.
From Tomakin we headed further south to a camp spot at Congo (S35°57.270' E150°09.414') in Eurobodalla National Park.  The grassy clearing where we camped was located on the edge of Congo Creek, a great spot within a couple of minutes walk of a great surf beach where Jarrid and I spent the late afternoon bodysurfing in the swell.  I was willing to brave the stomach ache from eating fish as I sampled some of our fresh Sand Whiting for dinner, we played the first of many games of Presidents at Congo, enjoying the beautiful temperate weather late into the evening and catching a brilliant sunset over the creek at our doorstep.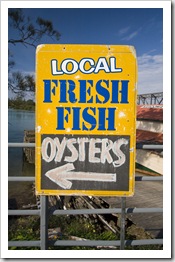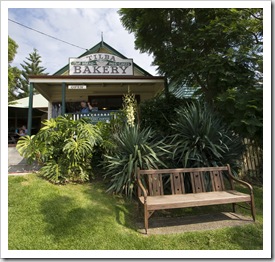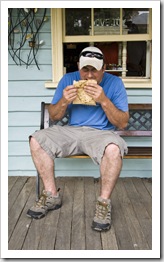 Further south we passed through Narooma, where we stopped off at one of the seafood processors for some fresh Sydney Rock Oysters as well as some Balmain Bugs (a type of slipper lobster) and local King Prawns.  We had to show the Bordessas the best of Aussie seafood during their visit…  We stopped off for lunch in Central Tilba, a cutesy heritage-listed town a couple of kilometers off the highway that we found on our travels between Thredbo and Canberra.  Central Tilba (and adjacent Tilba Tilba) boasts plenty of local craft stores, a leather shop, pub, bakery and the ABC Cheese Factory.  Jarrid and I enjoyed sampling yet another bakery for morning tea while the girls explored some of the shops and Jacque grabbed a couple of souvenirs.  Some beautiful countryside around Tilba Tilba, so green for the end of summer…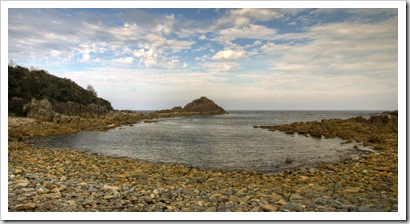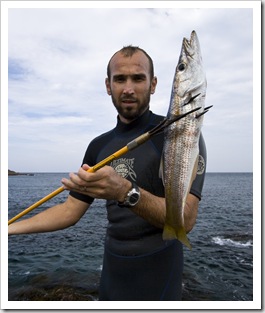 Our next spot for the night was in Mimosa Rocks National Park near Merimbula.  Lisa and I discovered the Aragunnu campsite a week earlier when we were high-tailing it to Canberra, it was the only spot where we couldn't bring ourselves to stay out of the water as we passed by.  The photo below doesn't really do the spot justice, the pebbly beach and turquoise water (which doesn't show in the overcast lighting) made it such a picturesque place.  The four of us all explored under the water of the protected cove below, Jarrid and I pulling in some more Sand Whiting and Leatherjackets for dinner the next night, and the girls having a hair-raising swim next to sizeable Fiddler and Eagle Rays.  The Balmain Bugs and prawns we bought in Narooma made for a great dinner of delectable seafood and more card games by the campfire took us late into the evening and through an entire bottle of vintage port between us!  We were visited by a friendly Bandicoot as we played cards by the campfire, great for the Bordessas to see such a unique Australian mammal up-close-and-personal in the wild.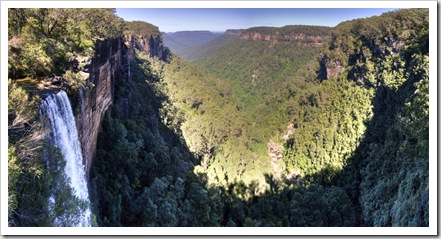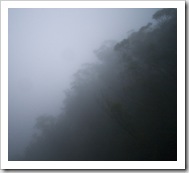 Back up the coast from Mimosa Rocks we stopped off for one more night at Lake Conjola to tidy the shack before heading inland to the Blue Mountains.  Jarrid and I stomached a burger with 'the lot' at the Mollymook fish and chip shop and promptly felt like entering a food coma (for you northerners 'the lot' entails grilled onion, a slice of pineapple, beetroot, a fried egg, bacon, cheese, ketchup, mayonnaise, tomato and lettuce!).  Jarrid and I took the dinghy out to Conjola beach one last time with the surfboards, catching some glassy conditions in the rain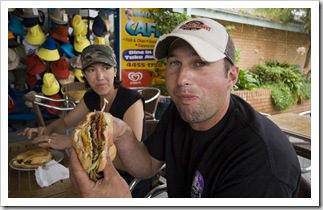 for a surf and Jarrid giving us both a good scare when he mistook a water bird for a shark fin between sets!  We headed to the quaint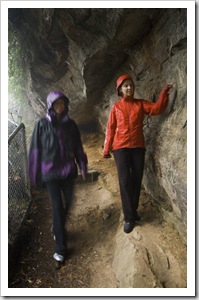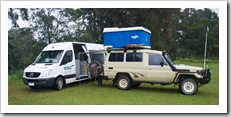 holiday settlement of Kangaroo Valley for a night on the way to the Blue Mountains, unfortunately battling some heavy rain all afternoon and evening.  Lisa and I had visited Fitzroy Falls near Kangaroo Valley a couple of weeks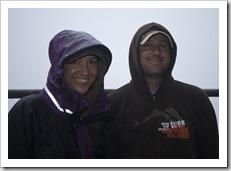 prior, the view we had in the sunshine (above left) a striking difference to the dense fog and lack of any kind of view we endured in the highland fog (above right).  We all endured the rain and made do by escaping to the Friendly Inn Hotel and then the dry confines of the Goose Shack (our name for the campervan the Bordessas hired for their trip), enjoying some tasty lamb chops and more card games late into the evening.  We camped on a grassy clearing next to the river at Bendeela, when we were all readying for bed we noticed the surrounds crawling with wombats.  They were quite used to people and allowed us to get within a metre of them as they mowed the grass in the late night rain.  I've never seen so many wombats in one place before, there had to be more than 20 of them!
This entry was posted on Tuesday, March 30th, 2010 at 8:30 AM and is filed under Australia, New South Wales. You can follow any responses to this entry through the RSS 2.0 feed. Both comments and pings are currently closed.