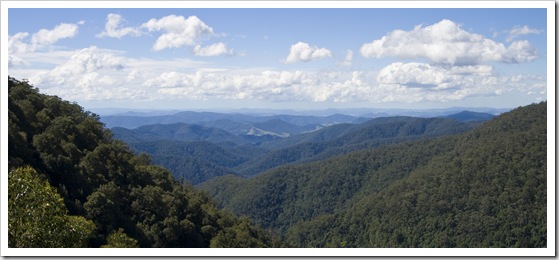 Barrington Tops National Park is a World Heritage Listed collection of striking peaks, waterfalls and crystal clear rivers roughly 150 kilometers (93 miles) inland from the coastal town of Forester.  Jill Newby suggested we make a stop off at Barrington Tops on our way up the coast from Sydney, there are so many National Parks along the central New South Wales coast that it was hard to choose where to go!  We took a scenic drive through some of beautiful cattle country between Broke in The Hunter, through Maitland, Dungog and eventually into the picturesque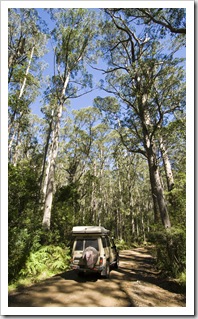 valley on the way to the Gloucester River campground in Barrington Tops National Park.  There were a ton of water crossings on the way into the National Park, I think we counted six or seven, all shallow though and easily passable even in a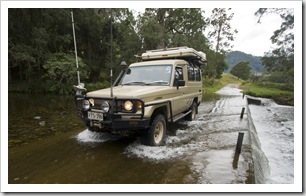 regular 2WD vehicle.  The Gloucester River campsite was a great spot, a grassy expanse in the sub-tropical rainforest with the sound of the powerful river ever-present.  We had the afternoon to kill once arriving at Gloucester River, so after staking out a camp spot we ventured up the dirt track to the peak of Gloucester Tops.  I wouldn't want to be driving up to Gloucester Tops in the wet, the dirt road was quite boggy in spots and so steep we had to climb almost the entire way in second gear.  The track climbs 982 metres (3222 feet) in 18 kilometers between the Gloucester River campsite and trailhead to Gloucester Falls!  Amazing the different climatic zones we passed through on the way: from subtropical rainforest, through dense Eucalypt scrub and eventually to sub-alpine woodland at the peak.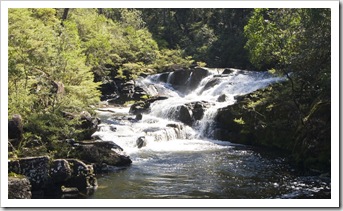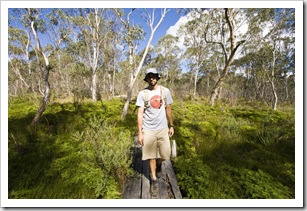 We spent the early afternoon hiking around the peak of Gloucester Tops, taking in roaring Gloucester Falls then along the Gloucester River and through the surrounding subalpine bush.  After making our way back down from the Tops to our campsite we ventured out of the National Park into the surrounding pastoral country to collect firewood before settling in for the night with a bottle of red and roasting campfire.  I tried to hook a few trout in the Gloucester River as the sun was waning but only managed to lose my favourite trout lure to an overhanging branch!  A great detour from the coast, thanks for the tip Jill!
This entry was posted on Friday, April 9th, 2010 at 5:00 AM and is filed under Australia, New South Wales. You can follow any responses to this entry through the RSS 2.0 feed. Both comments and pings are currently closed.