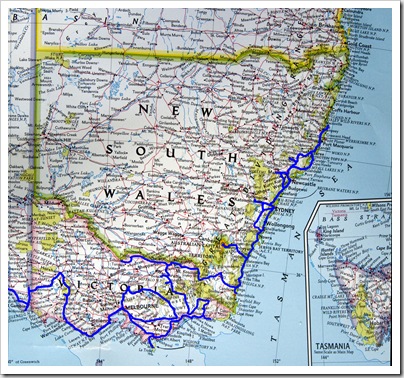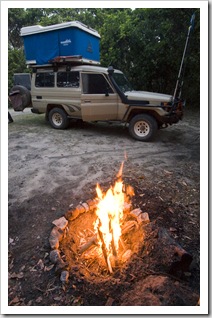 From Barrington Tops National Park we stopped off in Gloucester for enough time for Lisa to make a few phone calls over Skype while I hunted for a local bakery (no luck…), before continuing eastward toward the coast.  We made a beeline for South West Rocks, a small peninsula between Nambucca and Kempsey on the central New South Wales coast.  We'd been told stories of great fishing and beautiful beaches at South West Rocks by more than a couple of friends and travelers so figured we'd better make a stop.  South West Rocks itself is a small holiday settlement filled with weekend holiday homes and a few retirees mixed in.  The main beaches in the town are beautiful stretches of sand protected from the ocean by a north-pointing peninsula at Arakoon.  With a couple of bakeries, more than a few fish and chip shops and everything else one could want in a holiday retreat it's no wonder it's a popular place. 
Our camping book had a site marked at the end of the South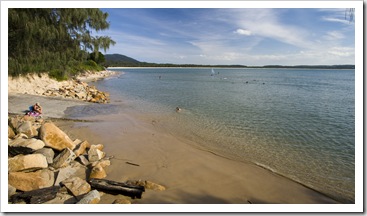 West Rocks main beach in Arakoon State Conservation Area, so we headed to the tip of the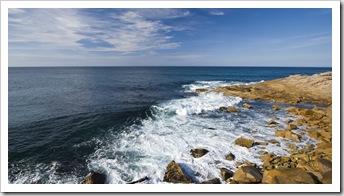 peninsula to have a look.  And here it's time for a bit of a gripe…  In general we've found New South Wales to be very expensive for travelers like ourselves.  In neighboring Victoria and further south in Tasmania every National Park (with the exception of Wilsons Promontory) offers free camping and does not charge visitor entry fees.  Taxes are collected and used to fund National Park amenities for everyone to enjoy, the way it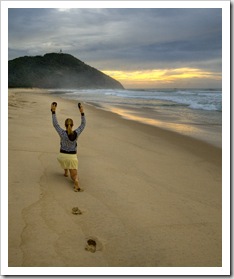 should be.  Not only does every National Park in New South Wales charge visitors with a daily entry fee, but for a patch of dirt on which to pitch a tent there are always camping fees to boot.  Arakoon State Conservation Reserve was absolutely out of control: this government owned and operated camping facility wanted to charge us $48 for a patch of grass for the night!  That's more than almost every other caravan park in which we've stayed!  And Arakoon even charges extra for showers!  Unbelievable…  One would think that the state with the largest taxpayer base in the country could at least provide National Parks free of charge for its residents!
Anyway, enough complaining, the beach and reef around the tip of the peninsula at Arakoon were very picturesque, the water was amazingly warm, just like a bathtub.  Lisa and I took a snorkel over the reef and a swim at the beach before heading south into Hat Head National Park.  We found a great camping area near the Smoky Cape lighthouse (S30°55.769' E153°04.674'), nestled behind the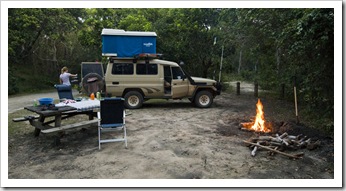 dunes and only a short walk from a powerful surf beach.  I took a bit of a swim in the late afternoon before we collected enough firewood for heat late into the evening.  And what an eventful evening it was…  With daylight saving finished here in New South Wales it's now getting dark around 6:00PM.  As soon as the sun started to wane the trees around The Tank began to rustle, shortly followed by piglet-like screeching.  We soon found that we were camped in amongst close to a hundred Grey-Headed Flying Foxes (or otherwise colloquially known as fruit bats) which kept us amused with their chatting and sociable antics well into the evening.  Generally not fussed with our presence, a few came quite close and hung in the trees near our fire.  It was a beautiful, clear night and fun to watch the brilliant stars interrupted by shadows of the huge bats flying between the trees overhead.  Some of them had to have wingspans in excess of a metre (3.28 feet).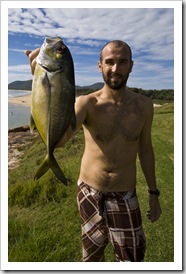 After our night at Smoky Cape we headed back into South West Rocks for breakfast at what turned out to be quite an ordinary bakery, then for an early morning swim at one of the town's beautiful beaches.  I spotted some rocks a short swim off the beach and we ventured out for a look with snorkels and masks, the fish life was amazing and I couldn't resist swimming back in to grab my spear.  I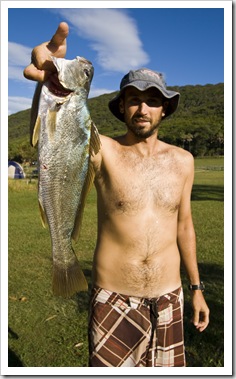 came across a school of Big Eye Trevally over the deep sand, hauling one in for dinner (which we ended up eating for dinner once back in Sydney at the Newby's).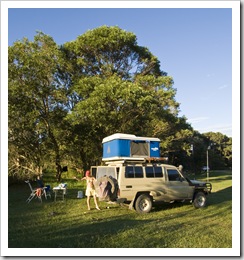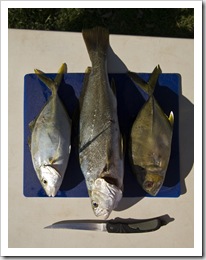 We headed south along the coast (we have to be back in Sydney for a flight to Adelaide on Tuesday for a wedding) from South West Rocks, through Forster with its picturesque metro beaches and along Seven Mile Beach into Booti Booti National Park.  Welcomed by a great campground called The Ruins (S32°31.0621' E152°52.0189'), it was more time on the beach while the weather was warm and we again ventured into the deeps with snorkels and masks.  Me with my spear and Lisa 'shopping' for her dinner, as she likes to call it!  This time it was a sizeable Mulloway and solid Silver Trevally the reward for an afternoon of diving, I'd never seen Mulloway in schools of hundreds like they were in the craggy reef near The Ruins.  Also quite interesting to find a couple of massive whale vertebrae and a whale rib bone in about 15 metres (50 feet) of water, the vertebrae would have easily been a metre wide (3.28 feet), must have been quite a whale that met its end off Seven Mile Beach.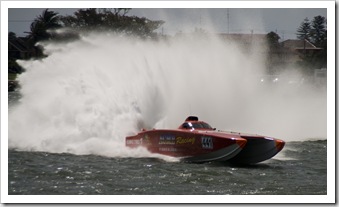 We started our last day along the coast with a morning walk along the Booti Hill Walking Track, a scenic hike around the cape at the southern end of Seven Mile Beach with some amazing views of Elizabeth Beach and southern portions of Booti Booti.  A quick shower at The Ruins campground and then it was back to Sydney for us.  We ducked into Newcastle on the way south for lunch, stumbling on to the Australian Offshore Superboat Championships being held in Newcastle harbour.  Amazingly powerful machines, the largest of the boats were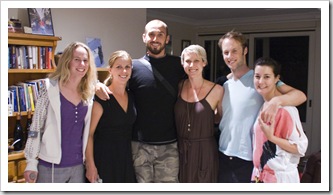 deafeningly loud and reached speeds of over 220 kilometers per hour (136 miles per hour).  The foreshore in Newcastle was buzzing for the event, definitely a fun way to break up the drive into Sydney.  We had an appointment for a late afternoon BBQ at the Fisher's house in East Killara, I grew up going on vacations (mainly snow skiing) with the Fishers so it was fun to reconnect with them again while we were passing through Sydney.  The Fishers invited Jenny and Jess Kriklewicz as well as Lachy Jarvis, who I hadn't seen for more than 10 years.  Great to see so many people with whom I'd spent weekends camping and holidaying when I was a little fella.  Thanks for organizing to get everyone together Peggy!
This entry was posted on Sunday, April 11th, 2010 at 3:00 PM and is filed under Australia, New South Wales. You can follow any responses to this entry through the RSS 2.0 feed. Both comments and pings are currently closed.