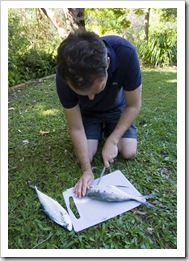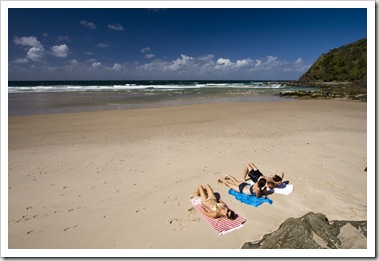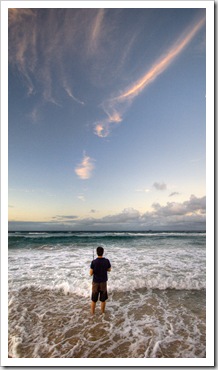 What an awesome spot!  Both Lisa and I had visited Byron before, around the time when we met over 10 years ago in Adelaide (and Lisa also when she was five).  We loved the laid back little beach town as much as we both remembered when we visited this time…  Byron's a small beachside town a short drive south of the Queensland border, one of its claims to fame is being Australia's most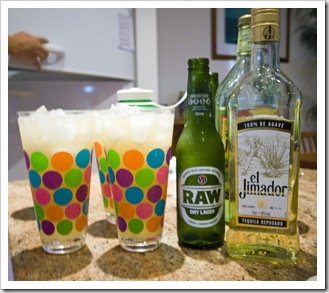 easterly point.  Decades ago it was overrun with hippies, drawn to the pristine beaches and tranquil rainforests (my mum's told me stories about her camping on the beach and skinny dipping at the main beach!).  These days the town retains its super-laid back feel but is more of a tourist destination, especially popular with backpackers and nomadic travelers like ourselves.  It's no wonder why: with an extensive array of eateries to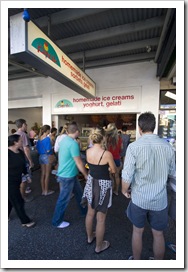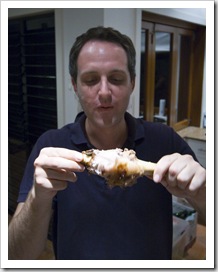 suit any budget, plenty of fashion shops, no shortage of pubs and some of the most crystal clear waters lapping over striking white sand there's plenty to keep oneself occupied.  All of us were big fans of Bay Kebab, Lisa and I returned three or four times!
We arrived in Byron last Friday afternoon, Matt and Anna flew up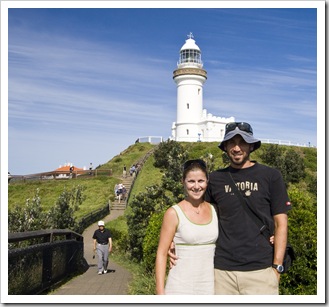 from Sydney and Adelaide respectively later in the evening to meet us for the ANZAC Day long weekend.  Matt organized a fantastic two-bedroom townhouse tucked into the sand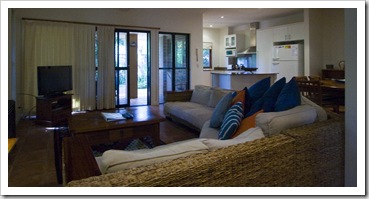 dunes a short walk from Byron's centre, the place was absolutely palatial: expansive downstairs living area with a well-stocked kitchen, coupled with two big bedrooms upstairs, a great outdoor eating area with BBQ and our own little private walkway through the dunes to the pristine waters and white sand of Byron's main beach.  You couldn't ask for more in a holiday house, a little different to the living quarters we're used to these days! 
Lisa and I took advantage of the kitchen and cooked a lamb roast for Matt and Anna on our second night in town (from the photo above I have an idea that Matt enjoyed every last bit of it!), which we coupled with beer margaritas and a little too much tequila late into the evening.  Matt and I both threw in a line from the beach in front of our house during the late afternoon, I pulled in a small dart but otherwise we just spent our time battling the strong rips while the girls looked on with their cocktails.  A very fun night, I had a tequila-driven hankering for gelati at around 10:00PM so Lisa and I wandered to the town centre, only to find all the gelaterias closed and having to settle for a few more drinks at the plethora of pubs lining the main street.  The rest of the night is a little hazy…  I do remember Matt seeming to have taken lessons from Tariq on his beer drinking, though!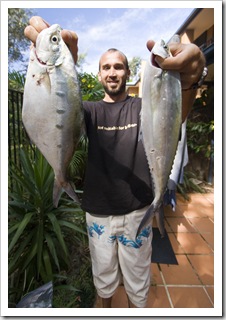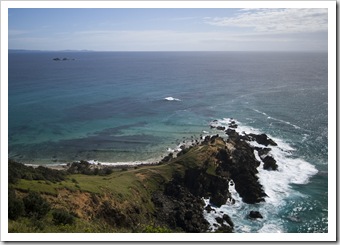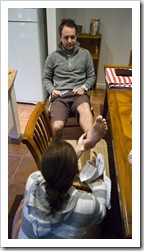 With the amazingly clear water surrounding Cape Byron Matt and I were pretty keen for a snorkel.  We headed out to Wategos Beach on Saturday afternoon, a secluded cove at the tip of Cape Byron, and swam through the crashing surf beyond the breakers toward a bombie a few hundred metres offshore.  It was quite a challenging swim, the barnacle covered reef being pounded by swell made getting beyond the break a little challenging (see Matt being tended to by Anna in the photo on the right after a confrontation with the barnacles!).  Once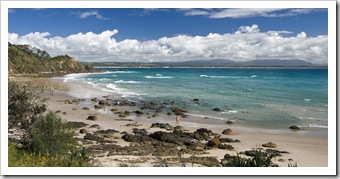 beyond the break the water clarity was amazing, surrounded by huge schools of Swallowtail Dart and Tailor it was hard to know where to point my spear!  I returned to the same diving spot a few days later when the surf had toned down a little, making the swim all the way out to the bombie (the bombie is the small area of whitewash in the centre of the photo above left).  Some of the most amazing fish life I've ever seen: I swam with a turtle on the way out and at one point was engulfed by a school of thousands of Silver Trevally buzzing around the reef.  It didn't take long for me to realize why the Silver Trevally were encircling the bombie: there was a lone dolphin chasing the school hoping for a bit of a feed.  Snapper, Wobegong Sharks, turtles, dolphins, Tailor, I could go on and on…  A great spot to take a look at life under the surface.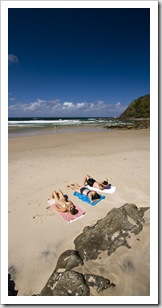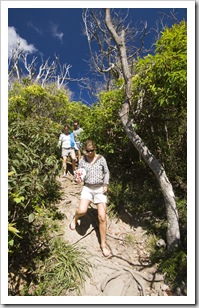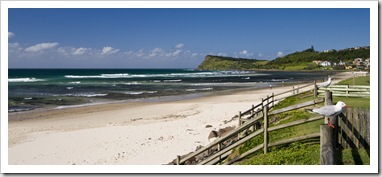 The four of us spent a day exploring some of the Byron surrounds in Matt and Anna's rental car.  We began our day by taking a trip south to the neighboring town of Lennox Head.  Famous for its peeling right-handed surfing break, Lennox is a markedly lower-key spot than Byron, a few small cafeterias and restaurants lining the esplanade above the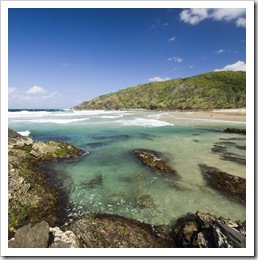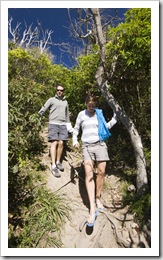 seemingly never-ending white sandy beach between Lennox Head and Broken Head to the north.  We enjoyed a coffee at one of the esplanade's restaurants before venturing back toward Byron and into the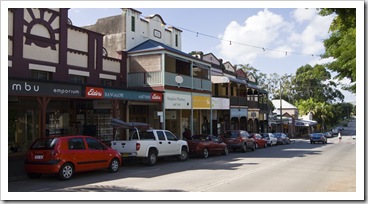 Broken Head Conservation Area.  We hiked down the cliffs to isolated Brays Beach for a bit of a bake in the sun and paddle in the crashing waves.  Brays is a beautiful beach with some very picturesque tide pools at either end, a great spot to escape the crowds of neighboring Byron.  From Broken Head we ventured inland to Bangalow, a town that one of Anna's friends suggested we visit, it's a bustling little hinterland settlement replete with all kinds of eateries as well as some very well-maintained heritage buildings lining the main street.  Matt and Anna left us early the next morning after a very fun and action-packed weekend.  Thanks for coming up to meet us guys, we thoroughly enjoyed it!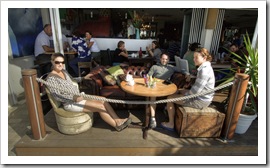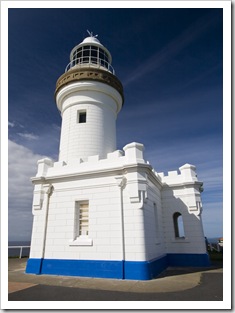 On Tuesday Lisa and I ventured up into the hinterland to explore a portion of the Rainforest Way, a selection of scenic drives through the New South Wales and Queensland countryside surrounding Mount Warning.  We spent the night near Nightcap National Park before returning to Byron on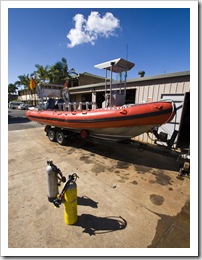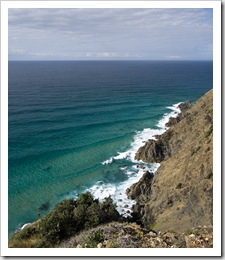 Wednesday to meet Gina on her way down from Brisbane.  Gina spent a couple of weeks with us after Christmas, when her and Chris explored the South Australian and Victorian coast along the Great Ocean Road between Adelaide and Melbourne.  After working the wine vintage at Chapel Hill she had a bit of time to kill before returning to California and was yearning for a little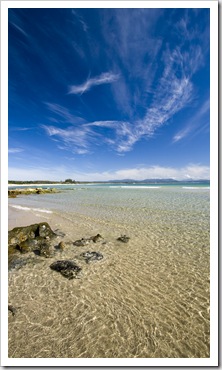 more time with The Tank, so flew up to join us in Byron as we continued our way north to Brisbane.  We spent two more nights in Byron with Gina, enjoying a night at the Byron Bay Brewery as well as the Great Northern Hotel, where we discovered they served $2.50 beers all night on Thursdays!  Gina and I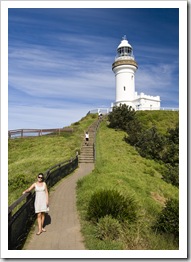 also took a SCUBA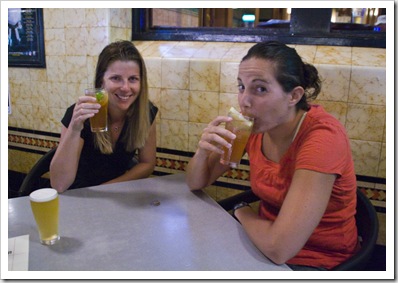 diving trip out to Julian Rocks, a marine park located a couple of kilometers offshore from Byron Bay.  Julian Rocks is famous as a Grey Nurse Shark breeding ground, making it a very popular spot to dive.  Unfortunately it's the wrong time of year for the Nurse Sharks to be at Julian Rocks, but we did get to swim with some gargantuan Leopard Sharks, plenty of Wobegong Sharks, massive schools of Mulloway, Spangled Emperors and just about every other reef fish one can imagine…  One of the roughly 10-foot Leopard Sharks gave me a bit of a fright when it swam toward me and put it's nose within 10 centimeters of my mask.  I thought the behemoth fish was going to head butt me!  Gina also saw a Manta Ray off in the distance, something I unfortunately missed, but there were plenty of Eagle Rays cruising the reef and we even got to see a turtle rummaging in the rocks for a bite to eat.  An awesome spot to dive, definitely one I'll remember for a long time…  I also twisted Lisa's arm and had her swim out to Wilsons Reef with me, a bombie sticking out of the sand roughly 800 meters (0.5 miles) off Byron's main beach.  Swimming through 30 feet of water on the way out was a little unnerving and I had to convince Lisa not to turn back a couple of times.  But it was well worth it as we swam with giant gropers, turtles, rays and some amazingly coloured reef fish pecking the rocks for food.  I don't think Lisa would do it again but I think she's glad she stuck with it!
This entry was posted on Friday, April 30th, 2010 at 7:00 AM and is filed under Australia, New South Wales. You can follow any responses to this entry through the RSS 2.0 feed. Both comments and pings are currently closed.