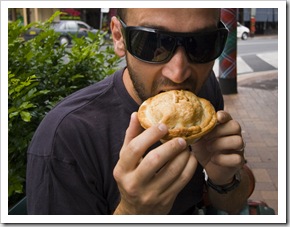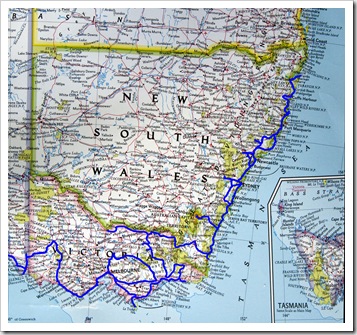 It was a picturesque drive through the rainforests and Eucalyptus bushland out of the mountains from Nymboi Binderay National Park into Coffs Harbour.  As we came out of the foothills to the outskirts of Coffs Harbour the bushland was replaced by groves of banana trees, something for which Coffs Harbour is famous.  Acres upon acres of banana plantations cover the hills around town.  Lisa and I took advantage of the fresh produce by stocking up at the farmers market being held in Coffs Harbour yesterday morning.  Loaded with the best fresh fruit and vegetables the locals had to offer we continued our coastal route through Grafton and into Maclean, a small riverside settlement brimming with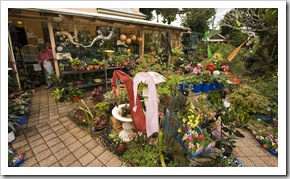 Scottish heritage on the banks of the Clarence River.  The couple camping next to us at Platypus Flat in Nymboi Binderay National Park hailed from Yamba, the coastal town next to Maclean.  They used to own one of the bakeries in Yamba and – when they discovered my love for a good Aussie pie – recommended we dine at one of the Pot Belly Pies shops in either Maclean or Yamba (they recommended Pot Belly Pies instead of the bakery they'd recently sold!).  We found Pot Belly Pies in Maclean and – originally planning to share a pie between us – almost had to roll ourselves back into The Tank after each downing one of the monstrous baked goods.  Now, I've sampled a hell of a lot of bakeries in the last year, and I can firmly attest that Pot Belly Pies is absolutely the best bakery at which I've dined to date.  Amazing pies, a solid gold medal on our map of Australia's Best Bakeries!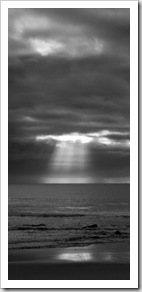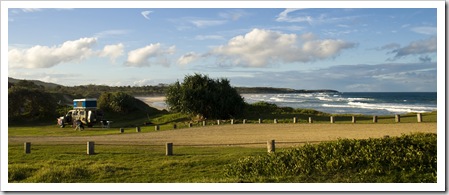 With fuller than full tummies we left Maclean and Pot Belly Pies behind, setting our sights from the coastal Yuraygir National Park.  Yuraygir encompasses the longest stretch of undeveloped coastline in New South Wales, rolling plains of scrub-covered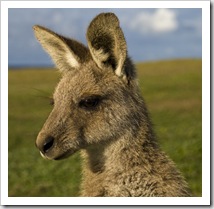 bushland littered with kangaroos and beautiful beaches along its entire length.  We setup camp at a secluded spot next to Lake Arragan (S29°34.144' E153°20.246'), arriving early enough to secure a location with a fantastic view of the adjacent beach from The Blue Room.  It was kind of a surreal spot to camp, almost too good to be true: a beautiful beach within 10 meters of our site, wood for the fire provided by the DECCW, a brilliant view of the ocean from our bed and close to 40 kangaroos munching on the grass around us late into the evening.  I don't think we could ask for much more in a campsite…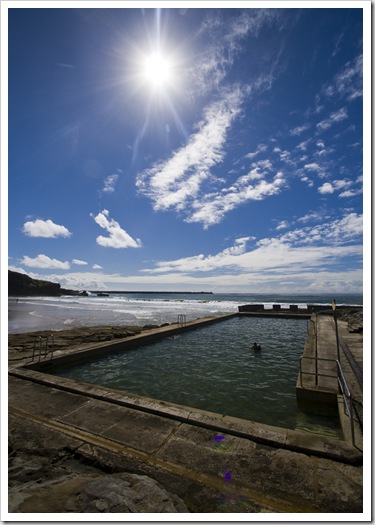 We'd planned to take a look at Yamba and Angourie on our way between Yuraygir National Park and Byron Bay, and we couldn't resist another meal at Pot Belly Pies in Yamba after our experience yesterday in Maclean.  After breakfast at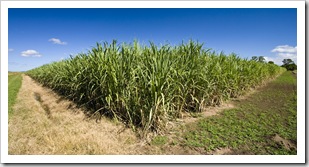 the bakery we explored some of the local Yamba and Angourie beaches, it's no wonder the area's such a hotspot for surfers: the lines were rolling in like a movie when we visited, with so many surfers in the water they could be mistaken for ants from a distance!  After a dip at Yamba's main beach and a bit of bodysurfing to burn off some of our pie breakfast we hopped back in The Tank, headed north through the sugarcane fields to the famous coastal resort of Byron Bay.
This entry was posted on Friday, April 23rd, 2010 at 10:00 AM and is filed under Australia, New South Wales. You can follow any responses to this entry through the RSS 2.0 feed. Both comments and pings are currently closed.