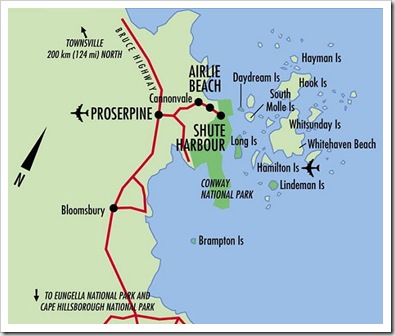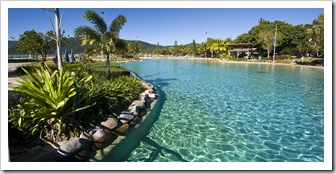 The Whitsunday, Lindeman and Molle Groups are a collection of 74 tropical islands spread around Mackay and Airlie Beach.  Commonly referred to simply as The Whitsundays, the islands were named by Captain James Cook on his voyage through the area during 1770.  The Whitsundays are about as touristy as it gets, but it's one of those places that you have to stop off at on the way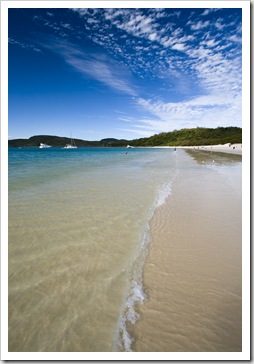 through.  So we spent a couple of nights in Airlie Beach (S20°16.474' E148°42.250') to explore the wonders of the islands and Great Barrier Reef. 
Airlie Beach is a fun little backpacker haven, the launching point for most trips to the surrounding islands.  It has more tour agencies along the main street than I've seen anywhere else in Australia.  The massive influx of backpackers to the area means that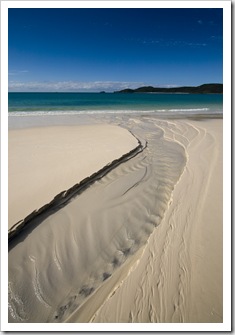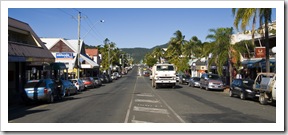 we were able to find some very well-priced pubs and enjoyed a bit of people watching at one of them on our first night in town.  We stayed at a tired old caravan park in nearby Cannonvale, I'll never forget the showers that came about halfway up my back in the dilapidated toilet block .  They were so bloody short that even Lisa had to bend over to wash her hair!
There are more ways to explore the islands than one could imagine: ex-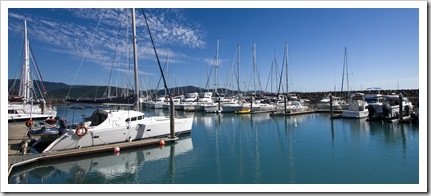 competition yachts, catamarans, luxury cruisers, high-powered speed boats, seaplanes, you name it.  We took the fast and exhilarating option with a day on a military runabout-inspired speedboat similar to the one that slung us around the seas of Bruny Island in Tasmania.  We were picked up a little before 10:00AM from our caravan park and ferried to Abel Point Marina, a quick pre-board briefing and we were on the water with 900HP behind us on Big Fury.  While I'm sure the boat could handle amazingly, it was quite a tame ride compared to our previous experience on Bruny Island Cruises.  Still a lot of fun to hoon out toward the islands on Big Fury with such beautiful views of Hook and Whitsunday Islands in the distance.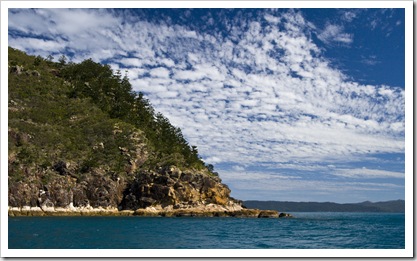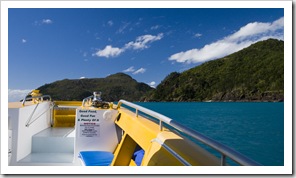 We sped across the Whitsunday Passage from Airlie Beach and through the slim channel separating the largest of the two Whitsundays: Hook Island and Whitsunday Island.  Most of the larger islands in the chain have at least one secluded resort on them, Hook and Whitsunday Islands are no exception.  The resort on Hook Island is one of the area's oldest, established over 50 years ago it's so far from the mainland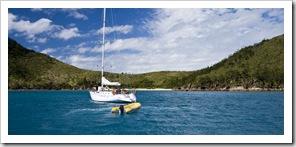 that it generates its own electricity and gets fresh water from its own desalination plant.  Once we rounded the northern end of Whitsunday Island we cruised a little further out to sea for our first stop: Border Island.  The northern end of Border Island has a secluded cove teeming with fish and full of fringing coral reefs.  We spent roughly an hour in the water at Border, a stunning array of colourful fish and some of the most brilliant coral either of us had ever seen.  If there wasn't a bit of a wind chilling our backs while snorkeling I think we could have stayed in all day!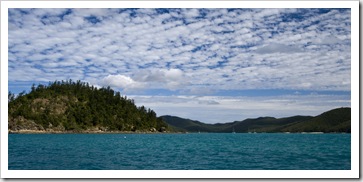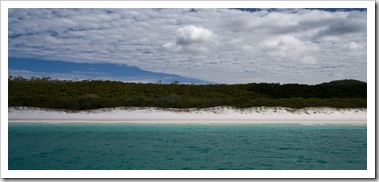 On our way down the eastern side of Whitsunday Island we stopped off for a quick look at the famous Hill Inlet, the fourth most professionally photographed location in Australia according to our jovial deckhand Cam.  Hill Inlet lies at the northern end of Whitehaven Beach, arguably the most famous beach in the Whitsundays due to its strikingly white sand that stretches for seven

kilometers.  The sand of Whitehaven is the purest sand in Australia, the 98.8% silica is supposedly the result of grinding quartz on top of tectonic plates at the opening of an underground volcano just east of the beach.  We stopped off for a couple of hours at Whitehaven, enough time for lunch, a bit of a relax on the brilliant sand and a quick stroll up the water's edge toward Hill Inlet.  A fantastic day, great to take a trip out to see the Whitsundays up close, even if it was short and sweet.
This entry was posted on Saturday, June 12th, 2010 at 6:24 AM and is filed under Australia, Queensland. You can follow any responses to this entry through the RSS 2.0 feed. Both comments and pings are currently closed.