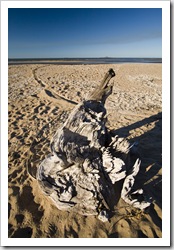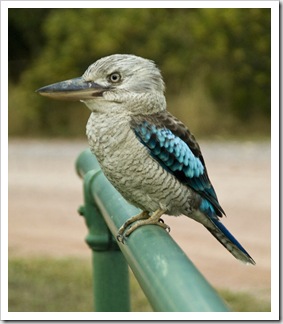 The Wet Tropics World Heritage Area extends a few hundred kilometers from Bluewater at the southern end of Paluma Range National Park all the way up to Cooktown on Cape York Peninsula.  Innisfail, Tully and Babinda in the centre of the Wet Tropics World Heritage Area often vie for the award for the wettest town in Australia, each often receiving over 4500mm (14.8 feet) of rain annually.  Some of the mountain tops making up the Wet Tropics receive over 6000mm (19.7 feet) of rain each year!  All the water results in an expanse of rugged mountain ranges cloaked in dense tropical rainforest, rivers and waterfalls abound. 
We took our time exploring almost all of the southern portion of the World Heritage Area.  After a couple of days exploring The Whitsunday Islands we drove a few hundred kilometers past Townsville to spend the night at a meticulously maintained town park in the sleepy seaside settlement of Toomulla.  A free campground within a few steps of the beach – and also within a few steps of a very crocodile-friendly creek – we enjoyed a walk along the beach and a few slings of the Aerobie before dinner.  In the waning sunlight we had our first visit of the trip from a beautiful Eastern Blue-Winged Kookaburra.  Blue-Winged Kookaburras are endemic to Australia's northern reaches and have electric blue feathers on their wings and pale body coloring, traits that separate them from their more common Laughing Kookaburra cousins.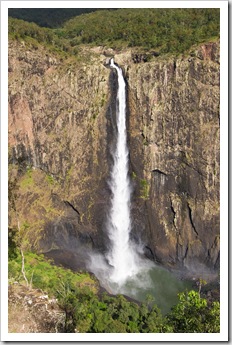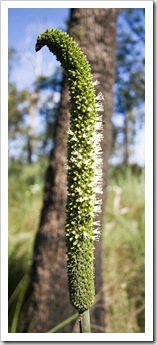 We spent our first morning in the Wet Tropics exploring Jourama Falls in the northern end of Paluma Range National Park.  Jourama is a spectacular multi-tiered waterfall plunging into a series of welcoming swimming holes in the gorge below.  If it was a little warmer outside we would have definitely taken a dip…  Further north just west of the Town of Ingham lies Wallaman Falls in the southern end of Girringun National Park.  Wallaman Falls is Australia's tallest single-drop waterfall, plunging 268 meters (879 feet) into the 20 meter (66 foot) deep pool at its base.  Roughly five times the height of famous Niagara Falls, it was an absolutely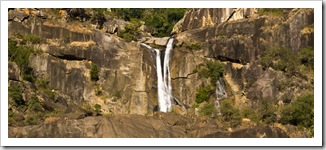 an awe-inspiring sight.  It was on our way into Wallaman that we had our first on many Wet Tropics notices to look out for the rare Cassowary bird.  Cassowaries inhabit the mountainous rainforests in this area of the country and although they're quite rare, can cause quite a bit of havoc for people if cornered.  Roughly the size of an Emu, Cassowaries have a large bone protruding from their head that they use to clear their way through the jungle.  The bone can also be used as a maiming defensive ram so the Department of Environment and Conservation up here makes sure that tourists know to steer clear should they see one in the wild.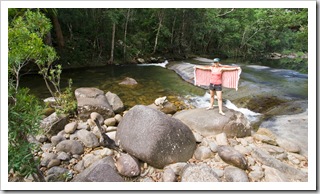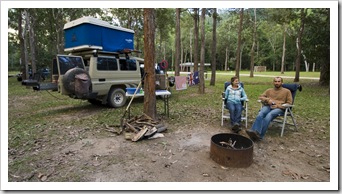 From Wallaman Falls we headed into central Girringun National Park for a night at Murray Falls.  The camping area next to Murray Falls (S18°09.208' E145°48.971') was brilliant: a grassy clearing set beneath towering Eucalypts, the gushing sound of the falls in the distance and a series of beautiful swimming holes right next to the campsites.  With a campfire for me and flush toilets for Lisa we couldn't have asked for more!  After a dip in the creek below the falls we dined on lamb chops and salad with a bottle of McGuigan shiraz viognier, it was definitely camping in style.  The group of campers adjacent to us didn't have a fire ring and we noticed their three young boys full of energy so invited them to share our campfire with us.  It was a lot of fun meeting the boys: five year old Angus is the big brother to four year old twins Max and Thomas.  Their parents Heath and Anna hailed from nearby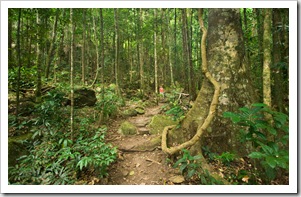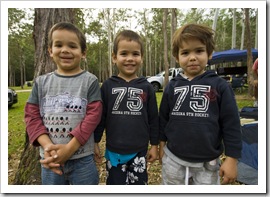 Townsville and were great to chat to over a few glasses of red and a roaring fire.  The campfire kept the boys occupied way past their regular bedtime, I think they would have burned my whole wood pile in one hit if I'd let them.  Cabbage had been on the menu that night for the family of five resulting in some funny squeaks around the fire from the three boys.  Lisa and I had quite a chuckle each time one of the boys let one rip and immediately blamed Dad! Heath and Anna sure had their hands full with the three of them, they had two cars with them at the campsite for the weekend because just before they'd left on their trip Thomas decided to take scissors to all three seatbelts in the rear of their Nissan Pathfinder.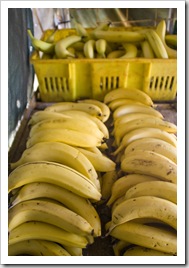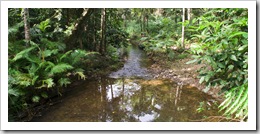 From our brilliant spot at Murray Falls we continued north to the Central Coast section of the Wet Tropics World Heritage Area.  The plains up in this area of the country still support a lot of sugar cane, but north of Townsville more and more of the cane crops give way to abundant fields of mango, papaya, pineapple and bananas.  There's often roadside stalls at the smaller farms so we're always stocked with delicious fresh fruit along the way.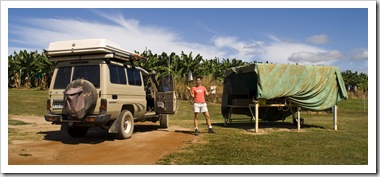 Mission Beach is a backpacker friendly little beach town just north of famous Hinchinbrook Island, we stopped in for a morning coffee in-between some of the short rainforest hikes through Clump Mountain National Park.  The 4.6 kilometer (2.9 mile) Bicton Hill walk afforded us excellent views of Mission Beach and the nearby islands, interesting to read about the endemic native tress along the way which had been labeled by the park rangers.  I had no idea that Australia had native banana, plum and nutmeg trees!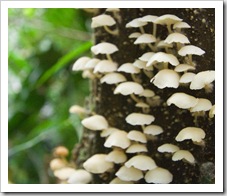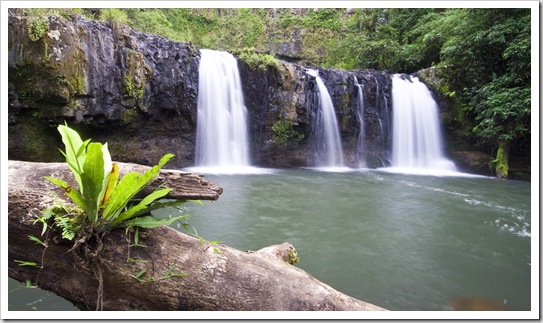 From Mission Beach we started our way inland toward the Atherton Tablelands, spending a night alongside Henrietta Creek in Wooroonooran National Park on the way up.  Even though it was a little close to the Palmerston Highway, the Henrietta Creek (S17°35.920' E145°45.534') campsite had some great walks to nearby falls as well as a beautiful swimming hole called the Bush Pool only a few hundred meters into the jungle from where we setup for the night.  Nandroya Falls, located down a 2.4 kilometer (1.5 mile) hiking trail from the campsite, was definitely one of the most picturesque waterfalls I've ever seen.  Lots of signs of Cassowaries in the Henrietta Creek area, we still didn't manage to catch a glimpse of one but could definitely hear them crashing and calling through the jungle once darkness fell.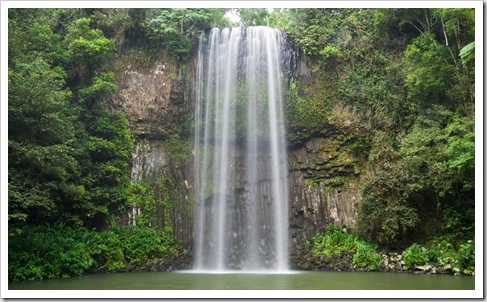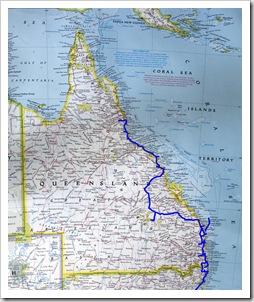 Our tour of the southern and central sections of the Wet Tropics World Heritage Area finished with a trip to some of the waterfalls around the town of Millaa Millaa at the southern end of the Atherton Tablelands.  We also drove inland to Millstream Falls – Australia's widest waterfall – near the town of Ravenshoe.  It's amazing just how much water is in this area of the country!  We've spent so much time in the arid expanses of the Northern Territory and Western Australia, it's a real eye-opener to see so much water flowing in the middle of the dry season.  I can't imagine what it must be like up here when it's raining!
This entry was posted on Tuesday, June 15th, 2010 at 3:07 PM and is filed under Australia, Queensland. You can follow any responses to this entry through the RSS 2.0 feed. Both comments and pings are currently closed.