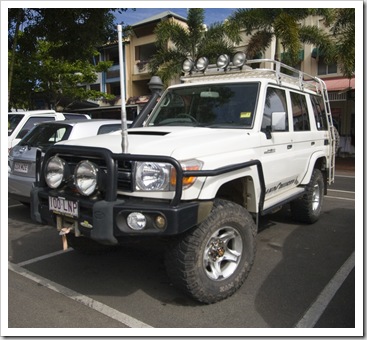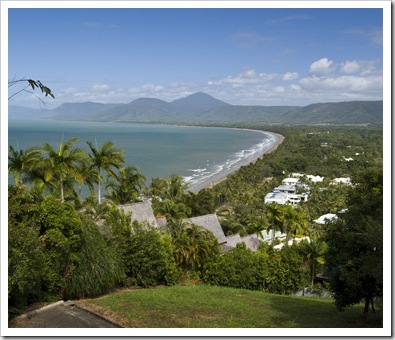 Although we had absolutely no intention of staying a night in Port Douglas (the exclusive resort town is a little high-priced for our current modus operandi) we dropped in to have a look around on our way down the mountains from the Atherton Tablelands.  Port Douglas is basically a collection of luxurious tropical resorts, a beautiful white sandy beach and palm-lined main street littered with everything from swish cafes to famous restaurants.  Fun to take a walk down the main street and a drive up to the lookout above town afforded us a sweeping view of the coastline extending south.
We spent a night in Mossman on our way into the Daintree, ducking in for an afternoon look at the Mossman Gorge section of Daintree National Park only a few kilometers from town.  Mossman Gorge is one of the more famous stop-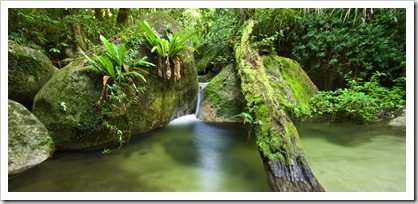 offs in the northern tropics region of Queensland, its proximity to Port Douglas and Cairns making it a popular spot for tours from the two regional centers.  The Main Coast Range springing from the cane fields around Mossman was quite a sight, towering jungle-covered peaks extending toward the clouds make up the almost completely inaccessible National Park.  Mossman Gorge has a few short walks, all of which we explored within an hour, and quite a few spots for a swim along the beautiful length of the gorge, a refreshing way to escape the heat and humidity.

Our caravan park in Mossman was only a few hundred meters from the Daintree Inn pictured here.  Always keen to check out a local pub and meet some of the townsfolk, we wandered in after dinner for a few beers and a game of pool.  As soon as I'd put my coin in the slot of the pool table, behind me I heard a loud "Hey big fella, you wanna play, I play you!"  Obligingly, instead of enjoying a quiet game of pool with Lisa I played against a middle-aged Aboriginal woman named Doreen (or Dora the Explorer to her grandchildren).  Lisa and I both enjoyed a chat with Doreen throughout the game, having a good laugh at some cringing expletives she let out when things didn't go her way, and repeatedly surprised at some of the shots she pulled off while completely inebriated.  We later learned from some of the other locals that Doreen hustles herself into quite a few games of pool at the Daintree Inn, usually finding a way to avoid paying for a game even if she's challenging for the table!  Definitely one of those nights we'll look back on and have a laugh about for many years down the track…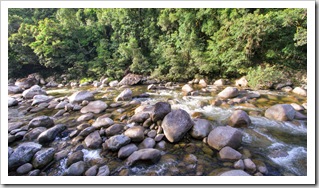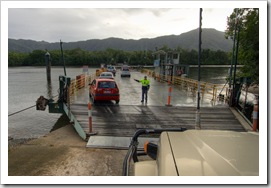 We set into the Daintree proper from Mossman, taking The Tank for another boat ride over the Daintree River on our way into the Cape Tribulation section of Daintree National Park.  The density of the jungle north of the Daintree River was quite spectacular, we couldn't see more than a few meters into the thick undergrowth on either side of the road.  The humidity was another memorable aspect of the area, it hung over us like we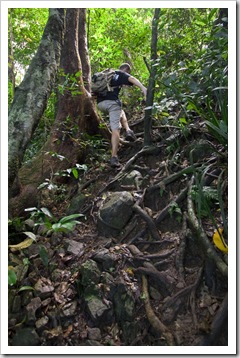 were back in Southeast Asia, we both just wanted to reach out and part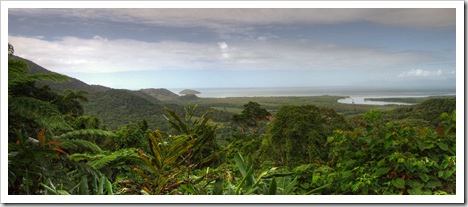 the moisture.  We spent the day around Cape Tribulation with a hike to Mount Sorrow, a grueling climb from sea level to the 680 meter (2230 foot) saddle below the mountain's peak.  The hike is only seven kilometers (4.3 miles) round trip, something we'd usually complete in 90 minutes.  But the near vertical stretches of the climb across slippery rainforest roots and slick mud slowed us down considerably, it took us almost four hours to make it up and back.  We were absolutely sopping wet with sweat upon reaching the lookout below Mount Sorrow, excited to have completed our climb but exhausted after traipsing through the thick undergrowth at near-100% humidity.  We both had some unfortunate run-ins with leeches on the way up, finding a couple in our shoes, and I had a tick make its way into the skin below my collarbone some time during the trek.  Great to get some exercise but definitely one of the toughest walks either of us has ever done.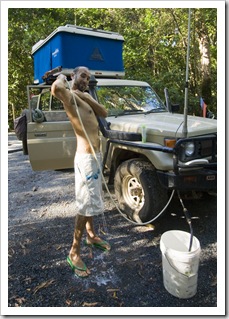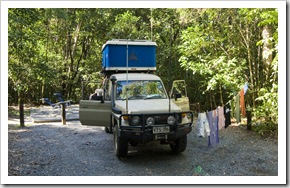 The section of coastline around Cairns and Port Douglas isn't overly friendly when it comes to campsites for travelers like us, the stretch of almost 170 kilometers (106 miles) is completely devoid of campgrounds from Babinda to midway through Daintree National Park.  The one and only campground in Daintree National Park is located just south of Cape Tribulation at Noah Beach (S16°07.986' E145°27.065'), a selection of 15 sites in the rainforest just back from the ocean.  It's the only time we've felt the need over the past 14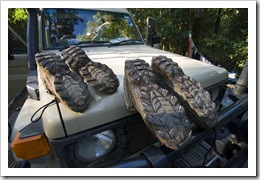 months to book a campsite in advance, and lucky we did because the place was full!  We were extremely grateful for the hot shower on the front of The Tank after our hike to Mount Sorrow, exhausted after the walk it was a godsend to have a cleansing rinse before dinner.  The Daintree rainforests contain an astonishing 30% of the frog, marsupial and reptile species found in Australia and 65% of Australia's bat and butterfly species.  We had a visit from a few bats buzzing around our heads whilst eating dinner, plenty of small frogs hopping about the place and even a Long-Nosed Bandicoot visited when we were reading up in the Blue Room.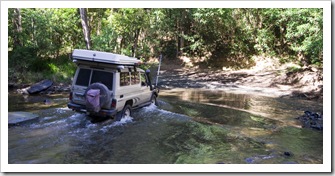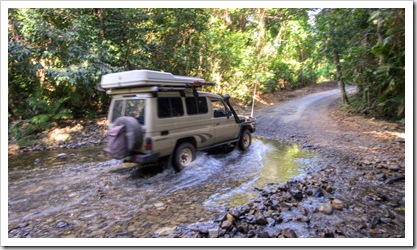 On our way north out of Daintree National Park we took a quick stroll along the Dubuji Boardwalk and a look at Cape Tribulation.  So unfortunate that the ocean up in this area of the country is off-limits to swimming due to Estuarine Crocodiles, some beautiful stretches of white sand around Cape Tribulation that'd be perfect for a day on the beach.  The road from Cape Tribulation to Cooktown through the remote northern reaches of Daintree National Park is a 4WD-only affair: plenty of water crossings and some nail-bitingly steep climbs and descents made for quite a fun return to the world of off-roading for The Tank.  Just a warm up for our coming trip to Cape York Peninsula!
This entry was posted on Saturday, June 19th, 2010 at 10:00 AM and is filed under Australia, Queensland. You can follow any responses to this entry through the RSS 2.0 feed. Both comments and pings are currently closed.