The Tableland Region is a tract of super-fertile agricultural land in the plains behind the mountains that circle Cairns.  The variety of crops we came across in the Tablelands was quite staggering: driving through the area we saw everything from mangoes to pineapples, coffee to tea, maize to alfalfa and even a healthy collection of cattle and dairies.  After our stint in the southern and central portion of the Wet Tropics World Heritage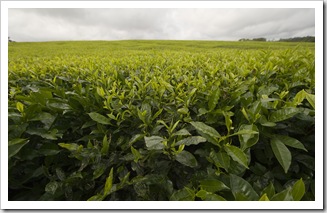 Area we spent a few days in the Tablelands with a night in the quaint lakeside community of Yungaburra (S17°15.094' E145°35.031') as well as alongside beautiful Lake Tinaroo in the heart of the region.
On our way from Millstream Falls we passed by the Nerada Tea plantation near Malanda.  Quite an interesting visit for both of us, we learned that tea plants are a species of camellia and will grow to a height of 10-15 feet if left untended.  We also discovered that the best tea is made from the top two leaves and bud of a given plant stalk, and the only real difference between 'black' and 'green' tea is that 'black' tea is fermented while 'green' is not.  Nerada is the largest supplier of Australian grown tea, packaging over 1.5 million kilograms (3.3 million pounds) of processed black tea per year.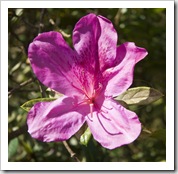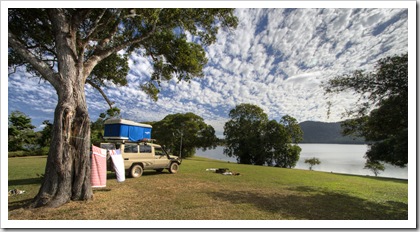 On our way through Yungaburra we stopped off to see the towering Curtain Fig Tree in Curtain Fig Tree National Park (wonder why they named the park that?), before stopping off to take a look at pristine Lake Barrine in Crater Lakes National Park and heading toward Lake Tinaroo.  Lake Tinaroo is a man-made body of water created by Tinaroo Dam just north of Atherton, the lake is surrounded by an array of campsites in Danbulla National Park and State Forest.  All of the campgrounds were very picturesque, most offering grassy spots on the banks of the lake.  We camped at an area called Fong-On Bay (S17°09.187' E145°35.889'), Lisa was yearning to find a ski and hop behind one of the boats that cruised past our campsite towing skiers.  It was an awesome spot: a fire pit with a great fire, not another soul in sight, perfect conditions for a swim and a beautiful sunset to boot.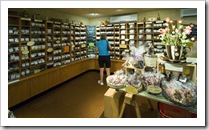 After a night alongside Lake Tinaroo we took a quick look at the rural centre of the area, Atherton, before returning to one of the caravan parks in Yungaburra for some much needed clothes washing.  We coincided our night in Yungaburra so we had access to the Lake Eacham Hotel to watch the second State of Origin rugby game that night.  It was a wet and windy night in Yungaburra, so a great night to spend in the local pub, the Lake Eacham Hotel filled with a good mix of supporters for both Queensland and New South Wales.  There was an array of crazy wigs and clothing in maroon and blue everywhere we looked, as well as some healthy heckling between supporters.  Unfortunately the game ended up being a very one-sided win for Queensland, but there were some great plays regardless of the one-sidedness and a few good punch-ups to keep things interesting.  Sorry it was such a painful game to watch John!
This entry was posted on Thursday, June 17th, 2010 at 12:00 PM and is filed under Australia, Queensland. You can follow any responses to this entry through the RSS 2.0 feed. Both comments and pings are currently closed.