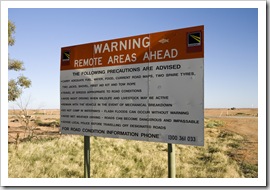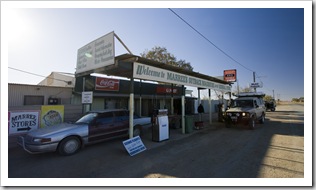 An early start this morning as we were woken at sunrise by flocks of hundreds of sulphur-crested cockatoos that inhabit the dry creek bed at Farina.  Talk about nature's alarm clock!  A quick Greek coffee, something both of us are addicted to after our time in Greece, and we headed off to quickly top up the tank at Marree.  Marree is the most we've paid for fuel yet, $1.79 for each liter of diesel ($USD5.42 per gallon), I'm going to keep track of fuel prices and see just how high they get!  We drove on our last stretch of paved road for a few kilometers just south of Marree, north of Marree is the official beginning of the Oodnadatta Track.  The Oodnadatta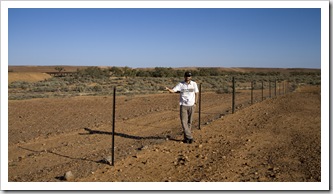 Track makes its way around the southern end of Lake Eyre, through a few stations along the way, for a total of a little over 400 kilometers from Marree to Oodnadatta.  It's a favorite amongst 4WD enthusiasts, the stretch a vast expanse of dirt road covered in claypans, rocks and bone-jarring corrugations.  With the tires of The Tank let down around 20% and keeping her chugging around 80 kilometers per hour the corrugations weren't too bad, although when we arrived at William Creek this afternoon we were greeted with a layer of red dust caked over everything close to the back doors (something we'd been warned about).  Just out of Marree we crossed the dingo fence, the longest man-made structure on the planet, stretching more than 5,500 kilometers.  We also passed along the southern edge of Lake Eyre South, the massive expanse of the lake stretching as far as the eye could see, the photo below to the right just doesn't do it justice.  Lake Eyre's elevation 12 meters below sea level was evident from the rings of salt encrusted around its edge.  We also ran into a couple more of the 4WD buses filled with retirees we encountered in Parachilna, we're definitely the youngest people we've encountered along the way so far…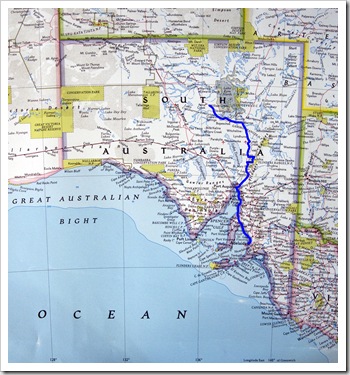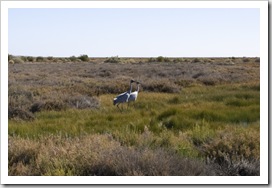 We stopped off at Coward Springs (S29°24.052′ E136°48.796′) for lunch, a popular spot of yesteryear when the railway ran through on the way between Alice Springs and Adelaide.  Coward Springs is an oasis in the middle of the red dunes of the desert, mineral water bubbling up from the artesian basin below after traveling 2,000,000 years on its journey underground from Queensland.  The owners of the station surrounding Coward Springs have turned the railway ruins and surrounding wetlands into a campground and museum, it' the only public campground between Marree and William Creek, quite a nice one at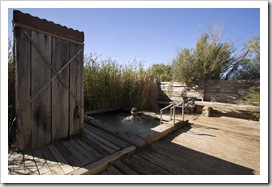 that.  The wetlands are host to an array of wildlife, particularly birds, we encountered a couple of huge red-headed brolgas picking for food alongside the creek, beautiful big birds.  The water bubbling up from the basin below is quite warm so I decided to take a dip in the springs' desert spa.  Amazing to be in the middle of the desert one minute and then be relaxing in a warm bath the next.  I think a few of the other travelers making their way through were a little jealous they hadn't brought their swimming gear when they saw me sunning myself in the tub! 
From Coward Springs we made the final stretch of our drive today to the eclectic town of William Creek.  The drive was dotted with  beautiful red dunes amid the saltbush-covered plains (we should have stopped for a photo) as well as mounds of dirt here and there pushed up by the water pressure from the artesian basin below.  William Creek boasts to be Australia's smallest town with a population of 10.  It's essentially a pub and a couple of ramshackle buildings in the middle of the desert, scraping through with the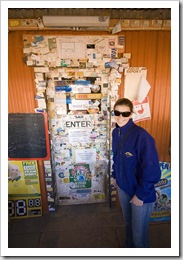 help of Wrightsair running scenic flights over Lake Eyre and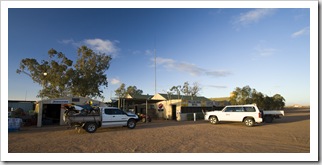 its location alongside the Oodnadatta Track.  William Creek is also in the middle of the world's largest working cattle station, the Anna Creek Station covers a monstrous 5,875,000 acres making it roughly the size of Israel or Wales!  The William Creek pub, established in 1887, is at the centre of town and is an eclectic mix of treasures from all over the world.  The walls are covered with everything from Swiss exchange students' ID cards to DD-sized brassieres left by tourists from Queensland.  Really quite a sight!  The pub also offers dinner, you can order up a chicken schnitzel for $28 (a chicken breast breaded and fried for you that weren't born in Australia or Germany) and buy cans of VB at the bar for $6.50 a pop.  The pub manages everything from the adjacent campground to helicopter flights to the Painted Hills and also rounds of golf at the William Creek Golf Course.  Don't think you'll be seeing it on the PGA tour this year…  We're spending the night here in William Creek tonight and taking a scenic flight over Lake Eyre with Wrightsair at 7:30AM tomorrow.  The lake is full of water once every decade or so, we're both excited to see it from the air. 
This entry was posted on Sunday, June 14th, 2009 at 3:30 PM and is filed under Australia, South Australia. You can follow any responses to this entry through the RSS 2.0 feed. Both comments and pings are currently closed.