Temperature: 36°C (97°F)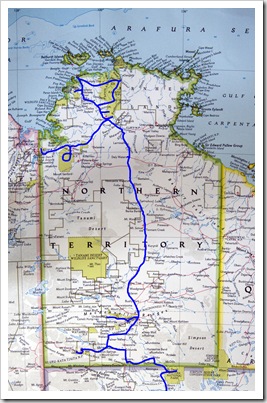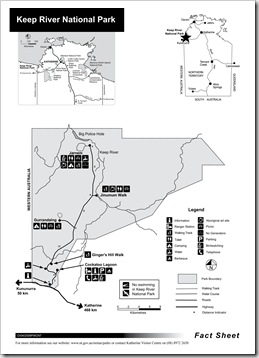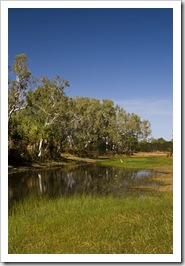 Keep River, a remote National Park on the Western Australia/Northern Territory border, was our last stop in the Northern Territory.  Keep River covers a relatively small area of around 700 square kilometers, but what it lacks in acreage it surely makes up for in natural splendor.  Some of the most picturesque vistas we witnessed throughout the Northern Territory with a very out-of-the-way feel that suited us to a 'T'.  Our first stop was Cockatoo Lagoon, one of the park's few permanent waterholes, located near the ranger's station a few kilometers off the Victoria Highway.  It acts as a congregating point for a range of wildlife, everything from the huge water monitor pictured here through scores of species of birds and the native frogs for which Keep River is famous.  Unfortunately we were at the lagoon during the middle of the day so all the frogs were hiding, but the photos of them at the ranger's station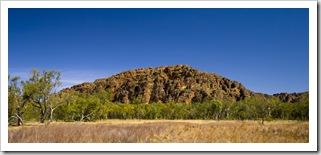 gave an idea of the range of amphibious species in the area.
We spent our night at Keep River in the northernmost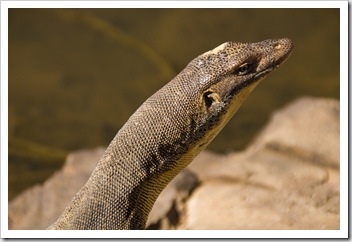 campground, Jarnem, deciding that it offered the widest range of walks in the park and was also a strictly no-generator camp area, which is always a nice way to enjoy the outdoors.  We setup camp and waited for the heat to pass before tackling the eight kilometer Jarnem loop walk, a brilliant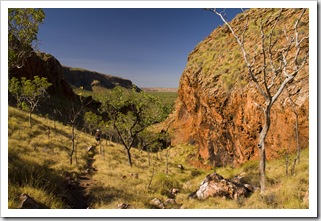 hike through the bee-hive rock formations endemic to this area of Australia.  Such a surreal feeling walking through the massive gorges formed by the rocks, easy to understand why the Aboriginals consider the area a sacred site.  We made it to the Jarnem lookout late in the afternoon for a magic view of the rock domes in the falling sun, spending a good half hour on our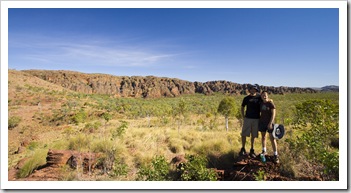 lonesome at the lookout enjoying the view and afternoon breeze.  A bit of excitement spying a golden tree snake hunting for frogs amongst the Pandanus palms on the hike back to camp, such iridescent yellow scales…
We could have used a good swim or bush shower after our hike but the water at Jarnem was for drinking only, so instead we opted for a cool wipe down with wet face towels.  We'd foraged for wood on the road into Jarnem so enjoyed a big fire in the evening with a family who had just completed the Gibb River Road, good to get a few tips and the low down on some lesser known camping spots along the popular 4WD route in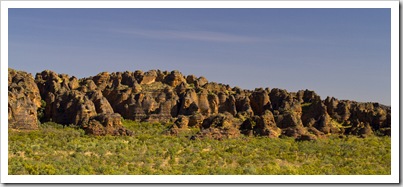 preparation for our run across it in a week or two.  The kids, Jamie and his sister Anna, took to us like we were their long lost best friends, giving us a kid fix for all those we're missing from Adelaide an California.  Lisa played a long game of Simon Says with them around the campfire.  We cooked all the vegetables we had left from our most recent restocking in Katherine in preparation for the quarantine inspection at the Western Australia border.  Very frustrating to have to worry about having all fresh fruit, vegetables and honey being confiscated as we changed states but fortunately we made it through with no issues.
Glad we stopped in Keep River on our way into Western Australia, a Northern Territory highlight for both of us.
This entry was posted on Thursday, July 16th, 2009 at 3:29 PM and is filed under Australia, Northern Territory. You can follow any responses to this entry through the RSS 2.0 feed. Both comments and pings are currently closed.