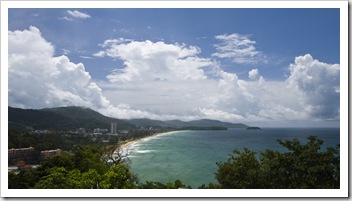 A marathon 14 hour trek from Ko Tao took us via Ko Phangan, Ko Samui and Suratthani to the Adaman Coast and Thailand's largest island of Phuket (I want to remember the modes of transport we used so I'm going to jot them down here: tuk-tuk, high-speed catamaran, mini-bus, car ferry, bus, car, mini-bus, taxi [in that order]).  Phuket is separated from the mainland by a thin stretch of water and linked by a permanent bridge.  The island is quite large, at 533 square kilometers (206 square miles) Phuket covers about the same area as Singapore.  The island's main beaches are all located on the west coast, a collection of white sandy retreats next to the turquoise waters of the Adaman Sea backed by mountainous tropical jungle.  Thoughtless overdevelopment of many of the island's beaches have rendered them nothing more than expensive package holiday destinations that retain little, if any, of their traditional Thai culture.  That said, there were plenty of out-of-the way beaches we found while touring the island on our little moped and a plethora of local eateries that continued to wow our taste buds.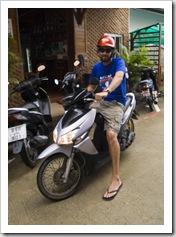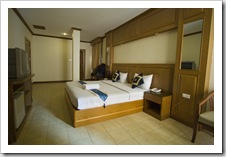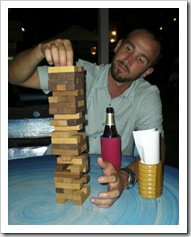 We spent all but two of our nights in Phuket at a fantastic little hotel in Ao Patong called the Siam Hotel.  With the largest and one of the cleanest rooms we've had throughout Southeast Asia as well as an AC and TV, at 500 Baht (around $USD15) a night we couldn't have asked for more.  Centrally located in the tourist mecca of Ao Patong (Patong Beach) we were a short moped ride from Phuket Town as well as some of the nicer west coast beaches.  Ao Patong could have been one of the seedier Bangkok nightlife areas transplanted to the west coast of Phuket: the endless go-go girl bars and steamy drinking holes offering discount beers wasn't really our scene but the place was definitely popular with a lot of the western tourists visiting the island.  The bars off the main strip closer to our hotel were more up our alley, we thought of how much all of Lisa's college friends (especially you Andi Biaggi!) would enjoy them as they all provide patrons with free games ranging from cards through eight ball, dice and even Jenga.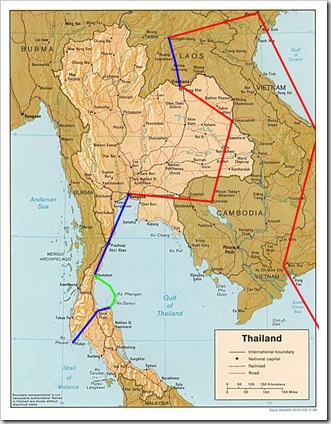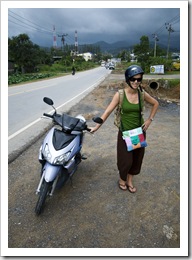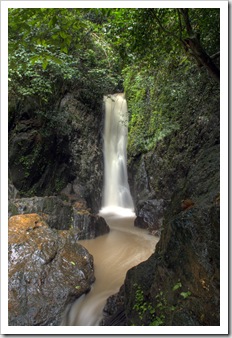 October is still the monsoon season on Thailand's west coast, almost every day at around noon we were forced to find shelter to avoid the torrential downpours typical of the season in Phuket.  Even though this did hamper our exploration of the island a little it was a good excuse to stop at the nearest local eatery to wait out the showers, which usually didn't last for more than an hour.  The photo below left was taken on our way to Bang Pae Waterfall and the adjacent Gibbon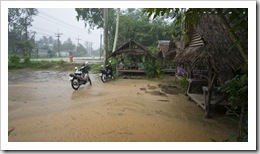 Rehabilitation Centre, we just escaped the downpour and ended up waiting out the storm at a local eatery that served the best BBQ chicken Lisa had tasted anywhere in Southeast Asia.  We did get caught out by the rain one day: we were exploring the northern end of the island when, 27 kilometers from our hotel, we were caught in the heaviest rain either of has ever experienced.  By the time we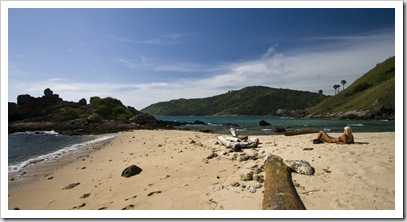 made it back to our hotel almost an hour later there wasn't a single piece of clothing on either of us that wasn't wet.  Luckily we were in our swimming gear after a morning at Ao Surin (Surin Beach), a relatively undeveloped and secluded spot on the northwest coast with enough of a swell for some fun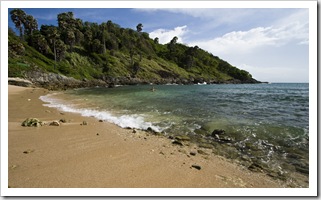 bodysurfing.  One of our favorite swimming spots on the island was a small, secluded beach at the very southern tip of the island below Laem Promthep (beach pictured here).  The day we were there only a few other people shared the spot with us and we found some fantastic reefs to explore with our snorkels a short swim off the beach.  We had originally planned to only spend a few days in Phuket and then move on to Ko Phi Phi (one of Thailand's most famous island destinations and also the filming location of the movie The Beach) but with the wet weather and the wealth of different locations to explore on Phuket we instead decided to stay for almost a week.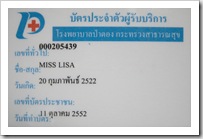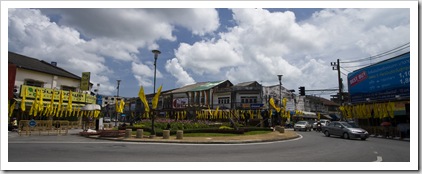 We'd had a pretty good run with food in Southeast Asia, Lisa's sensitive stomach had been handling all the new flavors and spices well even though the majority of our food has come from street carts.  We had our first bit of culinary bad luck in Phuket though, Lisa was stricken with a sleepless night and quite a bit of gastrointestinal pain due to some undercooked chicken off a food stall at Surin Beach (we think that's what it was because it was the only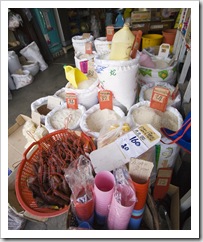 piece of food I didn't eat that day).  We made a trip to Patong Hospital on Sunday morning to get it sorted out and indeed the doctor diagnosed her with gastroenteritis, prescribing a batch of medicine to help her through it and advising to stay away from spicy food for a few days.  We were a little worried that her symptoms were similar to those stemming from a malarial infection so were glad to be able to see a doctor quickly…  It took her a couple of days to get over the bug, luckily we had a nice hotel room in which she could wait out the ailment.  I left Lisa watching movies in our room for a few hours at time while exploring some sections of the island closer to Ao Patong.  Phuket Town was a quick 10 kilometer ride over the mountains from our hotel, its distance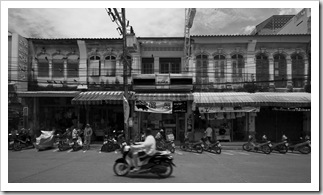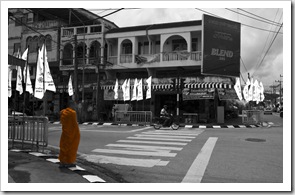 from the beaches means that it's almost completely devoid of tourists and a good way to experience some of the local culture.  The markets were more targeted toward Thai people coming in to do their day-to-day shopping rather than the tourist markets we've seen elsewhere in Thailand.  The food stalls were great, so much on offer, most of which I'd never seen before and had no idea of its composition!
Phuket spells the end of our journey through Thailand and the bulk of our travels through Southeast Asia.  I think we'll both definitely be yearning for more of the fantastic food we've had in the four countries we visited (although Lisa maybe a little less so after her gastroenteritis in Phuket!), and I'll definitely miss the morning iced coffees I've become used to.  Next: Singapore.
This entry was posted on Wednesday, October 14th, 2009 at 10:25 AM and is filed under Thailand. You can follow any responses to this entry through the RSS 2.0 feed. Both comments and pings are currently closed.