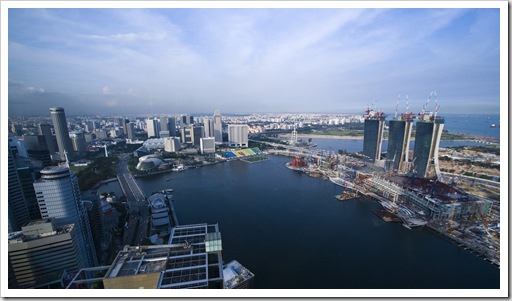 Only an hour plane ride from Phuket and what a different world.  Singapore exudes prosperity, order and cleanliness, a stark contrast to almost all of the other places we've visited in Southeast Asia.  The place runs like clockwork, the public transport system made getting around the island so straightforward and being able to drink the tap water for the first time in six weeks was definitely a welcome change.  But all the niceties of the western world come with a price, a rude shock upon arriving was realizing we were going to have to fork out about 8X what we'd become used to paying for a hotel room elsewhere in Asia!  We stopped in Singapore for a few days to catch up with some of the guys I used to work with when I'd manage to score the Asian shift back in San Francisco, as well as re-connecting with friends from Berkeley who have found themselves working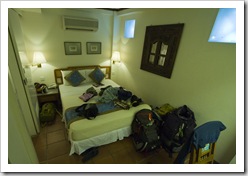 here in the centre of the Asian capital markets.  It seems no expense is spared in Singapore: the three towers to the right of the photo here are the new MGM Grand Singapore casino and hotel complex, the land on which it is being built was purchased from neighboring Indonesia and Malaysia, shipped in and then anchored to the sea floor to form the base for the new mega-complex!  It's a little hard to see in this photo, taken from the top of one of the skyscrapers at Raffles Quay, but there were hundreds of cargo ships lined up in the ocean to the right, all vying for a berth at the world's busiest port.  Like something out of a movie…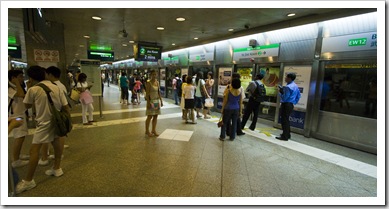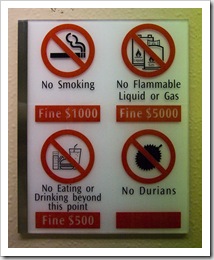 The city centre is like a who's who of Wall Street, investment banks line the streets and everything from Maseratis to Aston Martins roared out of the parking lots of the large skyscrapers at the end of each business day.  It's possible to walk almost the entire area of the city centre underground, the subways and buildings are connected by a mind-boggling maze of swish underground passageways lined with stores ranging from 7-Eleven to local bakeries.  You don't want to put a foot wrong in Singapore, heavy fines are dealt out by mostly plainclothes policeman for breaking the law.  J-walking, spitting gum and smoking on the subway are just a few of the infractions that result in a ticket.  You can buy anything you want in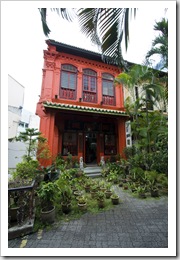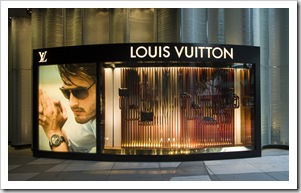 Singapore…and I really  mean anything.  Fast food, local cuisine, any brand you can think of will have an outlet in Singapore.  The main shopping area lines the sides of Orchard Road, a short train ride from the city centre.  The malls on Orchard Road are like nothing we'd ever seen before: luxurious, perfume-scented mazes of any and all upscale brands one can imagine.  New York, Paris, San Francisco fuggedaboutit, this place is a whole new kind of shopping experience.  We'd almost swear that some of the malls are designed like Vegas casinos: easy to get lost with no exit signs!  All the brands seem to have their own stores rather than being commingled together in department stores: Bally, Louis Vuitton, Rolex, Omega, Prada, Burberry, you name it…  I can think of a few of Lisa's friends who would do some serious damage to their bank accounts with a trip to Orchard Road (Annie, Connie and Cheryl that means you!).  Even though our backpacks didn't really have room for any more merchandise after all our purchases in the rest of Southeast Asia a trip down Orchard Road was worth the experience of just seeing everything on offer.  An amazing place…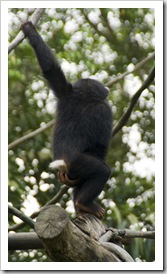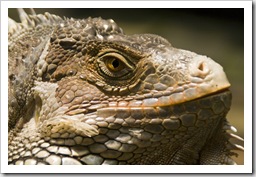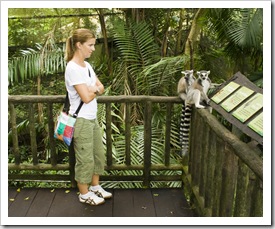 Almost everyone who has visited or lived in Singapore recommended us visit the Singapore Zoo.  Given its location in the tropics the zoo is able to show an amazing number of exotic animals in their natural habitat.  Some of the specimens were housed in walk-through exhibits: large open-air cages through which we were able to walk and interact with the animals.  Our favorite was probably the rainforest exhibit where we got very up close and personal with lemurs and tree kangaroos (pictured here to the right).  The zoo's designed with an open-air concept, most of the animals are housed very humanely in large enclosures and the zoo has a surprising number of successful breeding programs in place (including the world's first polar bear born in captivity).  The chimp pictured here had our attention for quite some time, a very playful little fellow who was fond of displaying his personal grooming to the crowd!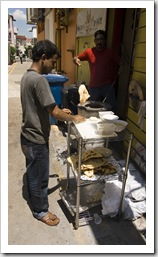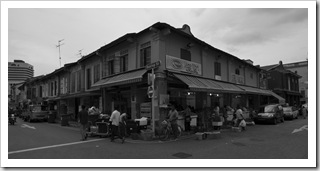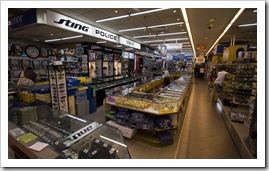 Little India, where we stayed, was a bustling, culture-rich borough of Singapore full of authentic Indian restaurants and storefronts selling everything from second-hand hard drives to fresh samosas.  The smell of Indian food just walking through the streets made us hungry every time we took a stroll.  One area of Little India that was particularly eye-opening was the Mustafa Centre: an Indian-style department store covering two city blocks with six floors filled with anything one could think of buying.  Fresh fruit and vegetables, a hardware store, cosmetics, electronics, gold jewelry…  We got a little claustrophobic after about 20 minutes!  Mustafa supposedly flies in jumbo jets full of fresh products from India every three days to supply the store and whose personal wealth is so great that he runs a currency exchange boasting tighter spreads than most of the major banks in Asia.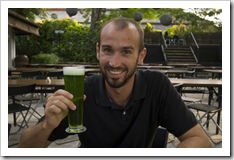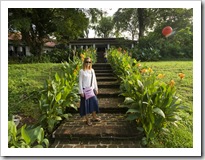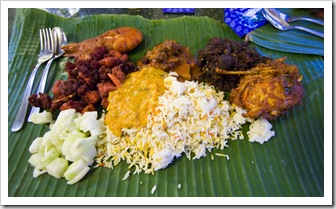 The best Indian food we sampled in Singapore (and probably the best Indian food I've ever eaten) was not in Little India but at a curry house on Dempsey Hill called Samy's Curry.  An ex-colleague of mine met us at the adjacent Red Dot Brewhouse for a few beers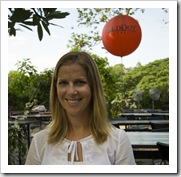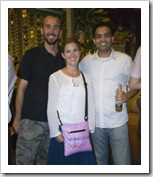 before taking us to dinner at Samy's, the food was served in traditional Indian style on a piece of banana leaf.  An amazing meal, I will forever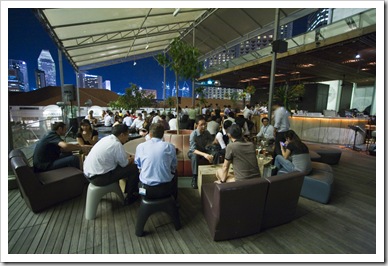 compare Indian food to my dinner at Samy's.  Thanks Mike!  After Samy's we made it back to the city centre for the monthly meeting of the Berkeley Club where I met up with a mate from Cal and shared a few beers at Loof's picturesque rooftop bar.  The
next night we met up with a group of alumni from various classes of the Berkeley MFE, after which Vivek took us to Singapore's premier night location at Clarke Quay.  Clarke Quay reminded us both of Vegas, an undercover menagerie of themed bars and eateries absolutely packed to the brim with people from all over the world.  One bar that stood out (and made my eyebrow raise a little at its theme) was a bar called The Clinic: patrons are seated in wheelchairs and have their drinks served in bags hanging on a pole to resemble an intravenous drip (picture to the left)!  The only place I know of where you can order a Sex-On-A-Drip as your cocktail…
This entry was posted on Saturday, October 17th, 2009 at 5:10 PM and is filed under Singapore. You can follow any responses to this entry through the RSS 2.0 feed. Both comments and pings are currently closed.