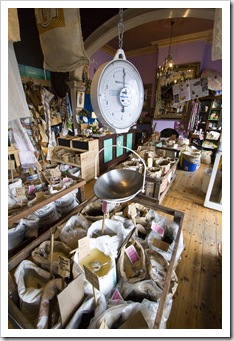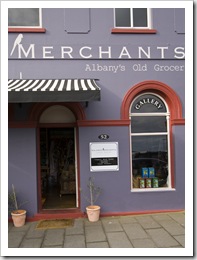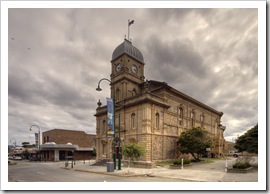 Albany's a great little port town situated at the back of the Princess Royal Harbour smack in the middle of southern wheat belt, the huge grain silos visible from anywhere along the harbour.  Many of the town's historical buildings have been painstakingly maintained over the years and give the town a comforting old-world feel, a walk along the main street is like trip through architectural styles of the early twentieth century.  Central Albany is filled with a plethora of coffee shops, quaint health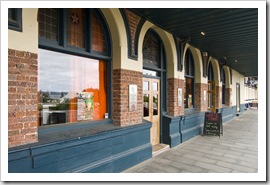 food stores and no shortage of restaurants, home to some of Western Australia's most lauded chefs.  As with bakeries, it's difficult for us to avoid a microbrewery when passing through a country town so stopped off at Tangle Head Brewery during our first afternoon in town.  One of Albany's old pubs retrofitted with modern decor, the brewery serves up a range of home-brewed ales and and lagers.  Lisa enjoyed the coffee-scented stout while I opted for their tasty White Ale with its hint of banana and citrus (no fruity jokes please…).  We also stumbled across a fantastic grocer along the waterfront called Merchants, offering a diverse range of bulk herbs, spices, dried fruit and baking items (you would have loved it Michaela!).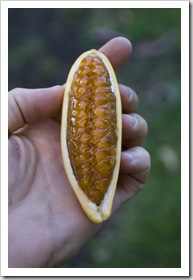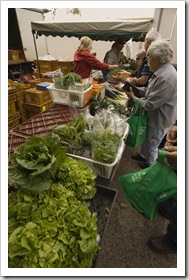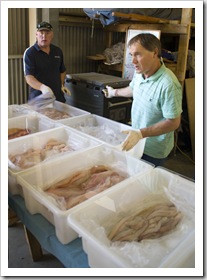 If you're reading this and are ever planning on visiting Albany it's a good idea to plan to stop off on a weekend: Saturday's play host to the Albany Farmer's Market and on Sunday are the local fish markets at the Boat Shed Markets.  The Albany Farmer's Market is hailed as the best in the state and, while it's quite small, the fresh food and variety of local offerings was brilliant.  We stocked up on everything from fruit to honey, sampling a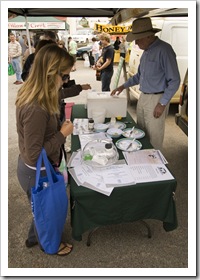 delectable yabbie pie for breakfast and enjoying an iced coffee from one of the local dairies selling their milk at the gathering (for you northerners a yabbie is a freshwater crustacean similar to a crawdad).  One of the more unique pieces of food we bought was a bag of banana passionfruits (pictured here) which we enjoyed on our morning cereal for the better part of a week.  Lisa wanted to sample some of the local fish for which The Great Southern is so famous, when we arrived at the Sunday Boat Shed Markets there was a line out the door leading up to the main fishmonger's stall.  On offer were huge tubs full of filleted Red Snapper, Queen Snapper, Leatherjacket, Cobbler and a type of groper as well as some of the biggest fresh squids I've ever seen.  The Boat Shed Markets are also jam packed with local horticulturalists, bakers and a couple of fellows selling mussels and oysters by the tray.  We walked away with some Red Snapper, groper, a big box of cherries and some fresh bread from a local patisserie.  The Tank couldn't fit any more food after a weekend at the Albany markets!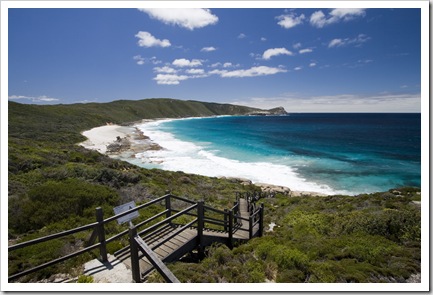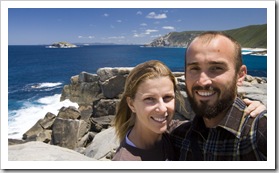 We spent one of our days in Albany exploring the coastline around town, the main attraction is Torndirrup National Park on the other side of Princess Royal Harbour.  The National Park is a collection of beautiful beaches mixed with some stunning natural rock formations, the turquoise water and white sand of the beaches was pretty majestic.  It was a little cold for a dip on the day we ventured into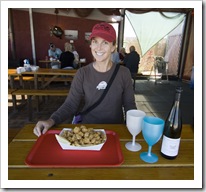 Torndirrup but some of the beaches would be a brilliant spot for spending a hot summer day.  There are a collection of blowholes in the southern section of the park but unfortunately the swell was too tame when we were there for them to spout any water.
Around the other side of Princess Royal Harbour at the northern end of King George Sound lies Emu Point, a secluded harbour and home to Albany's famous Squid Shack restaurant.  The Squid Shack is a traditional Aussie seafood restaurant where it's BYO drinks, plates and cutlery.  We shared a huge box of delicious salt-and-pepper squid, some of the most tender either of us had ever tasted, coupled with the remnants of a bottle of Frankland Estate Isolation Ridge Riesling.  Can you ask for more in a lunch?!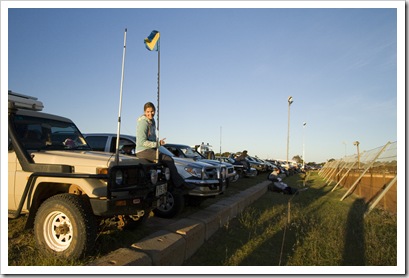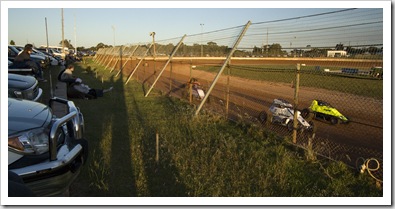 After our first visit to the speedway in Broome we seem to have inherited a bit of a fancy for country town race meets, we attended the Albany Speedway on our last night in town for a dose of high-octane, methanol-burning racing.  The Albany meet had a couple of classes of sprint cars, something we didn't see in Broome, awesome to see how quickly the sprint cars tear around the track.  Later in the night when the air temperature dropped and the track's moisture content increased the rear tyres of the sprint cars started to generate steam with the amount of heat building up as they tore around the corners.  Also on display were the super sedans, which we did see in Broome: methanol-burning powerhouses that were just amazing to see take off into each short strait.  It was quite a cold night after the sun set, Lisa missed the third and a bit of the fourth rounds in a Muscat-induced coma as she was trying to warm up in The Tank's cab!
This entry was posted on Sunday, November 29th, 2009 at 9:00 AM and is filed under Australia, Western Australia. You can follow any responses to this entry through the RSS 2.0 feed. Both comments and pings are currently closed.