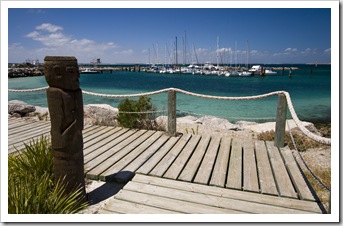 Esperance (S33°49.946′ E121°53.280′) is often called the 'Bay of Isles' due to the myriad of granite islands littered along the coast to the south of the town's protected harbour.  We spent a few days in Esperance to tend to The Tank, which was due for a major service.  We got in touch with one of Ben Kennare's mates from school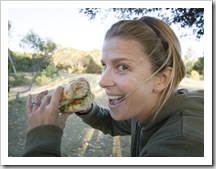 who gave us the lay of the land and also put is in touch with his local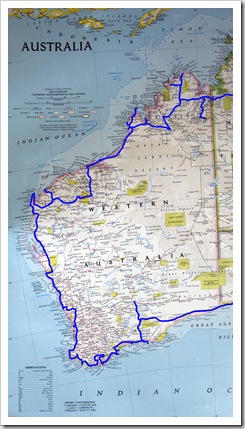 mechanic.  I can't speak highly enough of the fellas at Dave's Auto Service, great blokes…  Like Albany, Esperance's local economy revolves mainly around the export of agricultural products.  Last year over 3,000,000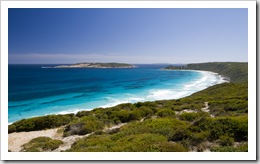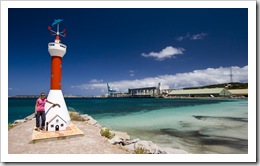 tonnes of barley, oats, lupin, peas and minerals were shipped out of the tiny town!  There are over 600 farms surrounding little Esperance spread across a little over 400,000 hectares.  Esperance itself is far more modern-looking than Albany and is without the beautiful heritage buildings of its sister town to the west.  The coastline to the southwest of Esperance, however, is a beautiful stretch of beaches and protected coves dubbed the Great Ocean Drive.  It was a good finale to the majestic beaches of the southwest we've gotten used to over the past few weeks.  An interesting stop for us in the town of Esperance was a fish leather factory: fish skins from the local fish processors (which would otherwise be discarded) are made into leather and fashioned into high-end handbags, purses and key chains.  The most unique item for sale we saw was a stingray leather key chain, such a strange texture…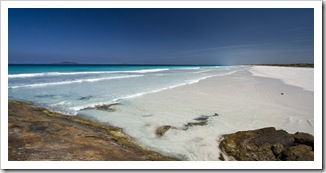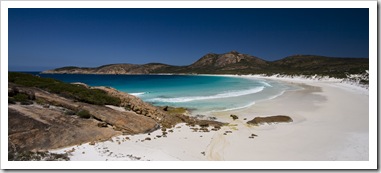 On our way out of town we took a detour around the other side of Esperance Bay to Cape Le Grand National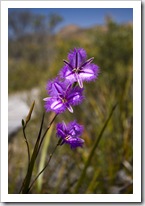 Park.  The road into the park passed through flocks of more emus than I think we've seen on the entire rest of our trip combined.  We stopped off at Le Grand Beach next to Cape Le Grand itself, last year voted as the Australian beach with the whitest sand, a beautiful spot where the beach appeared to extend forever into the horizon.  Thistle Cove was similarly worth a visit, definitely one of the most majestic beaches we've seen on our travels, the beautiful turquoise water backed by huge granite peaks.  After conquering West Mount Barren in Fitzgerald River National Park Lisa was keen for some more mountain climbing so we scrambled up Frenchman's Peak for some brilliant panoramic views of the National Park and all its beaches.  Some great caves on the way up, one with a natural bridge cut through the tip of the mountain.  Worth the climb…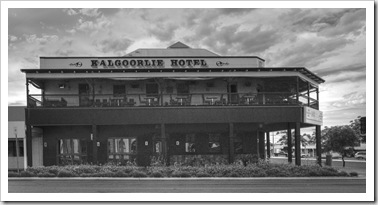 We were of two minds as to where to head from Cape Le Grand: east into Cape Arid National Park or north to the mining town of Kalgoorlie.  As we exited Cape Le Grand we saw a sign that indicated the road from Cape Arid to the Nullarbor Plain was closed so our decision was made for us: north to Kalgoorlie.  Even though Kalgoorlie was 400 kilometers (249 miles) out of our way we figured we'd better visit whilst in the area.  'Kalgoorlie' and 'gold' are almost synonymous in Australia, every kid grows up being taught about Kalgoorlie's Golden Mile, the richest stretch of gold-bearing ore on the planet.  The name 'Alan Bond' is also recognizable by most Australians, I learned that it was Bond who was originally responsible for the creation of consolidated mining in Kalgoorlie when he started buying up the plethora of individual mining leases to form what is today the Super Pit: Australia's largest gold-producing open cut mine.  We visited the Super Pit lookout on our way out of town, the sheer size of the mine is mind boggling.  The massive earth movers (they have tyres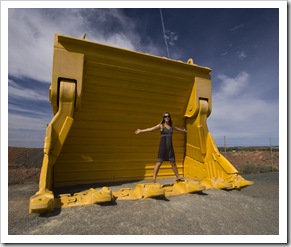 with a diameter of 12 feet so they really are monstrous) looked like Tonka trucks as they scooted around the huge hole in the earth.  An operation of unbelievable proportions…  In its heyday Kalgoorlie had a population of around 30,000 and boasted a staggering 93 hotels and eight breweries!  Today the population remains roughly the same but the drinking establishments have been trimmed into the thirties, still a high ratio by anyone's measure.  Kalgoorlie's main Hannan Street is lined with an array of heritage buildings, most of which were hotels in their day and many of which have been transformed into multi-level drinking establishments today.  A pretty seedy atmosphere, many of the pubs advertised strippers every night of the week or at least bar staff clad in the most scanty of clothing (locally known as 'skimpies').  When we walked down the main street on Saturday morning there were still patrons stumbling out of a few of the pubs!  Kalgoorlie also used to boast a huge number of brothels, Australia's oldest brothel still operates in town, we stopped off for a photo at Questa Casa but didn't feel like hanging around for the daily 2:00PM tours.  On our one night in town we enjoyed a quiet beer at one of the original pubs, securing a spot on the second-floor verandah to watch the world go by in the late evening heat.  A cold beer just tastes all that much better when it's hot outside…  Definitely worth the trip to Kalgoorlie just to see the Super Pit, although I have an inkling that Kalgoorlie may be the town that began Australia's original bogan movement.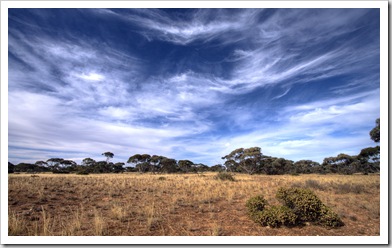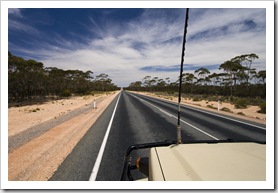 From Kalgoorlie we headed back down to Norseman where the highway tees east and onto the Nullarbor Plain.  We knew that the Nullarbor was going to be a marathon of driving through relative nothingness, but we really realized what we were in for on the road sign as we left Norseman where it had 1989 kilometers (1235 miles) painted next to 'Adelaide'.  That's a lot of scrub-covered plain!  It was a bit of a test in trying to keep each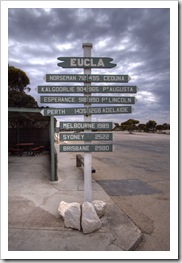 other alert, we traded driving two hour slogs each, struggling to find new material amongst the almost 7000 songs on our iPod but keeping amused with some old NPR podcasts we discovered.  We traveled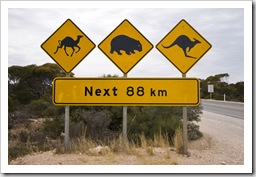 across Australia's longest stretch of straight highway between Balladonia and Caiguna, 146.6 kilometers (91 miles) without a single deviation.  It was good to spend some time camping back in the bush, something we hadn't been able to do for a while, around 5:00PM one night we started looking for a patch of sparse trees and pulled off into the seemingly endless Mallee scrub where we enjoyed a good campfire and night under the stars.  We stopped off at Eucla, the first settlement west of the Western Australia/South Australia border, to take a look at the relics of one of the old telegraph stations that is now being engulfed by sand.  There's a stretch of sand dunes just east of Eucla that were so strikingly white we needed a pair of sunglasses just to take them in!  It's back into south Australia from the Nullarbor Plain, a week or two touring the Eyre Peninsula then back to Adelaide for Santa Claus.
This entry was posted on Sunday, December 6th, 2009 at 7:30 AM and is filed under Australia, South Australia, Western Australia. You can follow any responses to this entry through the RSS 2.0 feed. Both comments and pings are currently closed.