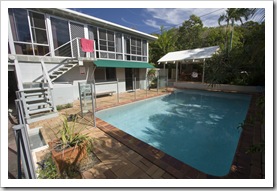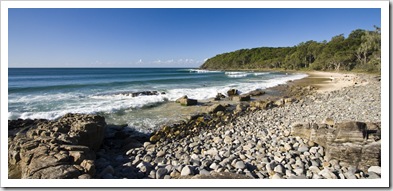 A little down time for us on the Sunshine Coast these last few weeks: Andy and Allyson were kind enough to lend their beach house in Coolum to Mum and Steve so we bunked-in with them after our trip west of Brisbane to Laidley.  Unlike the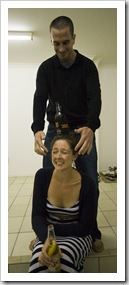 ugly, towering skyscrapers of the Gold Coast south of Brisbane, the Sunshine Coast to the north of Queensland's capital city still has the majority of its coastline covered in bushland.  The roughly 60 kilometers stretch from Caloundra to the famous Noosa Heads does have a few high rises dotted along its length, but otherwise the sandy beaches stretch to the horizon with a few rocky outcrops breaking the amber sand.  The house where we shacked-up was located at Point Arkwright, the headland nestled between Coolum and Marcoola beaches, a short walk from downtown Coolum and its open expanse of beach. 
We had a couple of days to settle in before a visit from my cousin Sarah and her boyfriend James (whom we stayed with in Brisbane).  They came up for a night and explored the nearby Yandina and famous Eumundi markets with us all on Saturday.  The Eumundi markets were awesome, thick with vendors offering everything from foreign cuisine to artwork and clothing, it was hard to know where to look.  It's no wonder the markets are so famous…  Sarah and James helped us christen the Coolum house's ping-pong table, a venue that was the source of a lot of heated outbreaks during our three weeks in residence.  So heated, in fact, that the next door neighbor came over a number of times to tell us to keep it down!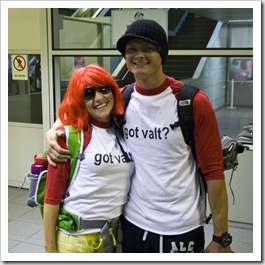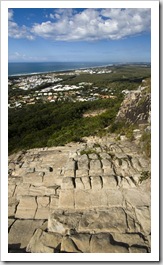 A much-anticipated event coinciding with our stay on the Sunshine Coast was the arrival of Cheryl and boyfriend Chris from Arizona.  Cheryl was Lisa's maid of honor when we were married in Fiji five years ago, Fiji was her first trip out of the United States so we're glad we could add another stamp to her passport with another trip Down Under.  The couple arrived in typical Cheryl style: red wig and custom t-shirts with 'Got Valt?' plastered across the front, it was a very funny and attention-grabbing arrival to the Brisbane airport (for any antipodes reading this take a look at the Got Milk? website if you're not familiar with the California Milk Processor Board's popular advertising campaign).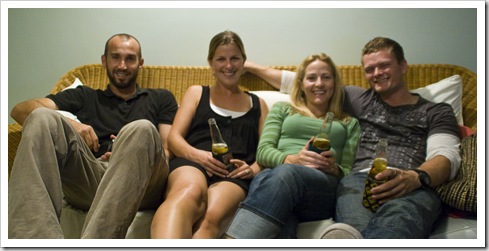 We tried to pack in as much as possible to Chris and Cheryl's week with us, taking the time during their first full day to explore Noosa National Park.  Unfortunately the weather wasn't too kind and rained on us just as we were readying the sun cream for an afternoon at Tea Tree Bay.  The next morning greeted us with blue skies though, perfect for a hike up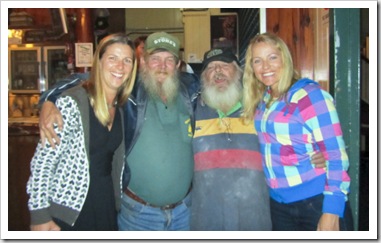 towering Mount Coolum for unparalleled views of the coast from Maroochydore all the way up to the end of Sunshine Beach.  After our adventure up Mount Coolum we ventured north to Eumundi for the evening: we wanted to show Chris a true blue Aussie pub during his time in Australia and had eyed a couple of good watering holes when we visited Eumundi with James and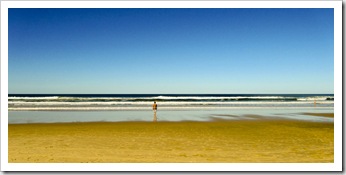 Sarah.  We visited both Eumundi pubs during the evening but definitely had a favourite in Joe's Waterhole.  Not only did we stumble on the night of the week when all meals are $12 (Tuesday nights for anyone venturing to Eumundi) but also managed to observe the weekly locals' darts tournament.  They were one short for darts so I found myself playing partners with Al – a Eumundi carpenter – and in my absence a couple of the local mechanics decided to move in on Cheryl and Lisa.  I wasn't too worried at their advances though, the picture above to the right speaks much louder than words!  A very fun night…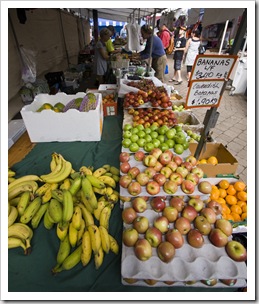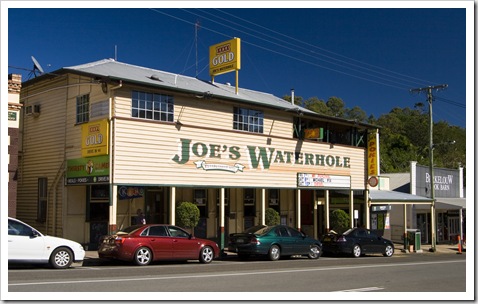 We returned a couple more times to the Eumundi markets after our initial visit with Sarah and James: once with Cheryl and Chris, and also with Gail and Randy when they arrived last Sunday.  The markets seemed to change a little each time we visited, we found some masseuse parlors on our third visit where Mum and Lisa enjoyed a very relaxing neck massage from a French woman who resides in Sunshine Beach.  Some great artwork at the markets, we walked away with a Michelle Pike limited edition canvas, she had some uniquely Australian work with brilliant depictions of some of the country we've seen over the last year.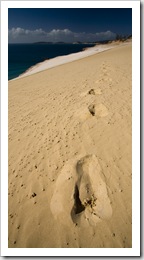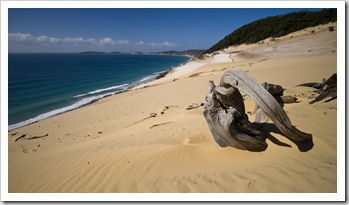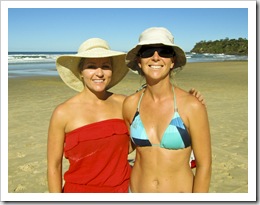 Chris, Cheryl, Lisa and I took a day trip 150 kilometers north to Rainbow Beach and Inskip Point, the launching point for most tours of famous Fraser Island (Fraser is the world's largest sand island and the exclusive domain of four-wheel-drives, we're heading to Fraser next week).  Rainbow Beach is a quiet little seaside town with a beautiful beach extending north to Inskip Point and east to Double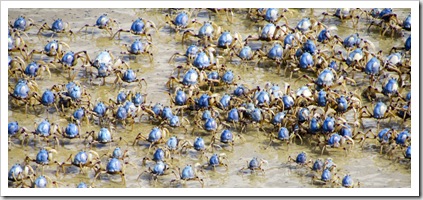 Island.  Rainbow Beach received its name due to the over 70 different colours of sand endemic to the beach and dunes around the settlement, an amazing array of shades from black through red and orange to bright yellow.  We took a detour on our way into town to Carlo Sand Blow, a striking stretch of white sand formed amongst the bushland at the top of Rainbow Beach's dunes.  We all felt like we were on another planet standing in the middle of the sand blow, hundreds of meters wide and stretching to the horizon in both directions, fantastic views of Rainbow Beach from the cliffs on the beach side of the sand.  We ventured to the end of the road at Inskip Point for a bit of a swim, the turquoise water and warm temperatures making for a great spot to relax.  Cheryl snapped some fantastic photos of the sand crabs scurrying across the beach at Inskip, thousands of the little crustaceans made for quite a sight.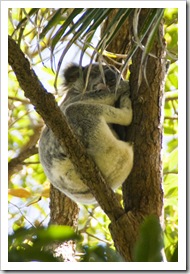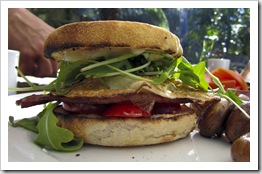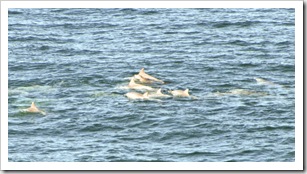 The Coolum beach house made for a great launching spot for a ton of adventures, as well as an almost countless number of ping-pong tournaments in the garage.  My personal favourite beach spot on the coast was Alexandria Bay, a secluded beach in Noosa National Park accessible only by foot.  There was a fantastic spearfishing spot at the southern end of the beach around a reef called Lion Rock, I ran into a man-sized Barracuda (which I wasn't going to take a stab at with a hand spear!) and also missed a couple of chances to bring in some metre-long Amberjacks (or maybe they were Yellowtail Kingfish, hard to tell…).  Unfortunately all I came home with from Lion Rock was a good-sized Sweetlip, but I've been dreaming about those Amberjacks ever since I saw them.  Noosa National Park was a trove of wildlife for our visitors: koalas, dolphins, plenty of turtles and I even managed to give Cheryl and Chris a close-up look at a sizey Gould's Goanna on a walk to Tea Tree Bay.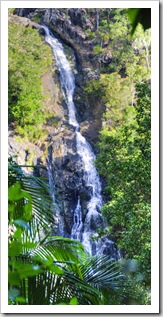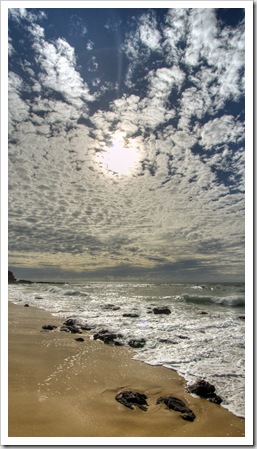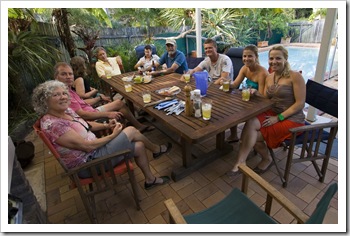 Gail and Randy arrived from California last Saturday after a few days cruising the New South Wales coast with the Newbys.  We welcomed them all with a true blue Aussie BBQ for their first meal at Coolum – which was also unfortunately our last night with Cheryl and Chris – as well as some fun ping-pong tournaments in the garage.  Gail and Randy scored brilliant weather for the first few days of their stay with us,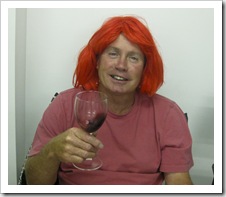 during which time we took them to our favourite Alexandria Bay for some snorkeling with the turtles as well as back to Eumundi Markets for our third visit.  We also ventured up into the hinterland to the town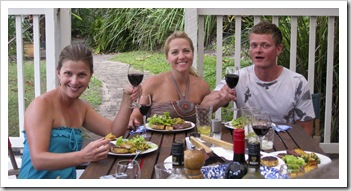 of Montville, where we took a one-and-a-half hour hike along the Kondalilla Falls Circuit in Kondalilla National Park.  It was a beautiful hike through temperate rainforest with a couple of waterfalls along the way and majestic views of the Queensland hinterland stretching to the horizon in the west.  Mum clued us in on a good spot for an afternoon drink, we sat enjoying unparalleled views of the Sunshine Coast from our cafe perch in Montville, a great spot to enjoy the weather and watch the world go by.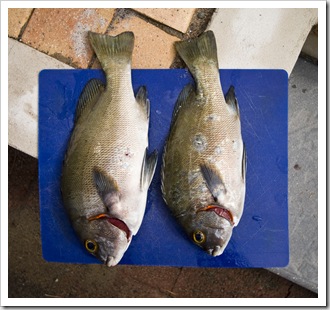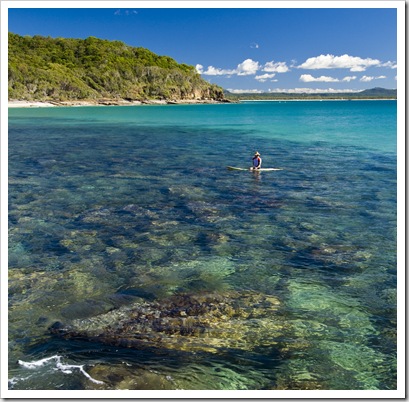 With a few days of almost no wind and minimal swell, the water around Coolum and Point Arkwright became clear enough for a bit of a snorkel.  The reef off the rocks in front of the house was a good spot to snare some Trevally and Sweetlip with my spear.  There were some huge schools of Golden Trevally buzzing the reef, too fast for me with my little hand spear, but amazing to see the powerful fish in such large schools.  A fisherman's delight…  On one of the calm days we took Randy and Gail up to Tea Tree Bay in Noosa National Park, Gail excited by the opportunity to get an up-close-and-personal look at the Koalas residing along the trail to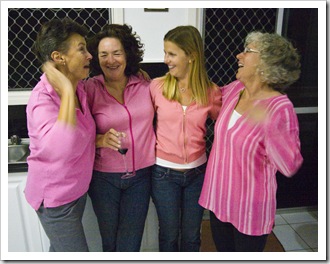 the beach.  The water colour was amazing at Tea Tree, Randy had the surfboard along in anticipation of the right-hander point break that often peels off the eastern end of the bay.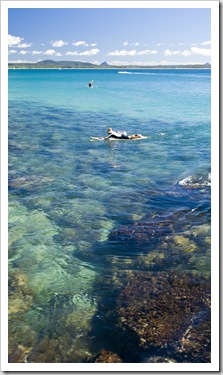 Unfortunately for Randy nothing but mirror-like turquoise ocean greeted us that day, but he still managed to score a couple of rides when sets came through.  When you're waiting for waves in a spot as beautiful as the one pictured above to the right, I don't think anyone is really going to complain at a lack of swell!  Such a picturesque place…
Allyson and Andy, the owners of the house where we all stayed in Coolum, joined us for a number of dinners during our time on the Sunshine Coast.  A wonderfully welcoming couple, Lisa and I thoroughly enjoyed meeting them both.  Allyson was kind enough to send us on our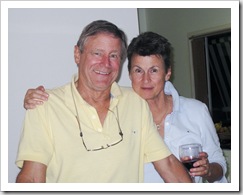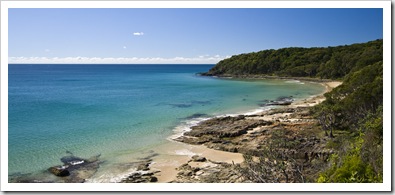 way with a few of her farm-made savory delicacies – I'm really looking forward to sampling the mango chutney we have in The Tank's food box.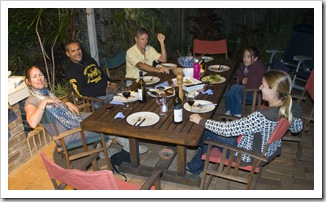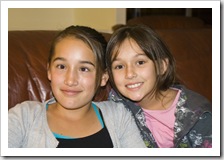 Toward the end of our stay we caught up with Wade, Michelle and their two lovely girls for a couple of dinners.  We originally met Wade and Michelle when I got Wade hooked on spear fishing at Peaceful Bay in Western Australia, then ran into them again when crossing the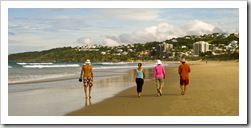 Nullarbor Plain, and again when we were working our way down the west coast of the Eyre Peninsula in Streaky Bay.  Wade and Michelle reside on the Sunshine Coast a few kilometers down the road from Coolum, it was great to catch up with them again.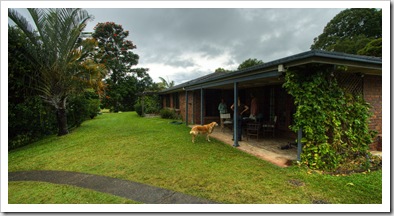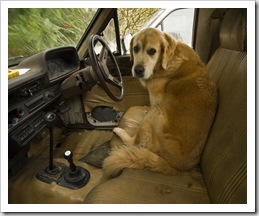 On our last day in town Andy and Allyson invited us out to their beautiful farm a few kilometers inland from Coolum.  The farm is a picturesque piece of property with Red Claw ponds, cattle, Guinea Fowl and a few Green Tree Frogs lurking in the electrical box!  Coolum was a great spot to spend a few weeks with a roof over our heads, thanks very much to Mum and Steve for hosting us in Coolum and of course Andy and Allyson for allowing us all the use of their house.  So many visitors in such a short time: awesome to see Cheryl and meet her new boyfriend Chris, and fun as always to spend a week with Gail and Randy.
This entry was posted on Tuesday, May 25th, 2010 at 3:26 PM and is filed under Australia, Queensland. You can follow any responses to this entry through the RSS 2.0 feed. Both comments and pings are currently closed.