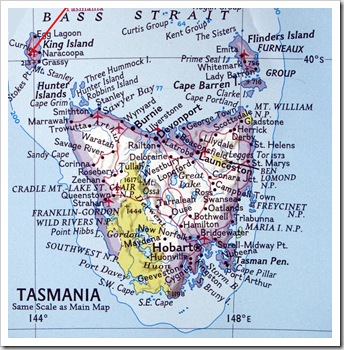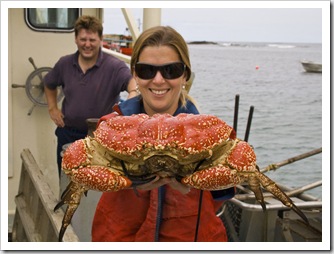 King Island is located in Bass Strait above the northwestern tip of the island of Tasmania, we visited some of Lisa's family friends, the Jordans, for a few days before making our way south to Tasmania.  The island subsists on its famous King Island Beef and King Island Dairy cheese, as well as being a magnet for lobster fisherman attracted by the bounty of crustaceans living in the surrounding ocean.  The Newby family from Sydney were also on the island for our visit, Lisa's mum attended school with Sue Newby and the Young family met the Jordans through the Newbys, remaining close friends and travel companions ever since.  There are roughly 1600 inhabitants of the small island, it's the kind of place where everyone knows each other on a first name basis and life takes a relatively slow pace compared to the hustle and bustle of nearby Melbourne.
We stayed with the Jordans in their beautiful home in Currie for our six days on the island, they were the epitome of hospitality, providing the best the island has to offer for our visit and making it very difficult to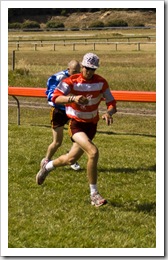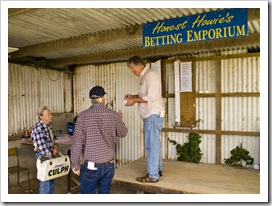 leave.  After flying in on a small plane from Melbourne we all ventured to the King Island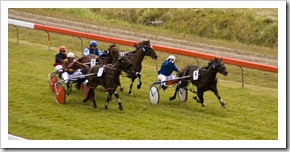 Race Club for the last of the season's horse racing meets.  There was quite a gathering for the event, the stands being full for each of the nine-or-so races, which had everything from trots to conventional gallops.  The betting was via a conventional TAB or the slightly more traditional bookies at Honest Howie's Betting Emporium,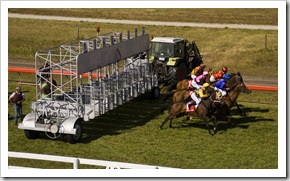 both venues frequented multiple times by members of our troop, most of whom had a win or two during the afternoon.  The steak sandwiches at the races were definitely some of the best we'd ever tasted, King Island scotch fillets served up in a sandwich with all the Aussie fixings, including a helping of bacon and egg.  If it wasn't for the line I would have gone back for seconds!  We had a surprise visit from the premier (US: governor) of Tasmania during the afternoon, on the island for the last race meet of the season as well as to celebrate the reopening of the island's abattoir.  I was also lucky enough to win one of the raffles when my horse came in first in race seven of the day.  It was a bit of fun to watch the Human Hurdle Race, a clash involving locals racing over hurdles whilst holding a flute of champagne, the winner collecting a South Pacific holiday worth $10,000.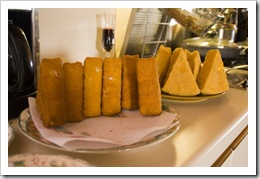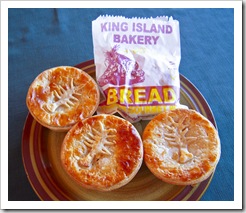 From the delectable cheeses of King Island Dairy to succulent cuts of local beef and delicious Giant Crab from the deep waters west near the Southern Ocean shelf, we sure had a memorable culinary adventure during our stay.  Grant dished-up his famous wedges of deep-fried King Island camembert, served with plum sauce they were well worth the hundreds of calories in each bite!  A new addition to my list of Australia's best bakeries is King Island Bakery, which serves a selection of baked goods infused with local produce, the crayfish pies and camembert, bacon and spinach pies were absolutely to die for.  My dad sent a case of wine to the island for our stay, coupled with the Jordans' extensive cellar no one was wanting for exquisite wines with any of our meals.  Rob even broke out some of his Muscat and port selection for dessert one night, I think I'm going to have to go on detox for a little while to give my liver a bit of a rest after six days on King Island.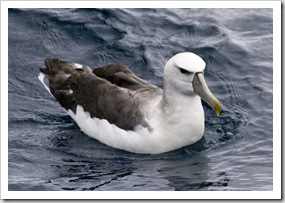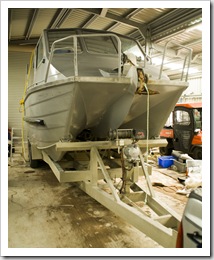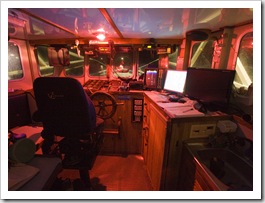 The Jordans operate a crayfish boat, Kingfisher V, based out of Currie, King Island's main town.  The boat is quite a vessel, having enough deck space to accommodate 50 crayfish pots, five beds below the cabin as well as enough tank space to hold a few tonnes of crayfish and abalone.  Kingfisher is typically skippered by Rob or the eldest son Paul, shipping out for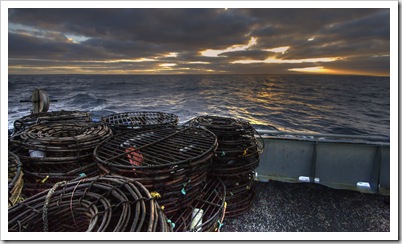 anything from day trips out of Currie to multi-week voyages along the isolated west coast of Tasmania and around to Hobart.  The lobster caught by Rob and Paul don't usually hit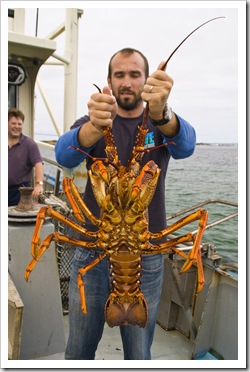 the domestic markets, they're typically flown to Melbourne and then transported live to the Asian markets or, for the crayfish over 2.5 kilograms, they make their way to the USA (bigger's always better in the States…).  Grant, Dawn and Rob's youngest son, operates his own abalone business, for which he dives off a custom-built abalone boat amongst the rocky reefs surrounding most of King Island.  Unlike conventional SCUBA gear, grant dives using a hose and boat-secured, nitrox-filled (nitrogen-enriched oxygen) tanks enabling him to stay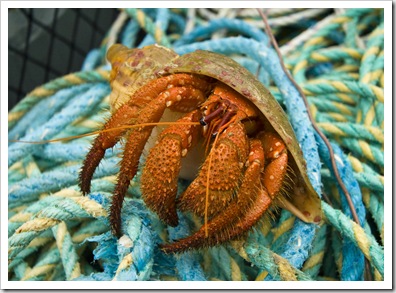 underwater for multiple hours at a time (I think he mentioned his longest dive being around seven hours!).  When I go diving with mates on California's north coast I'm happy to pull up my legal limit of three abalone per day.  When Grant goes diving he's not happy if he's not pulling up in excess of 100 kilograms of abalone per hour, which equates to roughly 200 Blacklip Abalone per hour!
I ventured out with Rob and his deckhand Russell for a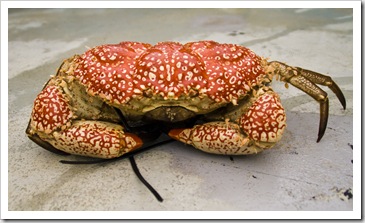 day on Kingfisher.  Russell's a jovial young bloke who was happy to show me the ropes on Kingfisher, he's the recent new owner of the only post office on King Island and loves his new home to bits.  We set off from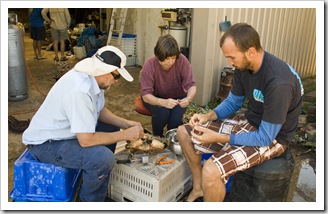 Currie's harbour at around 4:30AM, leaving the rocky cove with the assistance of land-mounted light beacons guiding the way in the darkness.  The operation of the Jordans' crayfish boat is a well oiled machine, pots are marked using GPS and retrieved from the deeps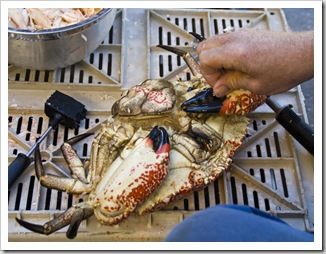 using a custom-built winching system.  By the end of our trip I was retrieving the lobster from the pots, Russell re-baiting them with Australian Salmon ready for their next drop, and Rob supervising to make sure everything put in the tanks was of legal size.  Quite interesting to note the colour difference in lobster pulled from different depths: we had a number of pots pulled from roughly 70 meters (240 feet) below the surface, the lack of light at that depth results in lobster with almost white exoskeletons, a marked difference to the bright red shells of the crayfish pulled from shallower water.  It was a lot of fun, a very unique experience to see the inner-workings of the commercial lobster industry.  On our return to Currie Rob retrieved four Giant Crabs from Kingfisher's tanks, caught a few weeks earlier by Paul and Grant on a trip west to the deep waters of the Southern Ocean shelf.  The crabs were an amazing sight, the male crabs had claws as big as an adult human's forearm and can crush a glass soda bottle with ease (notice the cable ties holding the crab claws against their bodies so we all could keep our fingers attached!).  The Jordans treated us all to a dinner of Giant Crab for Carol's surprise birthday dinner, such sweet flesh and an amazing amount of meat in each crab's claws and legs.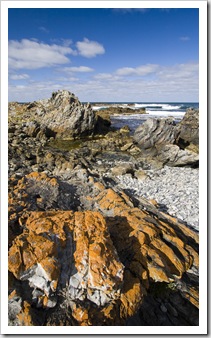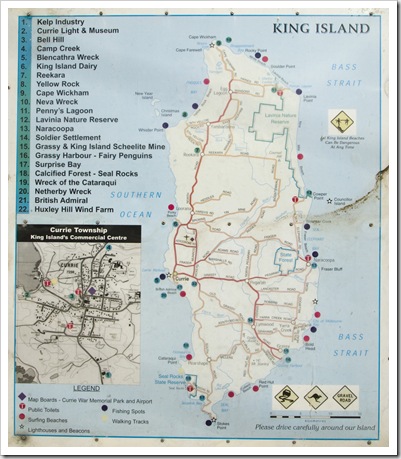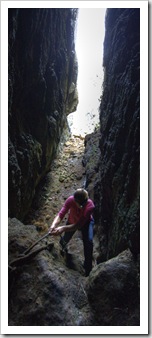 When we weren't eating, drinking or fishing we spent our time exploring the island, the rocky coastline made for some beautiful photos.  Grant has a well-stocked supply of toys in the sheds at the rear of the Jordans' property, everything from jet-skis to hang gliders.  Grant and I took out the jet skis toward the north of the island one afternoon, launching at the southern end of beautiful Quarantine Bay and venturing out toward nearby Christmas and New Years Islands.  We found some spots of good swell in the middle of the deserted beaches of Quarantine Bay, Grant demonstrating how to charge the larger waves and ride the face before they crashed.  I managed to flip my jet-ski on one occasion, giving Grant a good laugh and myself a bit of a fright as I tried to right the craft and restart it before the next set of waves was on me.  Grant also took us all on a trip to Seal Rocks State Reserve at the southern tip of the island, home to a calcified forest, beautiful stretches of coastline and a stalactite-filled cave.  It was a bit of an adventure getting into the cave but well worth the mud most of us left with on our clothes, the cave's two caverns are filled with a myriad of stalactites and mineral deposits creating fantastic patterns on the walls.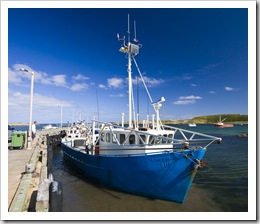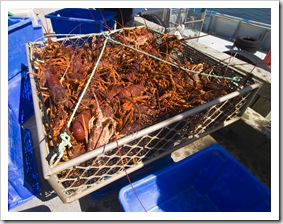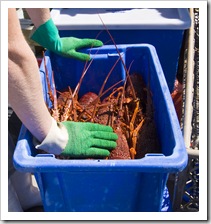 We were lucky enough to be on the island when the Jordans were offloading their crayfish catch for export.  The exercise involves the local seafood processors packing the live lobsters into crates for transport to Melbourne, the crayfish are removed from Kingfisher's tanks via an on-ship crane.  Awesome to see hundreds of kilograms of live crayfish being unloaded into the crates, a very colourful payday for the family!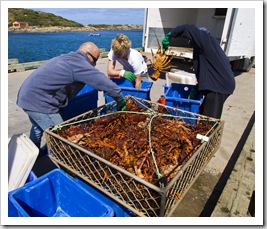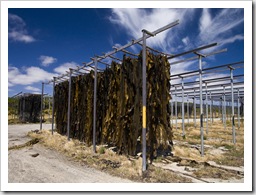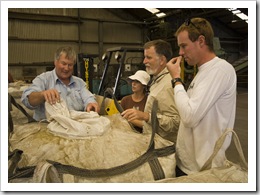 In addition to all the beef, cheese and seafood exported from King Island, another major industry for the tiny land mass is the export of kelp.  The Bull Kelp endemic to the north coast of Tasmania contains a high concentration of alginates, compounds found in seaweeds used for a dizzying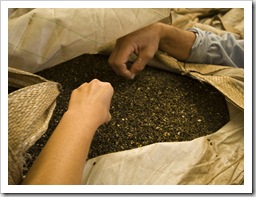 array of applications: in foods for thickening and stabilization of drinks and creams, for syneresis in ice-cream and cheese, as a thickener in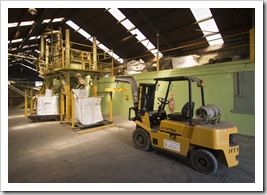 pharmaceutical lotions and creams, as a gel in dental impression powders, for its water holding properties in paper coatings, as a binding agent in ceramics and welding rods…  I could go on!  Paul and Grant used to harvest Bull Kelp from the King Island beaches before they had bigger fish to fry, when we visited there were 55 registered kelpers on King Island but only a couple of full-timers.  The huge strands of kelp are collected from the island's beaches using winches and trucks and then hung to dry for a number of days at the kelp factory.  Once dried the kelp is roughly a quarter of its original size, at which point it's further dried in a massive wood-fired oven and hammered into small flakes.  The flakes are exported to factories all over the world in shipping containers, the manager of the plant even puts the stuff on his cereal in the morning!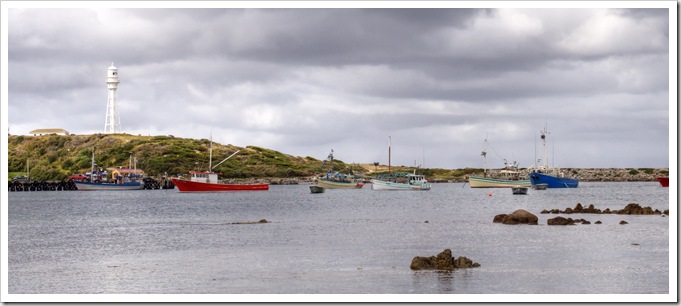 It was an absolutely fantastic six days on King Island, I'd love to go back one of these days.  We're so appreciative of Linda Newby and the Jordans' hospitality, it was such a treat to be toured around the island and hosted like royalty for our visit, thank you all so much!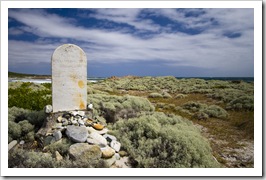 This entry was posted on Thursday, January 28th, 2010 at 10:00 AM and is filed under Australia, Tasmania. You can follow any responses to this entry through the RSS 2.0 feed. Both comments and pings are currently closed.