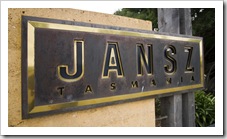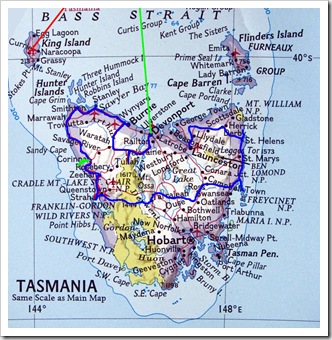 The Tamar Valley, spread on either side of the Tamar River near Launceston, is home to some of Tasmania's best wineries, most of which produce only enough wine for the Tasmanian market, so quite a treat to visit.  On advice from Mike Frost and Chris Chen (a winemaker with whom we caught up in the Margaret River) we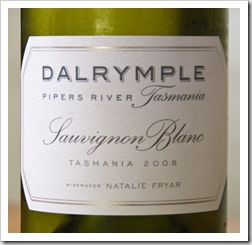 had a few wineries in mind before making our way to the area.  Our first stops were at Jansz, famous for their sparkling offerings (in fact that's all they make!), and adjacent Pipers Brook, arguably Tasmania's most famous winery.  The two wineries are located right next to each other on a beautiful expanse of rolling hills north of Launceston.  Lisa and Greg enjoyed comparing tasting opinions at both spots, after which we headed down the road to the small operation of Dalrymple Winery.  The wines at Dalrymple are made by the same winemaker that heads up Jansz, everyone really enjoyed their offerings and we walked away with a couple of bottles for the road.  From Dalrymple our last stop for the day was at Bay Of Fires, named after the stretch of beaches north of nearby Saint Helens where we spent the afternoon a few days ago.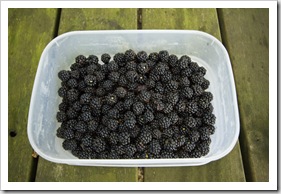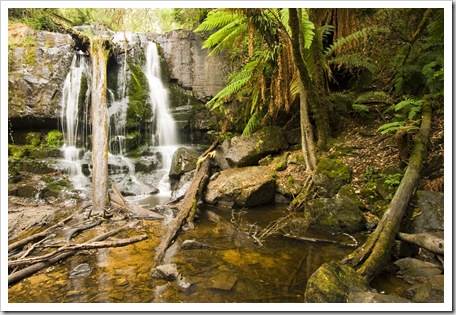 We stopped off at Lilydale (S41°13.723' E147°12.548') for the night after our day of wine tasting, finding an unlocked gate and an absence of 'No Camping' signs next to Lilydale Falls for a very nice spot to sleep under some beautiful old oak trees.  Lilydale Falls were a short walk from our campsite, as were a plethora of wild blackberry bushes littering the sides of the creek that ran through the surrounding paddocks.  I braved the thorns and collected a huge container full of the deliciously sweet berries, we all had our fill during the evening and had more than enough left for blackberry pancakes in the morning.  That's camping in style!  The town of Lilydale was quite a quaint little settlement, the main street lined with a heritage-listed general store, an eatery boasting the best fried chicken in Australia, as well as no shortage of nonagenarians walking to their daily afternoon lawn bowls meet, all dressed up in their purple and white outfits.  Quite a sight!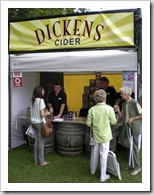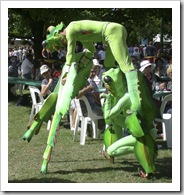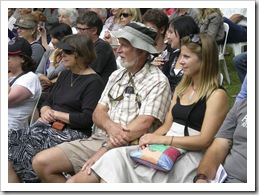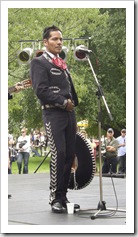 Our loop around Tasmania took a bit of a skewed turn to take us to Launceston, Lisa and Carol had a hankering to attend Festivale on February 13, an annual food and wine festival showcasing some of Tasmania's best wineries and cuisine.  It was an awesome day, well worth the side-trip to Launceston, there was so much to choose from it was tough to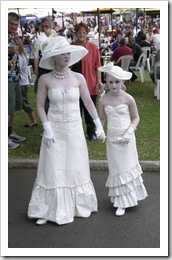 decide.  Local breweries, fantastic wines, seafood, pizza, German sausage makers, I could go on and on…  There were also a few stages on which different live performers kept us entertained throughout the day, a great event, we all had a ball.
Whilst in Launceston I wasn't going to miss a tour of J. Boag & Son brewery.  The tours set us back $25 a piece, over an hour-and-a-half we toured the operation from packaging all the way to the actual brewing.  The high-tech packaging line was an amazing conglomeration of machinery able to handle over 800 bottles per minute, the bottles whizzed through almost too fast for our eyes to behold.  The lagering tanks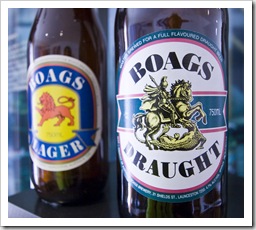 were also a pretty awesome sight, the largest of which can hold over 500,000 bottles of beer!  Back in the old days (J. Boag & Son brewing has been in operation since 1881) full-time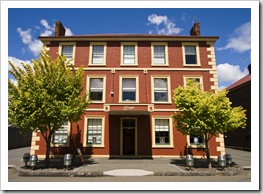 employees were allowed to drink as much beer as they liked for breakfast, morning tea, lunch and afternoon tea.  Those days are long gone, operational health and safety isn't too keen on brewery employees drinking beer for breakfast and lunch these days, unfortunately.  At the end of our tour we sampled four of the Boag beers in conjunction with some local Tasmanian cheeses.  A few of the Boag beers aren't exported to the mainland, so it was fun to sample brews like Wizard Smith's Ale and XXX Ale, both of which we'd never even seen before in the bottle shops outside of Tasmania.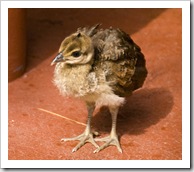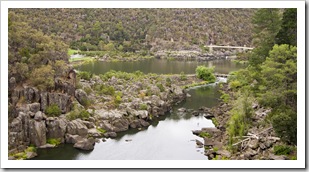 We finished up our tour of Launceston with a Sunday morning walk through Cataract Gorge.  Located just minutes from the town centre the gorge has a fantastic walking trail up either side as well as a great little cafe nestled in the forest part way along.  A beautiful spot for a coffee and spot to watch the local peacocks as they walked through the diners enjoying a morning cuppa. 
Note to self: when we're buying furniture for ourselves some time down the road the Launceston Tasmanian Design Centre showcases some of the most eye-catching and well made wooden furniture either of us had ever seen, all made by local artisans out of unique Tasmanian timbers.
This entry was posted on Sunday, February 14th, 2010 at 6:00 AM and is filed under Australia, Tasmania, Wines. You can follow any responses to this entry through the RSS 2.0 feed. Both comments and pings are currently closed.