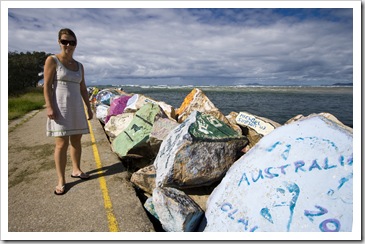 After a memorable few days in Adelaide for Sam and Priya's wedding, we flew back to Sydney to pickup The Tank and continued where we left off on the New South Wales central coast.  Angie Stuart organized a fabulous dinner for us on Monday night in Edgecliff, where we again caught up with old friends and got to meet Angie's two new grandchildren.  Great to see everyone and, as always, Angie's cooking didn't disappoint.  We made it as far as South West Rocks on our trip up the coast last week, a little too far for us to drive in a day from Sydney, especially with the head-spinning Tuesday morning traffic resulting in the trip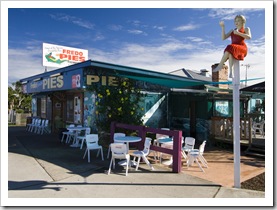 across Sydney taking over two hours!  We stopped off at Crowdy Head National Park for the night, where we found a great campsite at Kylies Beach a short walk from the water.  A few wallabies and kookaburras kept us company into the evening, after which we were back on the road early to pick up where we left off north of Kempsey.  A mandatory stop at Fredo's Pies in Fredrickton and then onto Nambucca Heads to try to find the mural Lisa painted with her family in the V-Wall Rock Art Gallery almost 15 years earlier.  Unfortunately the sun and salt spray had worn away most of the older paintings and we couldn't find what we were looking for…  We made the most of our trip into Nambucca with a swim at the picturesque Main Beach, lunch in the beach parking lot and then up into the mountains to take a look at Dorrigo National Park.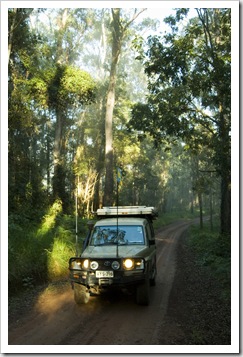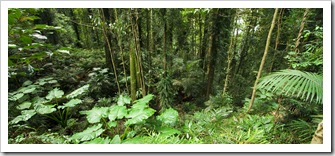 Dorrigo National Park is a swatch of World Heritage Listed rainforest roughly 40 kilometers inland from Coffs Harbour.  The mountains bordering the coastline are covered in dense, unforgiving rainforest with deep canyons, rivers and a myriad of waterfalls.  It was a picturesque drive into the mountains from the coast, some beautiful patches of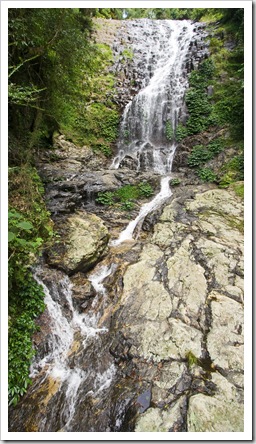 orchards and cattle country on the way up.  The majority of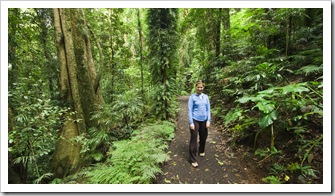 Dorrigo National Park is wilderness, but there are a few hiking trails exploring the rainforest in the western section of the park near the town of Dorrigo.  We took a little over an hour to walk to Tristania Falls, often stopping along the way to take in the amazing diversity of the surrounding canopy.  Really an eye-opening place, no wonder it's World Heritage Listed…
After our time in Dorrigo National Park we cruised through the quaint hilltop town of Dorrigo on our way further up into the mountains.  Nymboi Binderay National Park was our resting place last night, we found a quite remote camping spot on the banks of Nymboida River next to some roaring cascades.  We wouldn't want to make our way into the Platypus Flat camping area in wet weather, we had to tackle some seriously steep dirt tracks under the rainforest canopy on the way in.  While the gushing water didn't make for the best sleeping conditions, we did enjoy a great campfire late into the night and our favourite camp meal of lamb chops for dinner.  The National park brochure we have mentioned that the only way to experience the true beauty of Nymboi Binderay National Park is to raft it in a kayak; after seeing the ferocity of the water next to our campsite at Platypus Flat we both agreed it would be one hair-raising ride to take any kind of boat along the Nymbodia!
This entry was posted on Thursday, April 22nd, 2010 at 4:30 AM and is filed under Australia, New South Wales. You can follow any responses to this entry through the RSS 2.0 feed. Both comments and pings are currently closed.